Blackpool's Arthur Worsley - 'world's greatest ventriloquist'
Born exactly 100 years ago in October 1920, local historian, Kenneth Shenton, takes a timely look back at a legendary showbusiness figure, one who was content to adopt a Buster Keaton-like implacability and happy to let his famous sidekick, Charlie Brown, do all the talking...
Thursday, 15th October 2020, 3:45 pm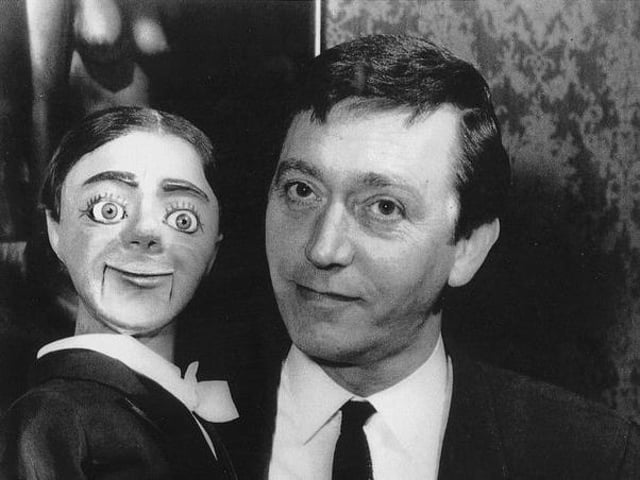 Arthur Worsley and his dummy Charlie
When a letter once arrived at Blackpool's Abingdon Street Sorting Office addressed merely to "The World's Greatest Ventriloquist," the Royal Mail knew exactly who to deliver it to locally based showbusiness star, Arthur Worsley, based in St Annes Road.
First emerging in the 1940s, unlike many vent acts, Worsley thrived under the scrutiny of the television cameras and went on to be hugely popular in America where he regularly starred on the Ed Sullivan Show.
What was so different about Worsley's act was the fact that there was no cross talk between him and his dummy. Instead he was happy to provide a blank sheet of paper that allowed his wooden sidekick to scrawl an unstoppable avalanche of insults and abuse at his expense. Each was impudently directed across the footlights towards his audience , 'Turn me round son. And look at me when I am talking to you.' The dummy would grow more and more exasperated by the ventriloquist's continual silence.
Arthur Worsley stops into a barber's shop in London's Strand for a trim. Meanwhile his dummy, Charlie Brown, demands the full treatment, with a haircut and manicure. Photo: Getty Images
Worsley was more than happy to accept his dummy's tirades, occasionally displaying a very rare raising of an eyebrow or even a slight smirk. One critic once wrote that looking at Arthur Worsley's lips was like watching a play by Chekhov, nothing happens.
In due course, perpetual cheeky boy Charlie would increasingly work himself up into a lather and start shouting at his master. The dummy had in effect become a stand-up comedian – very much the ventriloquial equivalent of Hylda Baker, constantly gossiping about her totally mute stooge "Cynthia." Sometimes the bullying dummy could even fool the professionals. On one famous occasion a radio producer asked Worsley to move the dummy closer to the microphone because the sound level was not quite right. As their routine progressed, Charlie would increasingly harp on again and again about Worsley's supposed limitations as a ventriloquist. He never ceased to take every opportunity to highlight what is every ventriloquist's recurring bete noire, the letter "b."
"Say bottle of beer without moving your lips. Go on."
Silence from Worsley. By now Charlie's head would be right next to Worsley's, the dummy shrieking in his face: "Say it Son. Say Bottle of Beer, a bottle of beer, a bottle of beer, go on say it!"
Arthur Worsley with his family and Charlie
Not a flicker from Worsley, and then Charlie, after calming himself down would exclaim, "Why is it son, that when I shout, you spit in my face?"
"What have I told you about wearing diamond rings, eh?" was another constant complaint.
Likewise the dummy would turn to the audience seeking sympathy, "How would you like to go through life with no guts and his hand where my kidneys ought to be?"
Perhaps the greatest compliment paid to Arthur Worsley during his long career was the fact that he had one of his best lines pinched by another artiste. One of Charlie's regular putdowns, "Look at me when I am talking to you," was later turned into a classic catch phrase by Eric Morecambe.
In this particular instance, it was partner Ernie Wise who found himself constantly on the receiving end.
The only child of a Manchester motor dealer, Arthur Wilkinson Worsley was born at Lodge Farm, Failsworth on the 16th October, 1920.
Educated at Heald Place School in Rusholme, Worsley first became fascinated with ventriloquism as an eight year old.
Buying a second hand dummy, he was soon entering and winning numerous local talent competitions.
Aged eleven, and billed as "The World's Youngest Ventriloquist," he made an auspicious appearance at the Casino in Rusholme. Leaving school aged fourteen, and now with a homemade dummy, he made his first radio broadcast from The Winter Gardens in Morecambe in 1935.
Later that year, having found success on the provincial theatre circuit, he moved to the capital, appearing at the South London Casino.
Initially qualifying as a radio officer in the Royal Navy on the outbreak of the Second World War, instead he found himself touring munition factories and military camps entertaining civilian workers and troops, having been seconded to the Entertainments National Service Association (ENSA). In 1945, when the showbusiness charity the Grand Order of Water Rats staged a Rats' Revels at the Victoria Palace in London, Worsley was on the bill alongside two legendary ventriloquists of an older generation, Arthur Prince and Fred Russell.
Russell's family name was Parnell and when Val Parnell of that ilk was launching two major television entertainment programmes, Sunday Night at the London Palladium and Saturday Spectacular, Worsley came to feature prominently on both.
With his career carefully guided by agents, Lew and Leslie Grade, Worsley was by now a headliner appearing weekly on the Moss Empire circuit, becoming one of the highest paid entertainers in the business.
He did ten variety seasons at the London Palladium sharing bills with Max Miller, Gracie Fields and Vera Lynn. Always smart and dapper in appearance, he was also a favourite in more intimate cabaret, regularly playing the Savoy and Dorchester hotels. A regular on television here, he also toured extensively, his burgeoning career taking him to Australasia, South Africa and Canada.
Accompanying him would be his wife Audrey, who as local girl Audrey Hewitt, was a singer and dancer and a former star of Blackpool Children's Pantomime. The couple had one child, Michael.
In 1955, Worsley together with his wife and son, made a first visit to the United States, invited to perform on Toast of the Town, a Sunday evening prime time talk and entertainment show hosted by Ed Sullivan for CBS Television. Proving an instant success, Worsley returned a dozen times to what then became the Ed Sullivan Show. In January, 1957, he featured on what would be Elvis Presley's final television appearance.
The programme had an audience in excess of fifty million.
On other occasions he appeared alongside Laurel and Hardy, Morecambe and Wise and The Beatles.
Once when in New York, he took a detour to visit a barber's shop for a haircut. In the chair next to him was gangster, Albert Anastasia. No sooner had Worsley left the shop than Anastasia was shot dead.
Having made his home in the resort, Worsley also enjoyed numerous successful summer seasons here.
In 1945, he appeared on Central Pier with Ray Barbour and Terry Wilson, returning nine years later to support the comedian, Albert Modley.
In 1961, he was at the Palace Theatre in the company of singer Frankie Vaughan. Two years later, now in support of Cliff Richard and the Shadows, Holiday Carnival helped launch the new ABC Theatre. Back at the venue in 1969 alongside Cilla Black and Roy Castle, he returned again three years later with Lovelace Watkins and comedian Ted Rogers.
Busier than ever throughout the 1970s, he regularly topped the bill at Butlin's Holiday Camps popular Saturday night variety shows, while also starring on Yorkshire Television's Jokers Wild.
With ventriloquism remaining very much a part of every variety bill, Worsley toured constantly.
However, the heavy workload was beginning to take a toll on his health as he increasingly began to struggle with high blood pressure. Following a final summer season in 1981 at the Festival Theatre, Paignton, Charlie Brown was then confined to the attic of his modest home close to The Halfway House. Worsley always maintained that off stage he never ever talked to the dummy.
He was just a well-worn lump of wood with two spare heads.
Only on stage did Charlie became a real person to him. A man of unfailing dry wit and charm, much admired throughout the business, following a series of strokes, Worsley died at his home on July 14, 2001. He is buried at Carleton Cemetery.