Blackpool Nostalgia 2003: Dog rescue hero, sharks and fighter jet training halted
These were the headlines making the news back in 2003
Monday, 15th March 2021, 3:45 pm
Quick action saved injured dog's life
A Fleetwood man was hailed a hero after staging a dramatic pet rescue.
When Toby the retriever-alsatian cross received an horrific injury while out on a walk, owner Marion Cross thought he was a goner.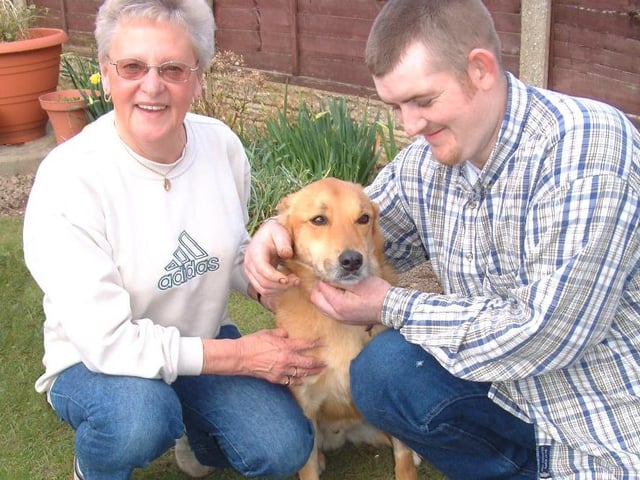 Marion Cross with hero John Clark who rescued Toby the dog when he ripped his leg open whilst being walked at King George's playing fields in Fleetwood.
But John Clark put him in his hatchback and raced three miles to the vet's surgery at Thornton. He then stayed to look after Toby until Mrs Cross was able to join them.
"He was magnificent. It has restored my faith in human nature, " said Mrs Cross.
She had been walking Toby and her other dog Dusty at King George V Playing Field on Fleetwood Road when he jumped on to a metal spike sticking out from a piece of concrete.
Mrs Cross said: "His paw looked like someone had turned on a tap; it was pumping with blood.
"I saw this injury and I was shouting 'look at my dog'."
Mrs Cross, who lived in Larkholme Parade, had called her husband for help and they went after John and Toby when he arrived.
John, of Homestead Way, Fleetwood, said: "I've always liked dogs so it just seemed the natural thing to do."
Sharks, sharks and more sharks!
Dozens of sharks headed for Blackpool as the Sea Life Centre prepared to host Britain's biggest collection of the world's most feared predators.
The first major consignment of 30 new fish were for Sharks, Sharks, Sharks, the centre's huge lure for the coming holiday season. There were ultimately 20 species – about 90 sharks in all – from around the world.
But centre boss Richard Briggs maintained the new focus was not an attempt to give visitors a Jaws-style adrenaline rush. He said: "Everything we tell people about them will be designed to convince them that sharks are amazing, fascinating creatures to be admired."
He also hoped the new feature would give a boost to its petition to end the practice of shark finning.
BAE fighter jets ordered to stop flying over Fylde villages
Campaigning residents in Freckleton and Warton finally made their voices heard over the roar of fighter jet engines.
BAE Systems managers issued a new flying order saying there should be no flying over the two Fylde villages following repeated concern over safety and noise.
And, where feasible, parish councils would be told about any non-routine flying.
The decisions were taken after public meetings held between company representatives and residents as anxiety about the flying of the Typhoon fighter jet was at its peak.
Louis Rigby, who represented Freckleton West on Fylde Council, welcomed the announcement.
"People are very concerned about the damage to their property and of cause the noise frightening children. It must be extremely good news for the villagers," he said.
Community relations advisor with BAE Systems, Debbie Stott, said: "We didn't really know what to expect from the forums so we were pleased that both sessions were well attended.
"It was a good way to brief residents of the full facts of the new contract and we were keen to hear concerns about safety and noise."
Students hit the deadlines in a battle for stories and prizes
Classrooms became newsrooms as Fylde schools battled for the chance to have their work praised by a national newspaper.
Secondary school pupils immersed themselves in journalism for a day as part of the Times Educational Supplement Newsday competition.
Pupils at Beacon Hill High in Warbreck Hill Road, Blackpool, and Hodgson High Technology College in Poulton entered the contest in a bid to win prizes such as cameras and computers.
Each school appointed an editor, advertising reps, photographers and reporters, all of whom worked to strict deadlines to produce their papers in just 24 hours. Hot topics at both schools ranged from national stories such as the impending war with Iraq, to local issues such as the Blackpool masterplan.
The planned redevelopment of Blackpool and its tourist industry was covered by the Hodgson team, while Beacon Hill High spoke to people such as Blackpool FC manager Steve McMahon, and Leisure Parcs boss Marc Etches. On the day of the contest, the young newshounds scanned daily papers and regularly listened to the TV, radio and Internet news. At The Beacon Bulletin, 'sales manager' Adam Hawes managed to sell £230 of advertising space to local companies.