Blackpool FC's 1953 cup final was earliest TV memory, what was yours?
By Barry Band
Saturday, 27th March 2021, 7:00 am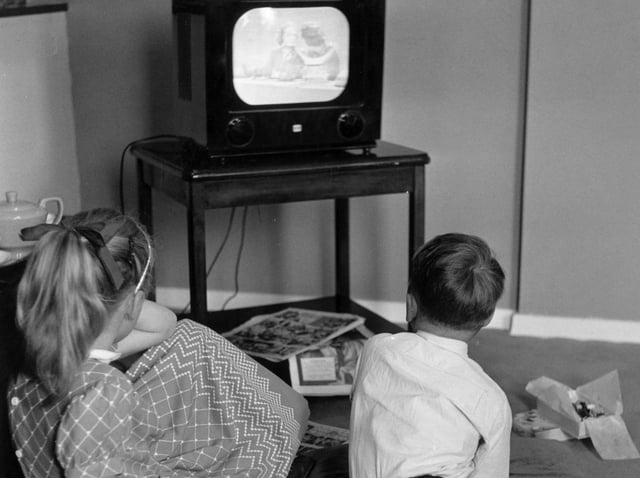 Children watch an early TV set in 1957. Picture: Getty Images
After 300 of these weekly articles it can take an hour or so before a new topic glimmers.
Last Sunday the slate was blank until I opened my newspaper and saw that Georgia Toffolo, winner of I'm a Celebrity in 2017, was asked in an interview: What is your earliest television memory?
Bingo! We can all try it - if not about Georgia. It's a Memory Lane for everyone. Generations going back to the late 1940s will have their own stories.
Johnny Briggs pictured in 1965 Picture: Getty Images
Mind you, very few people had a telly in those early days. They were expensive, there was little to watch and picture reception was poor. Only half a million TV licences had been issued by 1950.
My earliest TV memories are of a tiny Bush set housed in a brown plastic casing with rounded corners. An iconic design that's worth big money today.
Unfortunately, every time I saw this little TV set at my uncle Ron's house the same programme was on. It was a snowstorm!
Cleveleys was on the edge of the reception area for the BBC transmitter near Bolton.
Stanley Matthews dribbles past Bolton's midfielder Barass during the English Cup final May 3 1953 at Wembley. Picture: Getty Images
The atmosphere had to be calm for the picture to get through. Otherwise the image was a load of snowflakes.
The first complete programme I saw was the 1953 FA Cup Final, when Blackpool defeated Bolton Wanderers 4-3.
It was estimated that fewer than three million homes had a TV set, so you'll hear stories of a dozen or more viewers packed into a room.
The lady of the house was pleased to do brews or Vimto at half-time. And a biscuit if you were lucky.
I can't be specific about when the Band household acquired a telly in the 1950s.
My parents were happy with favourite radio programmes and I was hardly ever at home.
Saturdays were filled with movies. It was the Odeon or the ABC Hippodrome in the morning and the Regent in the afternoon, unless Blackpool were playing at home.
Football, cricket and cycling occupied every daylight hour when not at school.
Later, as a junior reporter, there was always somewhere to go in the evening, either with a freebie or for badminton or snooker.
On winter nights I always managed a couple of cinema visits, usually the Oxford, the Tivoli or the Teddy (King Edward).
I'm waffling on about the big screen and not the telly, so let's cut to the chase with the ITV cop show No Hiding Place.
This was the first show I regularly watched and it had a link with the recent passing of actor Johnny Briggs.
No Hiding Place was a Scotland Yard drama featuring Raymond Francis as a blustering Detective Chief Superintendent, Eric Lander as his DI and Johnny Briggs as DS Russell.
The series ran from 1959 to 1967 and had Britain's highest viewing figures from late 1960 until Coronation Street took the top spot in March, 1961.
Johnny Briggs joined Corrie in 1976 as factory manager Mike Baldwin and left in 2006.
What's your earliest TV memory?