Barry Band: Time for a staycation and soak up scenery and culture on our doorstep
By Barry Band
Saturday, 20th March 2021, 7:00 am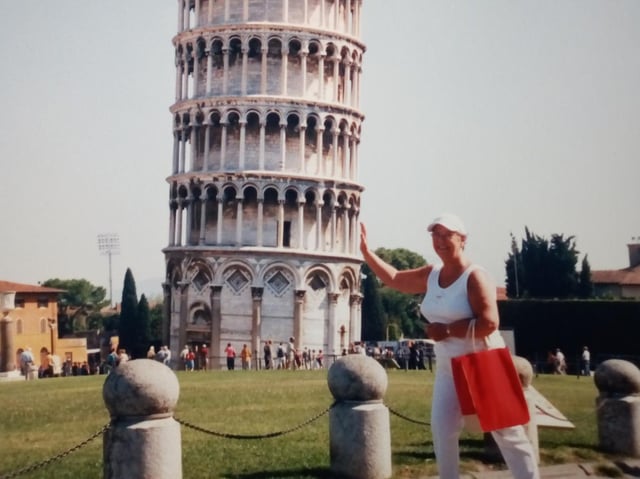 Keeping the Tower of Pisa steady
Everyone seems to be fretting over hoped-for holidays in the sun. Can we, can't we? Is it safe? What a relief not to be facing that decision.
We stopped going abroad 10 years ago, when waiting time in Manchester Airport exceeded the time you spent on the plane.
It's more fun in the dentist's waiting room. At least you know you'll be on your way in 20 minutes.
Dubious about the cruise entertainer!
When we remove sun, sand and sangria from holiday priorities we're left with culture, scenery and shopping and there's plenty of that in the UK.
But before we go down that Memory Lane, the lady of the house wants to show we ain't without culture by opening her photo album. I've selected three.
She is seen helping with the project that stabilised the leaning of the Tower of Pisa, supervising the exercise routine of a group of young firemen in Paris, and dubiously waiting for the cue to sing along with Elton. But was it really him?
I suspect many readers will have similar proof of their cultural leanings!
But here we are, waiting for the longer days of summer and looking back on trips that we've made in less time than it takes for the journey to Manchester Airport and the onward flight.
So let's see more of the UK this year!
We've even made it for breakfast at Sandringham before going on to spend a few days with old friends in North Norfolk.
Tip: leave the Fylde at 3.30am in June and you'll probably beat the queue at that huge roundabout near King's Lynn.
The Beamish Museum in County Durham is within striking distance, more comfortable by coach if you're going there and back in a day.
Have the old bookshops in Keswick and Harrogate survived the lockdown? Let's go and have a look!
I'm all for a visit to Llandudno and a ride up the Great Orme on the electric tramway.
How about a trip to York to visit the National Railway Museum?
Dads can tell the kids that a locomotive is not a train unless it is pulling something.
Perhaps someone should tell that to some broadcasters.
I'm not referring to Michael Portillo. He knows a train from a loco.
Trains and boats and planes have been welcome timefillers on the telly, in repeats of David Jason's American series.
David's name popped up when I was researching our recent Grand Theatre articles.
There he was, in October, 1971, making his only Blackpool stage appearance before his run of great characters on television.
Blanco, Del Boy, Pa Larkin and Inspector Frost to name a few.
But that week at the Grand was soon forgotten. The play in question, Partners, a comedy by Richard Harris, was reviewed in the Gazette with "faint praise" as our esteemed editor-in-chief Sir Harold Grime often advised.
Television is not on my beat but a welcome is in order for the news that Sir David's 1990s success, The Darling Buds of May, is to be remade with Bradley Walsh mooted as Pa Larkin.
Bring back more "feel good" telly.
What we need now is for the likes of Harry Hill to take over "car crash television" - that's breakfast shows, folks - and help us to start our day with a smile!