Warning as highly poisonous plant Hemlock which is deadly to humans and dogs is found washed up on St Annes beach
A parsnip-like plant that has been hailed "the most poisonous plant in Britain" by experts has washed up on St Annes beach.
Watch more of our videos on Shots! 
and live on Freeview channel 276
Visit Shots! now
The 8ft stalk of Hemlock Water Dropwort – which can be deadly to humans and dogs – was spotted near the sandyachting club at the weekend.
A dog walker recognized the toxic plant, also known as dead man's fingers, and wanted to alert others.
Ian Lithgoe said: "I had a dog with me and no bag or gloves otherwise I would have removed it. My dog would have thought I was playing a game if I'd dragged it off the beach and put it at risk so thought I'd take a photo and warn others on Facebook."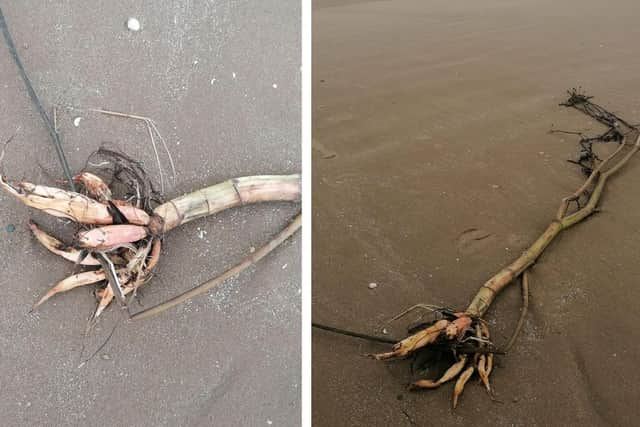 How does Hemlock end up on the beach?
Hemlock was also spotted on Millom and St Bees beaches in Cumbria in 2021. It usually gets washed up on the beach after stormy weather.
The poisonous plant grows on damp ground, such as riverbanks, ditches, waste grounds and road verges.
It can get washed down from the rivers after heavy rain undercuts it and then emerges out of the estuaries.
What happens if you consume Hemlock?
Consuming any part of the plant can lead to poisoning which affects the nervous and respiratory systems and can lead to respiratory failure.
On its website, Pets4Homes says "Water dropwort is poisonous to all animals, including people and dogs, and a small dose of the plant can lead to a lingering death over the course of a week or more, while a larger dose can actually prove fatal to both man and beast inside of a few hours. While the leaves of the plant are not toxic and can be safely consumed by grazing animals, the stems and the roots of the plants are very poisonous".
What are the symptoms of Hemlock poisoning?
If you think your pet has ingested hemlock, watch out for; stomach upset, vomiting, weakness and depression, and in worst-case scenarios, coma-like signs, significant respiratory distress, or shallow and difficult breathing.
A spokesperson for DEFRA said: "Hemlock water dropwort is a native plant that is widespread along water bodies throughout England. Unless it is dug up and eaten, it is not deemed a health and safety risk to humans."