Teenage boy who fell to his death from Blackpool car park roof was 'failed by the system', says heartbroken sister
The older sister of a St Annes teenager who died after jumping from the roof of a Blackpool town centre superstore has promised that his death will not be in vain as she campaigns to improve mental healthcare in the UK.
Wednesday, 16th December 2020, 3:45 pm
Updated
Thursday, 17th December 2020, 10:44 am
Holly Ireland's 17-year-old brother Marshall Metcalfe suffered catastrophic head injuries after falling from the top of Sainsburys on Talbot Road on May 7. He was taken to Royal Preston Hospital, but was pronounced dead when he arrived.
Tragically, just one month later, his mum Jane Ireland, 44, was also found dead at her Heeley Road home in St Annes.
Holly, 25, said she struggled for years to get her mum and brother the mental health care they desperately needed.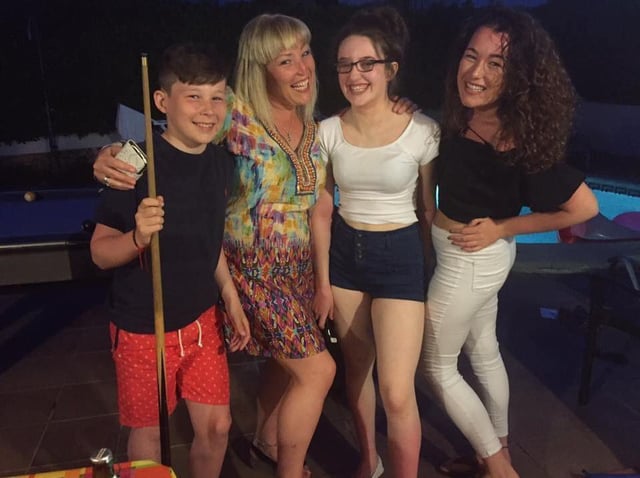 Jane Ireland, second from left, with her children Holly, Macy and Marshall Metcalfe
"I went through years of fighting to try to get someone to help them," she said. "It has just been so hard, and we can't be the only family going through this.
"Something needs to happen. I will not stop until things have changed. I haven't gone through all this pain, lost my mum and my brother, for nothing.
"It was hard to get help for them both. I feel like the mental health system doesn't know how to deal with children. They are all taken down the same path when every case is different. The same thing isn't going to work for every single person."
Mum of three Jane's struggle with depression began in 2011 when her nose was bitten off in a violent attack at the hands of her abusive boyfriend, Robert Mackenzie Wilson. She had to undergo extensive reconstructive surgery as a result.
She moved from Padiham to St Annes in search of a fresh start, but her demons soon caught up with her. She was sectioned once in 2017, and was known to Lancashire's early intervention service.
Meanwhile Marshall, a former Lytham High School pupil, had been in and out of hospital several times since 2017 and was discharged from The Cove, a specialist inpatient unit for mentally ill teenagers, shortly before his death. The court heard that in 2018 he confessed to trying to kill himself by jumping off a building.
Holly, who still lives in Padiham, said: "Marshall was a very popular boy. He loved playing football and won awards for being the best on his team. He always liked going out on his bike. All his friends were so devastated when he died.
"My mum was the life of the party. She'd walk in the room and light it up. She was loved endless amounts by everybody. She was a happy-go-lucky free spirit and very fun."
In the wake of her brother and mother's deaths, Holly started up a campaign called Marshall's Movement to raise awareness about child suicide, which she hopes will lead to improvements in children's mental health services.
She said: "I want to help families. I was to start campaigning and creating as much awareness as I can.
"My family has been absolutely heartbroken. I've lost my mum and my little brother. My world's just crumbled.
"I feel like they were 100 per cent failed by the system. I tried harder than you could imagine to get them help. I wrote to Lancashire County Council and the doctors. I spent the past three years of my life trying to help them, until my mental health deteriorated as well and I couldn't keep up any more.
"I'm still heartbroken. I feel like it's not just my mum and brother I'm fighting for. I'm fighting for every other person who has been let down."
"Lancashire & South Cumbria NHS Foundation Trust would like to offer our heartfelt sympathies to the family for the tragic loss which they have suffered.
"The Trust thoroughly investigated the care provided to both Marshall and Jane in August 2020. We have since met with the family to review the investigation and its findings. The Trust would like to offer reassurance that appropriate action has been taken following the investigation.
"The Trust would like to once again offer its condolences to both Marshall and Jane's family and friends for their sad loss."