New test results show just how clean Blackpool's sea water really is
Test results released by the Government this morning revealed the quality of Blackpool's sea water.
Wednesday, 13th November 2019, 2:43 pm
Updated
Thursday, 14th November 2019, 2:02 pm
The water at Bispham beach was classed as 'excellent' by the Department for Environment, Food, and Rural Affairs (Defra).
The resort's three other beaches - north, central, and south - were classed as 'good' against strict standards based on World Health Organisation (WHO) guidelines.
In Wyre, the sea water at Cleveleys and Fleetwood were classed as 'good' for the fourth year running.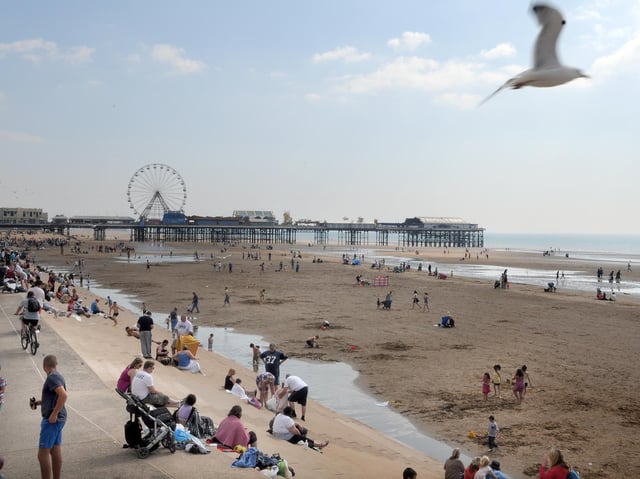 The crowds on Blackpool beach in August this year (Picture: Martin Bostock/JPIMedia)
John Blackledge, Blackpool Council's environmental services director, said: "The overall improvement in our sea water of the last few years has been significant. Not only is that good for the town's local economy, but it also has big health and environmental benefits too."
The council said the results "are the result of a remarkable turnaround for the resort's beaches in the last few years".
In 2011 and 2012, the Good Beach Guide revealed the resort's beaches did not meet the minimum water quality standard and failed the tests.
Since then, the Fylde Peninsula Water Management Partnership, which is made up of public bodies and private firms, has worked to improve the area's sewage system - a well-documented and long-standing issue - and boost the sea water quality.
Not doing so could have led to signs going up warning tourists the water is too filthy to paddle or play in, which would have cost an estimated £1bn in lost tourism.
At the same time, the Turning Tides partnership has been working with local authorities, the environmental charity Keep Britain Tidy, water firm United Utilities, the Environment Agency, and the National Farmers Union.
Mr Blackledge added: "The turnaround in our fortunes hasn't happened by chance but by close working with our partners, heavy investment by United Utilities, and excellent work from local businesses and communities.
"Thank you also to everyone who took part in beach clean-ups through-out the year, which has also helped to improve our water quality along with things such as not putting the wrong thing down the toilet. It all makes a difference."
The results are based on up to four years' of samples, taken by the Environment Agency, with bathing waters classed as 'excellent', 'good', 'sufficient', or 'poor'.
They come just months after south beach was stripped of its Blue Flag status because of a 1.89 per cent drop in water quality that was blamed on bad weather, which led to an overflowing sewage system.
United Utilities, which has installed huge storm water storage tanks under Anchorsholme Park and Fisher's Field in South Shore, and installed a new pumping station and outfall pipe, said recently that "Blackpool's wastewater network is the best it has ever been," and said it would "continue to work" to "see what more could be done to improve them further still.
Two years ago, new figures revealed how the efforts to clean up our waters were having a real, tangible impact on marine life.
A number of experts said the vast sums of money invested in clean waters was helping to attract oceanic greats like the bottlenose dolphin, basking shark, and even turtles usually only seen in the Caribbean.
The number of royal mammals - porpoises, whales, and bottlenose dolphins - washing ashore has risen in recent years, indicative or greater numbers living in the sea, while rescuers from the RNLI were even forced to scramble in their lifeboats after passers-by tried to rescue a drowning dog, which turned out to be a bewildered seal.
"The Irish Sea is hugely important," senior campaigns officer for the Wildlife Trust in Lancashire, Alan Wright, said.
"Its muddy image is brilliant for wildlife because it actually means it supports lots of different creatures, from small micro-organisms that feed smaller wildlife like prawns, crabs, and other shellfish.
"They, in turn, feed larger fish like mammals and sea birds. Jellyfish are abundant. We see many washed ashore, and they are food for turtles."