Lytham St Annes High School's great lesson in vital support
Fylde's biggest school has been doing its bit to help the NHS during the coronavirus crisis.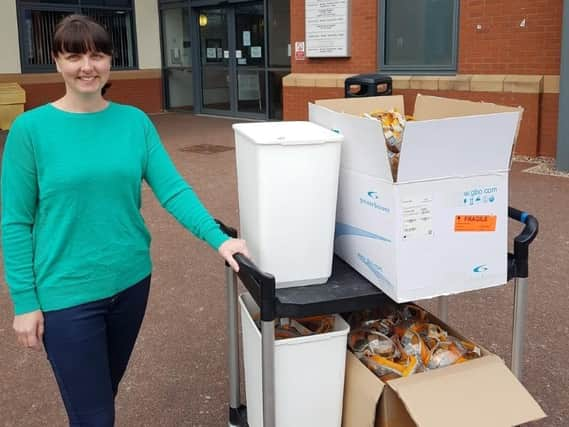 Lytham St Annes High School followed up the donation of protective goggles from its science department by becoming part of a national crusade to produce face shields via 3D printers as part of part of the essential personal protective equipment (PPE) for healthcare workers.
Now, attention at the Ansdell-based school has turned to an appeal for specially-designed headbands which can be used in conjunction with A4 plastic to provide protection.
The school is partly open to provide education for the children of keyworkers but because of social distancing, the manufacturing of the equipment to be used as PPE has mainly been done at home by associate assistant headteacher Jamie Howard.
He explained: "I am in school once a week and material has been dropped off there so we could assemble and package them. Apart from that everything has had to be done remotely.
"Our Science, Technology, Engineering and Maths (STEM) club has over the past year been working on a charity project that helps to 3D print prosthetic hands for children with missing limbs.
"Since the coronavirus outbreak, we decided to move our attention to using our 3D printer resources to printing off face shields to help support NHS staff with PPE.
"Although it takes about five hours to print the face shield, other like-minded groups and individuals have joined together through 3DCrowd UK to print and assemble thousands of the shields.
"Having manufactured and posted 41 face shields, we are now focusing our efforts on the headbands which can be printed in just 30 minutes and only require an additional piece of transparent A4 plastic.
"These are being produced and sent to local hospital and NHS staff and we are working with another volunteer who has set up a funding page and distributing the headbands."
Headteacher Ray Baker said in his most recent newsletter to parents that after the protective goggles were supplied to the NHS via the Lytham St Annes Primary Care Network, the school received a fantastic letter not only saying thanks, but also expressing pride at a gesture which it said embodied "the marvellous local spirit".