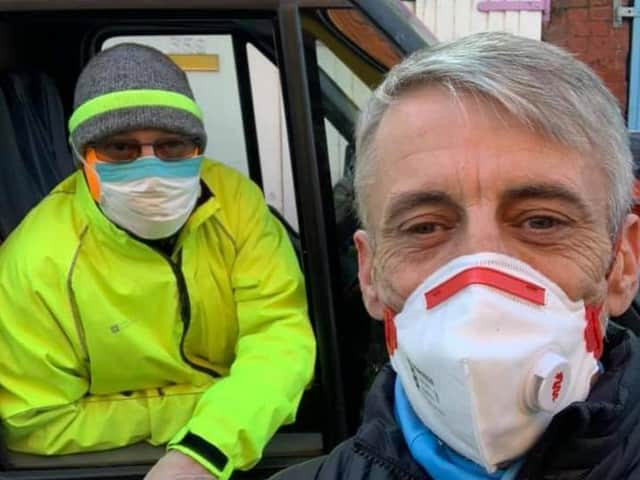 Delivery driver Mark Clarey with Amazing Graze founder Mark Butcher.
Those are the words of a Blackpool homelessness campaigner who fears that life for people living on the streets will become all the more chaotic during the coronavirus pandemic.
That is why his nine-person team has vowed to continue running soup kitchen, Amazing Graze, three evenings a week - as a hot takeaway service.
The Bolton Street venue has also been transformed into a Meals on Wheels, which served more than 500 dishes to vulnerable and isolating people in it first two days. It will initially run every day for nine weeks.
Founder Mark Butcher said: "We're expecting to be overwhelmed. We've never shut our doors in seven years of being open. And we're not shutting them now."
He added: "I can't stand injustice. It's everywhere.
"And it's lonely out there - dog-eat-dog.
"During a recent United Blackpool community watch, I met 16 homeless people in the town centre and they were all frightened to death. One of them was full of a cold.
"There's a real fear in the air - a sense of hopelessness.
"But we've no answers. We're in the dark."
Amazing Graze, which serves food to around 15,000 people every year, normally offers guests a sit-down meal, resources and a shower.
It also provides a Sunday worship and a Thursday outreach session.
"The homeless are hardened to everything now. They're vulnerable underneath but still put on a smile," said Mark.
The pandemic, however, is threatening to break down those tough walls, he adds.
"I've seen people panicking about the basics: where they'll sleep, and how they'll eat and stay warm," he said.
"I've seen 60-year-old men living in bags and a 27-year-old living in Stanley Park. He's been let down and has mental health issues but he has no access to a doctor, dentist or prescribed drugs. It's shocking.
"There's also a Polish man without legal immigration status. So there's no-one who can help him.
"He's desperate and has been on the streets for a long time. He's going out of his mind. People are shutting doors on him everywhere he turns.
"He can't get benefits; no landlord will touch him. No-one is prepared to help him."
Mark says he also worries about homeless people being abused on the streets due to their vulnerability.
"They're being preyed on constantly by drug dealers," he said.
"Young lads on pedal bikes try to sell them drugs. They're county line dealers brought into town."
And he fears life during the pandemic will make addiction worse.
Mark, a former drug addict and alcoholic who has been sober for 16 years, said: "Drugs anaesthetise feelings and allow you to hide from all your past pain, shame and guilt. A tenner could give you two to three hours of numbness.
"Heroin addicts forget they are heroin addicts because they are taking spice. It's a cheap drug and it's easy to get hold of."
Spice is a synthetic cannabinoid that acts like cannabis but can be more potent. This means it is easier to use too much and experience unpleasant and harmful effects. Users can experience paranoia, panic attacks and forgetfulness.
"And if a man's down because he's smoked too much, he could also get robbed," said Mark.
The founder left the organisation in 2011 and travelled to America, as he says he struggled to cope with how physically and mentally draining it is to run.
"I've seen every problem imaginable," said Mark, who returned a year later.
"I see both the ugliness and beauty of humanity in one place. It's a perplexing thing.
"But it's also inspirational. I see people giving their life and soul to help others."
In fact, the hard-working team has even inspired some 20 Premier Taxi drivers to join their mission by volunteering to deliver meals to vulnerable and self-isolating customers.
Meanwhile, several restaurants have donated food for batch cooking and freezing, Mark says.
His team has delivered more than 2,000 hot meals and 1,000 emergency food parcels in the past two weeks.
The selflessness he has seen is humbling, he says.
"We're a country of strong people," Mark added.
"What we need now is unity. It's time to start thinking about our neighbours and calling people to ask how they are.
"We're in hard times - but we'll come out of it stronger and better."
The soup kitchen runs on Tuesdays, Fridays and Saturdays from 6-30 - 7-30pm.