Former addict transforms life to become nurse at Blackpool Victoria Hospital
A former drug abuser has opened up about his six year battle against addiction – and how a chance encounter on a night out in the resort inspired him to turn his life around and care for others.
Friday, 5th March 2021, 3:45 pm
Cavan McKenna, 30, growing up in Barrow, Cumbria, did not have many challenges during his childhood.
He had a loving family and tight-knit relationships, particularly with his mum and grandma who have "always been there for him."
But as he got older, Cavan began to notice he was attracted to men – forcing him to confront the realisation he was gay – something he struggled with.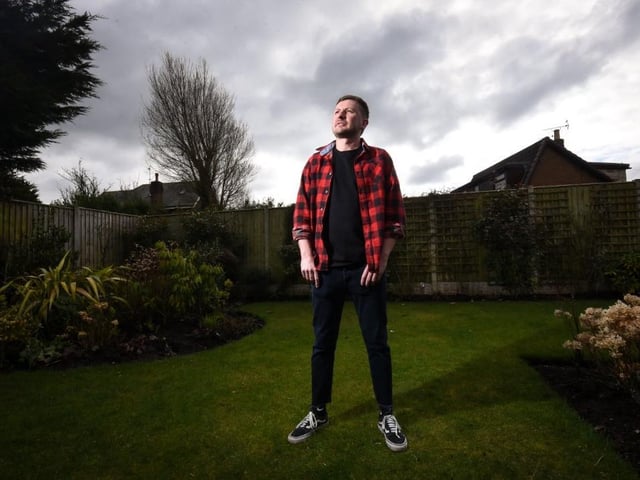 Cavan McKenna, 30, spent six years of his life battling a heroin addiction to become a nurse on the haemotology ward at Blackpool Vic. Photo: Daniel Martino/JPI Media
"It made me feel really angry all the time, and I couldn't understand it," Cavan said.
"I was starting to look at guys instead of girls and I didn't like it. I smoked weed and took drugs like ecstasy and amphetamines when I was younger, but by the time I was 17 I was on heroin."
Battling with his emotions and confusion, Cavan spiralled out of control, going missing for weeks –even months – while he stayed at friends' houses taking drugs.
"It caused a lot of upset with my family," he said. "I befriended a girl on the estate and ended up trying heroin. It was the biggest, most stupid, naive mistake I ever made.
Cavan McKenna went to university as an adult to become a qualified nurse after beating a heroin addiction. Photo: Daniel Martino/JPI Media
"I hung around with the wrong people and I think a lot of it was just boredom; I needed to get away from where I was. I'd always run back to that same circle of friends.
"I'd been in and out of rehab centres but I never stuck to it and always fell back into the same patterns.
"But I came to Blackpool for a night out on New Year's Eve 2012, and I met someone in a club. I thought nothing of it, but we continued to speak for a few weeks after so I told him I was a heroin user.
"He decided he wanted to help me so I moved to Hambleton where he lived at the time shortly after and I never looked back."
Cavan transferred all of his details from a drug rehabilitation centre in Barrow to Inspire in Fleetwood which helped him replace the heroin with a methadone substitution. Seeing all the different opportunities available to him – and a different side to life should he be freed of addiction – spurred Cavan on to change his life.
By October 2013, he had "weaned himself off" drugs and methadone and has been clean from drugs since.
He got a job working at the Conifers Nursing Home in Hambleton, which inspired him to walk the nursing career path, despite leaving school with no GCSEs.
"I watched the staff care for people and thought, 'I could do that, that's something I'd love to do,'" Cavan said.
"So I did my maths and English GCSEs, then went to Blackpool and The Fylde College to do an access course into nursing, before going to the University of Cumbria's Lancaster campus for three years.
"I did actually go to college when I lived in Barrow, I was doing business and wanted to go into marketing – but the drugs meant I failed my final year. It couldn't have been more different from what I'm doing now. Now I'm a qualified nurse. I got a nursing placement during the pandemic so at the moment I work on Blackpool Vic's haematology ward.
"I would tell anybody who is currently addicted to drugs to get help. Nobody can do it for you, you have to want to help yourself. Get yourself to rehab, get a substitution like methadone.
"Do what I did and focus on your career, new hobbies. Working at the hospital is brilliant, Blackpool Trust are like one big family and it's such a nice organisation to work with."