Family of Thornton man who died after being given contaminated NHS blood welcome Government pledge to make amends
The family of a Thornton man who lost his life as a result of receiving a contaminated blood transfusion at Blackpool Victoria Hospital have welcomed a Government pledge to give fair compensation to victims... 40 years after covering up the nationwide scandal.
Friday, 26th March 2021, 3:45 pm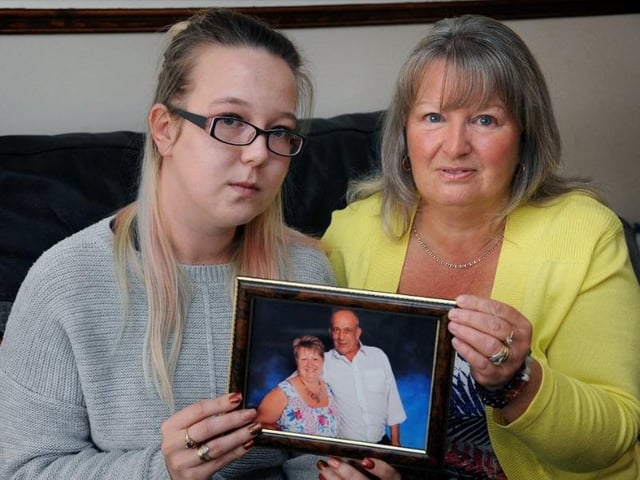 Rebecca and Christine Birch with a picture of Paul in happier times
Paul Birch, 59, of Rock Street, died in January 2017 of cancer caused by Hepatitis C which he got from an infected blood transfusion in the 70s.
But Mr Birch, a joiner, had no idea he had contracted the potentially deadly virus until 2011.
He was just one of an estimated 30,000 victims of the NHS contaminated blood scandal. Known as the biggest disaster in NHS history, as many as 3,000 people are believed to have died after receiving blood infected with HIV and hepatitis viruses during the 1970s and 1980s.
An inquiry into an alleged cover-up of the tragedy began in 2019 and came to an end last week, with Government officials finally accepting responsibility for what happened.
On Thursday, cabinet office minister Penny Mordaunt announced a compensation framework review for living victims and the spouses of those who died.
Paul's widow, Christine Birch, was awarded compensation following her husband's death - but it was means-tested, and so she has been unable to move in with her daughter Rebecca as their combined household income would result in her losing her pay-outs.
This will be reviewed under the new framework.
Rebecca said: "My mum lost her job of 40 years while she was looking after my dad, and then she lost her husband, so that was basically her entire income gone. She does get a small pension, but that's nothing compared to what her wage was or the wage my dad was bringing in.
"Regardless of her income, it would be nice for her to have that compensation so she can have the freedom financially to do what she would like to do. That would be fair.
"At the end of the day, my dad should still be here, and he'd still be working if he was here to provide for my mum. It would be better for me as well because I wouldn't be worrying whether my mum is OK financially. It would be very much welcomed by me."
Jason Evans, founder of Factor 8, a contaminated blood scandal campaign group, said the Government pledge was 'a step in the right direction'.
He said: "I hope that the report's recommendations will help victims and families of the contaminated blood scandal. I know of too many who have faced challenges when trying to obtain medical records."
However, he also said: "Although the Minister's statement talks of support for those 'affected' and 'families', this remains limited in scope to those infected who are still alive and widows.
"This means that parents whose children died before getting married and those who have lost one or both parents remain entirely excluded from any ongoing support whatsoever
"The Government has now created a situation where some bereaved families will receive annual support, while others receive nothing."