Doubly poignant anniversary for Covid widow Jacky
The first anniversary of the initial pandemic lockdown will be an especially poignant day for Jacky Ramsden, widow of the first Covid victim to die at Blackpool Victoria Hospital.
Monday, 22nd March 2021, 7:00 am
March 23 last year was also the day Paul, her husband of four decades, was moved into intensive care, two days after being rushed to the Vic from their home in Lytham. She never saw him again.
The couple had arrived back early from a holiday in the Canary Islands two days before Jacky woke to find Paul unresponsive and called an ambulance.
"I miss him every day, although in my heart I feel he is still with me," said Jacky.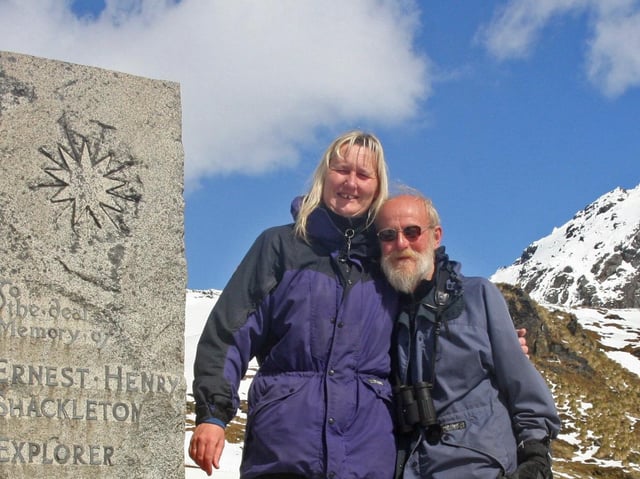 Jacky and Paul Ramsden on a holiday
"It's strange to think it has been a year. In some ways it has gone quickly but in other ways it seems to have been longer.
"I think one of the worst things has been unable to grieve properly. The funeral had to have a very limited number of people and I had to go there and back on my own. Hugs from friends and relatives have been impossible,
"But I am grateful for all the support I have had and it's good that the continuing vaccination offers such hope of better times, although it is still so important people stick to the rules."
Jacky will be spending Tuesday having her first meeting with the consultant who treated Paul.
"I'm a little nervous but eager to find out more and my bereavement nurse, who has been wonderful, recommended it would help towards closure," she said.
Paul was a fit 80-year-old - a keen cyclist and gym-goer - when he was rushed to hospital after Jacky was unable to wake him that morning last March.
The couple had been enjoying a holiday on La Gomera when all Spanish territory was locked down as the pandemic took hold.
Paul was tired on the long journey but they put that down to fatigue and he had an early night to try and get over it.
"But I couldn't wake him the following morning and after a call to the NHS 111 phone line, an ambulance arrived to take him to the Vic and that was the last I saw of him, " said Jacky.
Paul died five days later and the tributes poured in from friends and former workmates at BAE Systems at Warton, where they met as colleagues and from he retired in 1999.
"Everyone who dealt with us, from the 111 service, the paramedics and all at Blackpool Vic, was wonderful, but I could only keep in touch with how he was doing by phone," she said.
"It was a horrible feeling - I just wish I could have held his hand.
"But I feel I have Paul at my side holding my hand and steadying me.
"He never left me and he'll always be part of me."
The couple met when Jacky arrived at BAE Systems in Warton as a graduate trainee.
Paul was a widower with two small children and, as Jacky helped out with events such as children's parties, friendship blossomed into romance and the couple were married at Church Road Methodist Church in St Annes in 1980.
"It really was a wonderful 40 years together, " she said. "We travelled to so many wonderful places and there are so many great memories."
It is thanks to our loyal readers that we can continue to provide the trusted news, analysis and insight that matters to you. For unlimited access to our unrivalled local reporting, you can take out a subscription here and help support the work of our dedicated team of reporters.
Support us and become a subscriber today. Enjoy unlimited access to local news, the latest football stories and new puzzles every day. With a digital subscription, you can see fewer ads, enjoy faster load times, and get access to exclusive newsletters and content. Click here to subscribe