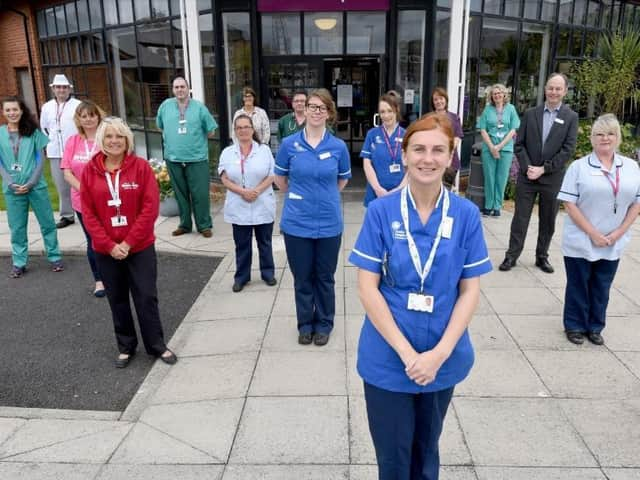 Trinity Hospice staff
But as the hospice turns 35-years-old, its dedicated staff are facing bigger challenges than ever before.
Shirley Morgan, who oversees grants and trusts at the hospice, said: "We thought this year would be one for celebration but it has turned into the most difficult we have ever faced.
"The Covid-19 crisis has put our staff onto the front line and of course caused havoc with our fundraising. We never anticipated anything like this."
Trinity Hospice Colour Splash
The hospice was forced to close all its charity shops temporarily throughout lockdown, while many of its most popular annual events, which normally attract tens of thousands of eager volunteers all raising money for the facility, have been called off.
These include the Bubble Rush, which was supposed to take place this month at Lawsons Showground; the Night Run along Blackpool Promenade; the Colour Run and the Beaverbrooks Bike Ride event.
On top of this, it has seen a decrease in funding from now-struggling businesses and donations from community groups have dwindled as strict social distancing rules remain in place.
As a result, the hospice now faces a funding shortfall of £1.5m for the year – and increase on the £1m it was predicting earlier in lockdown when bosses launched an emergency fundraising appeal.
Meanwhile, staff have been striving to do their bit in the fight against Covid-19 by relaxing admission rules so they can treat patients who would not normally go to the hospice, freeing up hospital beds and easing the strain on medics at Blackpool Victoria Hospital.
An extra 10 beds were opened at the hospice's in-patient unit, on top of the existing 18 available, in April.
Linzi Warburton, head of fundraising at Trinity Hospice, said: "Covid-19 has been devastating financially. At the hospice I have never been more proud of the work we do, but we're looking at a £1.5m loss of income this year.
"Looking ahead, the reality for us now is we don't know when we can get back to our traditional fund-raising, whether that's our own organised events that attract 6,000 people each year, or members of the community holding coffee mornings and bake sales.
"None of us know where we are going to be next year. We're probably looking at a financial loss next year, and the following year as well.
"I'd love to say we'll be back next year with our Bubble Rush and Fun Run and everything else, but the reality is that we don't know where we're going to be."
She said the hospice would likely face further losses in 2021 and 2022 as its fundraising efforts are refocused to establish online events.
The hospice has already launched a weekly online lottery, and has recently announced a 'Gameathon' for August 31, where sponsored participants will live-stream their video games for up to 24 hours.
Meanwhile, video consultations mean that Trinity Hospice nurses are still able to keep in contact with patients from the safety of their own homes.
Linzi said: "The events this year would have brought in just under £500,000. Online events, while people have engaged, haven't raised the same amount.
"We're having to look at how we can deliver our care more effectively, reducing our costs where we can. We do have some healthy reserves, but these won't last forever
"At the moment we are doing okay, but we don't know about next year or the following year, and this is at a time where there are more people in need of our help than ever before, and the cost of care is on the increase. We are not about to cut services, but Covid-19 is making us take a look at what we have to do. Embracing technology has become a huge part of our lives."
Trinity Hospice was founded by Dr David Cooper in 1985. The Brian house Children's Hospice was opened in 1996.
Now, to celebrate its 35th birthday - and to make up some much-needed funds - the hospice is holding an afternoon tea event, where people can receive a selection of delicious cakes baked by head chef Ian Benville.
Shirley Morgan said: "The afternoon tea is a small way of marking what is a significant birthday.
"The good news is that the afternoon tea packs are almost sold out. It's nice to think that our supporters will be raising a cuppa to us and thinking about the work the hospice does.
"Hospice care has changed dramatically over the years. Trinity has grown so much, and now sees patients in the community, at the hospital, in care homes and in patients' own homes. More than two thirds never actually set foot in our hospice building in Bispham.
"We are here 24/7 every day of the year, and our care is still free to all who need it.
"We have harnessed technology to enable us to see more patients – even before lockdown we were doing this. And of course today's hospice care is very wide ranging, looking after patients and their families.
"We try to educate other healthcare professionals and we host medical students, and we work hard to help people understand what hospice care is all about. Our ethos is compassion and care and helping people have the best possible quality of life, even though they may be very ill. At Brian House it is all about making the most of every day.
"Only about a third of our costs is covered. We are not part of the NHS so must raise a huge amount of money each year to keep our doors open."
Head of fundraising Linzi Warburton: "It's always been about people coming together. Whether it's families, friends, colleagues, churches, community groups - everyone has come together and done things for us, collecting money in creative ways.
"Trinity Hospice is very much the community's hospice and people are proud to support it and play their role in its history. It's all these people who make our care possible.
"I think the community will get behind us 100 per cent. The community has rallied around the hospice through Covid-19 and they have given us support whenever they can, and we believe that support will continue.
"I feel optimistic that we have the right team and the best community to support us in these difficult times.
"There are things I feel uncertain about, such as what we are going to be able to offer our supporters event-wise, but Trinity Hospice will get through this and we will have the support to enable us to do it."
People can keep up with Trinity Hospice's fund-raising events, including its Gameathon and birthday afternoon tea, online at www.trinityhospice.co.uk/our-events.
Its online lottery, which costs just £1 to enter, can be found at www.trinityhospice.co.uk/support-us/play-our-lottery.
People can also donate directly to the hospice at www.trinityhospice.co.uk/support-us.