Optimistic note from top Vic doc as Covid deaths, patients, and community rates all plummet
The medical director at Blackpool Victoria Hospital has reported an "improving picture" on the Covid wards.
Thursday, 11th March 2021, 8:47 am
Updated
Thursday, 11th March 2021, 8:50 am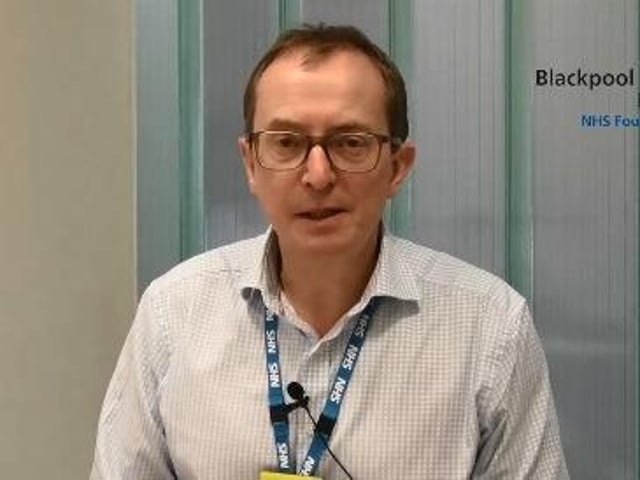 Dr Jim Gardner, medical director at Blackpool Victoria Hospital, and Clifton Hospital in St Annes
Dr Jim Gardner said the Vic, and Clifton Hospital in St Annes, was caring for 24 people within 14 days of a positive test – down from 36 last week and 150-plus in mid-January.
He said: "If we take patients who are in hospital because of Covid but are now beyond 14 days, there's an extra 53, so that takes us up to a total of 77 patients.
"As far as our critical care unit is concerned, we've got seven patients in intensive care who are there because of Covid, and if you remember in the very height of the pandemic we had 32 critical care beds, where our normal number is 16.
"I'm happy to say we have got down to 20 now, and with a bit of luck can get down to 16 at the end of the week or next week."
Dr Gardner, speaking during his weekly briefing yesterday, said three people had died in the past week, taking the Vic's pandemic death toll to 749.
"But, again, I'd remind everyone that in January and perhaps December, November, and October, we'd often be talking about 25 deaths per week, so we are seeing a real reduction and that's great news," he said.
"And when I look at the number of Covid-positive patients in the hospital, and I've talked before about the major risk factor being age, it's great to see there's a very small number of patients now who are over the age of 85 who are with us.
"I think the number is three, and I think that really demonstrates the impact of the immunisation programme.
"It's been so successful and thank you to everyone who is both delivering the immunisations, and thanks to everyone who is having them because it's making an enormous collective change to the risk profile."
Dr Gardner also said the community infection rate is at its lowest since the autumn, adding: "The great news again in that data is that the number of people over the age of 60 testing positive is really coming down sharply."
It is thanks to our loyal readers that we can continue to provide the trusted news, analysis and insight that matters to you. For unlimited access to our unrivalled local reporting, you can take out a subscription here and help support the work of our dedicated team of reporters.