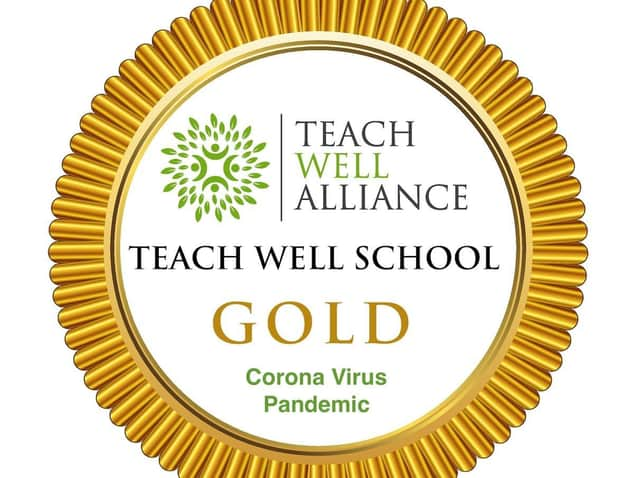 Baines High School won a Teach Well gold award
The support the Poulton school has given to taking care of the physical and mental well being of staff during the coronavirus pandemic has won a gold award from the Teach Well Alliance.
Like all schools work to make sure pupils are as unaffected as possible by school closures has seen a dramatic change to practises.
Staff are working from home with flexi time to fit in with their home situations as many are carers for children or elderly parents and we are understanding in the way they need to support people at home.
Baines High School headteacher Alison Chapman is proud of the support her staff are getting during the pandemic and was pleasantly surprised by the Gold Award
Baines has drawn up a rota for staff going in to school to supervise for children of keyworkers and those classed as vulnerable.
This rota is aimed at minimising the contact staff have with people outside their own home in order to keep them safe. Staff are placed into teams where they go to school for two contact days and then work from home for a minimum of 14 days , so that if anyone had symptoms of the virus, then the whole team could self-isolate before coming in to school again).
Staff with family members who are vulnerable and need shielding, or are vulnerable themselves, have been excluded from rota.
But, on top of that the school has put a raft of measures in place to make sure staff feel supported. These range from regular phone calls and checking they are well both physically and emotionally with more regular calls to staff who have underlying health conditions or who live on their own.
Baines High School staff are running a stay home stay safe campaign for each other and their pupils
Some groups are having social quizzes and meetings online in order to balance work with some social aspect.
School activities include the 'Stay Home, Stay Safe' photograph campaign to share some of the positive things that staff have been doing at home with the community.
Headteacher Alison Chapman said: "I am really proud that we have received this award. It was a wonderful surprise.
"We spend most of our time finding ways to support and keep children safe, it is also important that we consider staff wellbeing too.
"Amid all of the sadness that we are working with at the moment, this is a little bit of positivity that recognises the work we have done! Thank you to everyone who has helped and supported our Baines School community, well done everyone."