A year on: How coronavirus rocked our lives in Blackpool - and a look at what the summer holds
Each one of our experiences over the past year will have been different – yet much the same too.
Tuesday, 23rd March 2021, 8:53 am
Updated
Tuesday, 23rd March 2021, 9:04 am
Hundreds of local families have grieved the loss of a loved one – and, in some cases, loved ones – to Covid.
Many more have been forced to find a way to cope with the anxiety of continuing to work at a time Government bigwigs were telling us to stay holed up indoors as much as possible, lest we get infected.
Youngsters ignored their Xbox and Switch consoles as they sat down to learn from home and parents underwent refresher courses in English and Maths.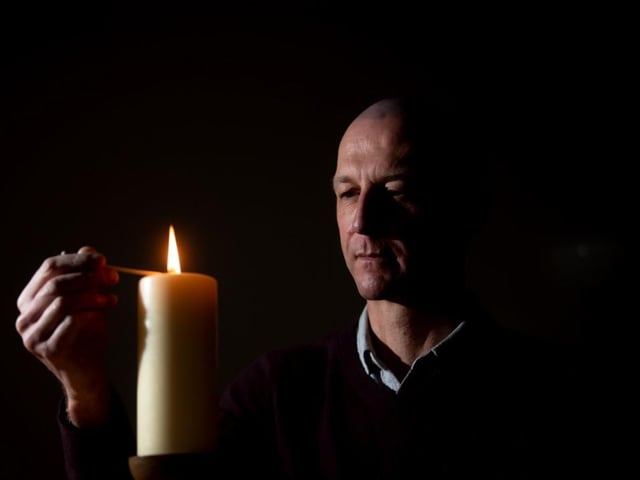 Dr Jason Cupitt, who is in charge of Blackpool Victoria Hospital's Covid intensive care unit, lights a candle in the hospital's chapel to remember the pandemic's victims (Picture: Dan Martino for JPIMedia)
Medics, many of whom shun the 'hero' label bestowed on them by the grateful public, have witnessed horrors on the coronavirus frontline which have left them in therapy with mental health conditions often suffered by war vets.
Others have been frustrated by perceived Government failures, misled by damaging and made-up claims of conspiracies, angered at curbs on our personal freedoms, and even embittered by the inconvenience of being asked to wear masks in shops and on public transport.
And some, it is certain, will have escaped any ill fate and had a relatively 'good' 12 months; perhaps furloughed from a job they dislike and fortunate enough to dodge any personal scrapes with a disease that has claimed the lives of more than 2.5 million lives worldwide and infected almost 120 million more.
But life changed for everyone and the past year has seemingly seen time slow to a halt and gather speed at the same time.
The little things we all took for granted – a kickabout in the park, a girls' night in with wine and Chinese food, even sitting in a coffee shop watching the world go by – were stripped from us in the most severe peacetime crackdown on our ability to live life as we choose.
And yet we are still here, to remember, commemorate, express gratitude, and bounce back together.
It was a year ago today Blackpool, along with the rest of the Fylde coast and UK, was plunged into the first lockdown. "The coronavirus is the biggest threat this country has faced for decades – and this country is not alone," Prime Minister Boris Johnson said on March 23, 2020.
"The way ahead is hard, and it is still true that many lives will be sadly lost."
And lost they were, both nationally and locally.
Blackpool Victoria Hospital has recorded the deaths of more than 750 people within 28 days of a positive Covid test, the first of which was Lytham man Paul Ramsden, 80, on March 27.
His widow Jacky said she felt "lucky to have enjoyed 40 years of love and adventure" with him – but "saddened our marriage has been cut short in this way."
Her anguish went on to be shared by many as the Vic's intensive care unit – which has been reconfigured half a dozen times and been partly manned by retired or inexperienced nurses given months of training in a matter of hours – grew to an unprecedented size and the body count racked up.
Although the receding second wave – with the vaccine standing triumphantly on the shore watching it go out – has seen hospital admissions and deaths fall recently, dozens of people were dying every week at the height of the pandemic, with 11 dead on each of the joint worst days at the Vic – April 12 last year and January 14 this year. It's too early to tot up the final toll.
Dr Jason Cupitt, the man in charge of the Whinney Heys Road hospital's Covid intensive care unit, which could be downsized this week amid dwindling demand, and who flicked the switch on the Illuminations last season, said: "I don't think we expected to get the number of patients we did.
"I remember someone asking me last January if we'd ever see any patients, and my colleague and I basically just said, 'No, we might see the odd one or two', but not the number we have seen.
"It was, I think for a lot of hospitals, very unexpected. None of us have ever worked in a pandemic before and we probably never will again.
"The past year has been very different and it's been one huge learning exercise. I don't know where we are on the curve. We don't know everything but we've had to learn very quickly.
"I've personally felt that the virus has always been one step ahead of us. It's been tough."
Kevin McGee, the Vic's chief executive, said the last 12 months have been "brutal" for medics and said: "I am so proud of how our staff, alongside partners from across the wider health and social care system, have come together to support each other and everyone in the community through these horrific times.
"It has been the NHS at its very, very best."
While every death has brought its own agony, the majority of Sandgrownuns have not suffered a loss.
Their lives will have been most disrupted by the lockdown measures – perhaps none so more than parents.
Many juggled working from home – having set up impromptu offices in their dining rooms or back bedrooms using the only furniture still available to buy online – with teaching their children, who are as young as five and needed constant supervision and guidance.
Then, as outbreaks sparked the partial closures of at least a dozen local schools after youngsters returned to the classroom in September – albeit only until January when the third lockdown beckoned – they endured between 10 and 14 days of self-isolation, some more than once, spinning worry over infection and the stress of being cooped up inside.
"The resilience and optimistic outlook of both pupils and staff on the Fylde coast have been a humbling experience," said Sean Bullen, director of education at the Fylde Coast Academy Trust, which runs a number of local schools, including Unity Academy in North Shore, Montgomery Academy in Bispham, and the Armfield Academy in South Shore.
"We, together, have faced lockdowns, bubble closures, remote learning, and mass testing of secondary-aged children. Through it all, the staff and pupils have looked to 'be the best they can be'."
Blackpool's community infection rate continued to fall even as youngsters went back to school earlier this month, measured at 42.3 per 100,000 in the seven days to March 13, down from 73.9 the week before.
That will come as a marked relief for teachers and other school workers, who put themselves at risk throughout the lockdowns to teach vulnerable youngsters and the children of key workers in class.
Two – Michael Haigh, 60, a site supervisor at Christ the King, St Mary's, and St Cuthbert's; and Kath Strangwood, 57, a support assistant at Moor Park – died after testing positive for Covid.
"We hope by June 21 to be back to some form of normality," Mr Bullen said. "And we will look to see exactly how that normality works once more for the benefit of our young people.
"We have been delighted to have pupils back in classrooms. This has helped with their thirst for knowledge but also with their wellbeing."
Businesses have also suffered greatly. The UK's entertainment capital ground to a unearthly halt as the rollercoasters, theatres, clubs, and tourist traps fell quiet. Hotel bedrooms were left to gather dust, while publicans poured away beer and looked out onto empty beer gardens.
The true impact of the greatest public health crisis in living memory on local firms will only become known once businesses are allowed to reopen but some remain shuttered – but there is light at the end of the tunnel, with unease and uncertainty over overseas travel set to boost 'staycations'.
There has been a surge in Scots searching online for breaks here, despite First Minister Nicola Sturgeon's ill conceived plea for them to avoid Blackpool last summer, and new bars and eateries continue to plan to open this year.
Others will be keen to make up for lost earnings – and to reemploy those laid off over the past year.
The number of people seeking state help, many of whom were made redundant or told there were no seasonal jobs to go back to, had doubled by the end of 2020.
Coun Gillian Campbell, the council's tourism boss, reflected on an "enormously difficult year", which saw the resort miss out on trade during the Easter break, two May bank holidays, and the October half-term which, with the Lights season usually in full flow, is a money-maker.
That had a "hugely damaging effect", but opportunity now lies just over the horizon.
"We envisage that, when our attractions, hotels, and venues are allowed to reopen, there will be a strong pent-up demand for staycations," Coun Campbell, who grow up north of Edinburgh, said.
"That is already being illustrated by the high volume of enquiries in the accommodation sector. We are delighted people are actively planning for the day when they can come back to Blackpool and enjoy all that the resort has to offer."
Coun Campbell continued: "Our tourism industry has been preparing for months for the long-awaited reopening. Hundreds of our businesses have secured the national 'Good To Go' Covid-compliant accreditation standard, which will help ensure our visitors have a safe and enjoyable experience.
"We were the first destination in the country to utilise Covid marshals last year and we will be looking to expand that resource over the coming months. We have also compiled a comprehensive set of information on the VisitBlackpool website which will help families to plan ahead and book tickets in those venues and attractions that are operating with limited capacity."
Despite under-50s facing a month's delay to get their jab – which has been blamed on a supply chain hiccup in India – national health bosses insist they are still on track to get a first injection in the arm of every (willing) adult by the end of July.
Dr Arif Rajpura, Blackpool's public health director, said the vaccination programme on the Fylde coast, with the Winter Gardens the resort's main hub, has been a "massive success" so far.
He said: "We have almost vaccinated 50 per cent of our adult population with one dose of the vaccine and, once we have done all the vulnerable groups and those over 50, we will be moving on to the rest of the adult population.
"Of course this is dependent on vaccine supplies."
Dr Rajpura, who has studied pandemics and knows "what they can do to society", added: "No-one could have really foreseen [last year] what was about to unfold.
"Of course, I was seriously concerned about the impact as this was not just going to be a public health crisis, it was potentially going to impact every facet of our lives including schooling, jobs, and mental health, to mention a few.
"The people of Blackpool have been incredible following the rules to keep cases as low as possible. That effort needs to continue so we can return to a virus-free life."
Dr Cupitt was more cautious, and said the pandemic has left deep mental scars.
He said: "Hopefully the vaccine has knocked it on the head for a bit but I don't think we've seen the end of it yet. Speaking to the modelling people – the people who try and model the disease – they think there might be one or two little 'humps'.
"The vaccine isn't the be all and end all. It isn't going to eradicate the disease because people will stay carry it and not realise it.
"I think we will have a significant hump during or after the summer, because there will be that much travel and that much holidaying and partying. Come July or August, people will be really mixing.
"I think we will see another peak in the autumn, and that may well go into Christmas time. God forbid we get another lockdown at Christmas time.
"It might take a year or two to properly settle down, and then it might become that annual vaccine process a bit like flu is. I don't know when we'll be able to stop wearing masks."
He added: "It's true about the amount of mental health problems. We are seeing the effects of it now. We are seeing, without going into too much detail, cases of 'baby-bashing' because fathers have just lost it.
"We have seen cases of young teenagers committing suicide because they can't cope, and it's horrible.
"And it's all down to the isolation. There's going to be a mental health pandemic now, if anything, and we need to try and tackle that if we can."
It is thanks to our loyal readers that we can continue to provide the trusted news, analysis and insight that matters to you. For unlimited access to our unrivalled local reporting, you can take out a subscription here and help support the work of our dedicated team of reporters.