Workday Certified Professional: study program and practice tests
The Workday platform has revolutionized the way organizations manage their human resources, finances, and operations. It offers a comprehensive suite of cloud-based applications that streamline business processes and automate tasks, enabling businesses to become more efficient and productive.
Watch more of our videos on Shots! 
and live on Freeview channel 276
Visit Shots! now
Introduction to Workday Certification
Workday Certification has become increasingly important in today's competitive job market. As more companies adopt Workday as their enterprise resource planning (ERP) solution, the demand for certified professionals who can effectively navigate and utilize the platform is on the rise. Obtaining a Workday Certification not only enhances your job prospects but also serves as a validation of your skills and expertise in using this powerful cloud-based software.
One of the main benefits of becoming a Workday Certified Professional is the opportunity to stand out from other candidates during job interviews. With certification, you can showcase your deep understanding of Workday functionalities and demonstrate your ability to optimize its usage within an organization. Employers are highly interested in individuals who possess real-world experience in deploying and managing Workday solutions, making certification a valuable asset for career advancement.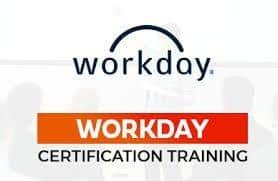 Moreover, being workday certification provides you with access to exclusive resources and networking opportunities within the Workday community. You will have the chance to connect with fellow certified professionals, share insights, exchange best practices, and stay up-to-date on industry trends through conferences, webinars, forums, and other events reserved only for certified individuals. This strong network allows you to collaborate with experts across different industries and gain valuable feedback on specific use cases or challenges faced by organizations implementing or upgrading their Workday systems.
Workday Fundamentals
Workday Fundamentals is the perfect starting point for anyone pursuing a career in human resources, finance, or any field that requires managing and analyzing people data. This certification provides a solid foundation of knowledge and skills needed to navigate through the Workday platform with ease. It covers a wide range of topics such as core concepts, terminology, security protocols, reporting tools, and much more.
What makes this certification so valuable is its practical approach towards real-world scenarios. By going through the study program and practice tests for Workday Fundamentals, you'll not only learn how to use the platform but also understand why certain processes are done in particular ways. This deeper understanding allows certified professionals to tailor their solutions according to unique business requirements and maximize the potential of Workday's capabilities.
Moreover, obtaining your Workday Fundamentals certification opens doors to various job opportunities across industries globally. As organizations increasingly adopt this cloud-based solution for cutting-edge HR and financial management needs, there is a growing demand for skilled professionals who can effectively leverage the power of Workday. Whether you are an experienced professional looking to upskill or someone just entering the workforce, investing time into becoming a certified Workday professional will undoubtedly accelerate your career growth
Workday security and data protection.
Workday security and data protection are crucial aspects of any organization's daily operations. As businesses increasingly rely on cloud-based platforms like Workday for their HR and financial management needs, it becomes paramount to ensure that sensitive data is securely stored and accessed only by authorized personnel. This is where the expertise of a Workday Certified Professional comes into play.
A Workday Certified Professional possesses comprehensive knowledge of the security features built into the Workday platform. They understand how to set up roles, permissions, and privileges effectively, ensuring that employees can access only the information they need to perform their job duties. They also have a deep understanding of encryption techniques and other data protection measures employed by Workday, safeguarding against potential security breaches or unauthorized access.
However, as technology evolves at an unprecedented pace, so do the threats facing organizations' critical data. A specialist with a current Workday certification stays constantly updated on these emerging risks and how to mitigate them effectively. They are equipped with tools and techniques to identify ways in which vulnerabilities in an organization's infrastructure may be exploited, allowing them to proactively address potential gaps in security before they can be exploited by malicious actors.
In conclusion, obtaining a Workday Certification is not only a concrete validation of your skills and expertise in the field but also a career-boosting move that opens up countless opportunities for growth and advancement. The Study Program and Practice Tests provided by Workday are crucial in preparing for the certification exam, equipping candidates with comprehensive knowledge and hands-on experience.
Furthermore, this study program goes beyond just helping individuals pass the exam – it empowers professionals to truly understand and apply the principles of Workday in real-world scenarios. By mastering various aspects of Workday functionality, professionals can efficiently navigate complex HR processes, drive organizational success, optimize workforce management systems, and enhance overall operational efficiency.
By investing time and effort into studying for the certification exam with the guidance of this program, professionals can gain an edge over their peers in an increasingly competitive job market. A Workday Certification serves as undeniable proof of one's abilities to employers while providing endless possibilities for career progression within organizations implementing Workday solutions. So whether you're embarking on a new career path or looking to advance your existing one, earning a Workday Certification through thorough preparation is undoubtedly worth pursuing.