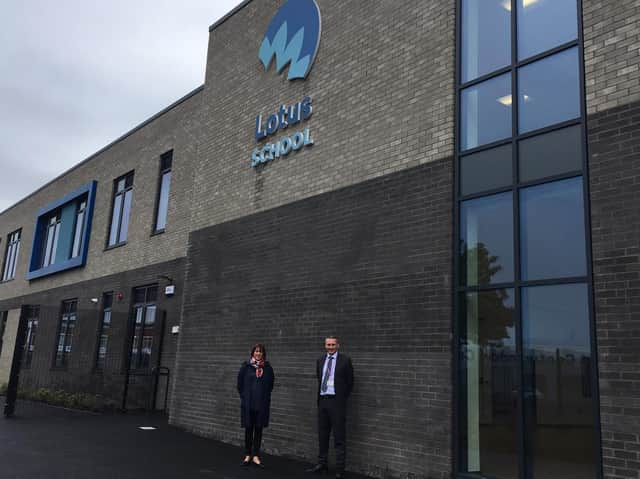 Coun Kath Benson, cabinet member for schools, education and aspiration and Philip Thompson, head of service, Special Educational Needs for Blackpool Council at the new Lotus School
The Lotus School in Langdale Road will cater for pupils with social, emotional and mental health needs in purpose built accommodation.
Costing £4.5m , it has been carefully designed to ensure that students who have struggled accessing mainstream education are fully supported to succeed.
The only school of its kind in the area, all the places have been commissioned by Blackpool Council. Lotus will cater for up to 48 pupils from years six up to year 11 meaning that 10 to 16 year olds with specific needs will no longer have to travel out of the borough to get the special education they need.
The main contractors Eric Wright Group Special Projects Team recently handed over the keys for Lotus School to the Champion Education Trust in time for the first intake of 18 pupils to arrive today. ( Friday)
The aim is to build up to the maximum 48 over the next two years and all students will have access to different pathways teaching the core subjects alongside therapeutic interventions to help them to develop and re-engage with school life.
The building includes six main classrooms, which are smaller than in a traditional school as class sizes will reflect the needs of individual learners, as well as a science lab, food technology lab, art and design rooms, a music space and sports hall.
There are also a number of dedicated sensory and therapy rooms for use by educational psychologists, speech and language teams and occupational therapists.
Students will also be able to develop independent living skills in the Life Experience Flat, learning this like how to use a washing machine and budgeting for food and other bills, as well as using two specialist outdoor spaces.
There will also be opportunities for off site study and for pupils to and take part in outdoor educational activities, work experience, and community based work.
Headteacher of the new school is Rachel Kenworthy. She said: "I am delighted with our new state-of-the-art school and really excited to be welcoming our new students.
"Every child, no matter what their starting point or background, has the right to an education that prepares them for adult life and Lotus School can provide them with the safety, stability and success that they need.."
Blackpool Council was able to cover the full £4.5m cost of the school through the Free School Funds for Special Education Provision in 2017/2018 via the Department of Education. The building was commissioned through a self-delivery model by Blackpool Local Education Partnership and Eric Wright Special Projects Team.
Councillor Kath Benson, the authority's cabinet member for schools, education and aspiration added: " It is wonderful that we have a facility such as this in Blackpool that can nurture and support our young people and make a real difference to their start in life."