Montgomery Academy pupils reflect on lessons learned and everything they missed during the pandemic
Pupils and staff at Montgomery Academy in Bispham tell of what they missed - and what they had learned - during the Covid-19 pandemic, as we mark a year since lockdown.
Tuesday, 23rd March 2021, 12:30 pm
Updated
Tuesday, 23rd March 2021, 12:32 pm
With schools across the country closing and reopening, before repeating the cycle again during the last year, times have been confusing and uncertain for children across the Fylde coast.
Adults had to adjust to a 'new normal' too, as many parents stepped into the role of teacher, and teachers either taught from half-empty classrooms or remotely.
As we commemorate the anniversary of a year since lockdown, we asked staff and pupils at Bispham's Montgomery Academy to reflect on the lessons they had learned and the things they had missed most during the pandemic.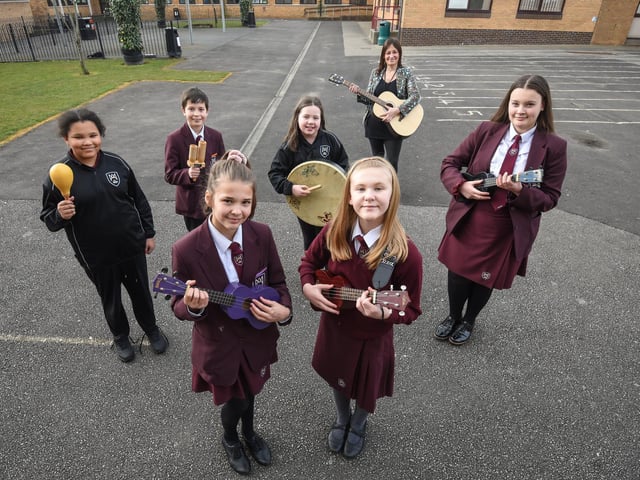 Members of Montgomery's ukulele club. Photo: Daniel Martino, JPI Media
Emma Ibberson- Year Eight: "I have missed going to my favourite restaurant, and I have learned some time management in order to get my work done.
Libby Compston - Year Eight: "I have missed all of my hobbies such as being a rookie lifeguard, and I have learned to try hard so that when it begins again I can pass silver and gold, and become a lifeguard when I'm a teenager."
Joshua Worster - Year Eight: "I missed after school clubs like robotics and STEAM club, and I learned how to concentrate."
Evie Langdon, 11. Photo: Daniel Martino, JPI Media
Holly Taylor - Year 10: "I missed PE- doing actual PE lessons and having the facilities to be able to play my favourite sports like netball. Also, the one-to-one connection with teachers and being in a classroom environment. I learned how to keep in a routine, maintain schoolwork and keep my mental health in check at the same time."
Charlotte Edwards - Year 11: "I missed being able to meet up with my friends, having my hobbies stopped, not being able to celebrate birthdays with my family and having a "normal" social life. I learned how special friends and family are to me, how lucky I am to have so many amazing people around me and to do so many social events, and how I took my everyday life for granted."
Annie Platt - Year 11: "I missed family, meeting up with friends and extra-curricular activities. I also missed visiting family in other parts of the UK and being able to go to school. It's been difficult for my grandpa who has Alzheimer's as routines are important for him, and it's been hard not seeing him. I have learned how important family is, how much I need people around me, and how lucky I am that I have lots of activities I usually participate in. I also learned how much teachers could help over an email."
Isobel Walsh - Year Seven: "I missed being in school and experiencing normal classrooms, like science in and science lab and art in an art studio. But I joined 'The Super Strummers' - an online ukulele group at school and learnt to play ukulele with others. I don't think I would have done it if it wasn't for lockdown. I had time to practice and the online group was a lovely opportunity to be around other people and practice together. I'm looking forward to continuing playing in school with my friends when we can."
Holly Taylor, 15. Photo: Daniel Martino, JPI Media
Evie Langdon - Year Seven: "I missed the feeling I get when it's home time! I learned how to be part of a team in the ukulele group."
Alice Tarpey - Year Seven: "I've missed my friends and socialising and face to face learning, and learned you shouldn't take things for granted and to try your best."
Dalia Hammad - Year Seven: "I missed school so much, but I've learned the ukulele and a lot of maths."
Tiffany Darroch - Year Seven: "I missed my friends, teachers and my classes and the feeling of being sad that it's the end of the day. I have learnt the ukulele, English and art."
Annie Platt and Charlotte Edwards, both 15. Photo: Daniel Martino/JPI Media
Zach Hutchinson - Year Seven: "I missed my friends and teachers, and also learned the ukulele. Lockdown was bad!"
Macie Oladele - Year Seven: "I have missed my friends and the extra-curricular clubs, and I learned to be grateful for what I have."
Kasey- Lee Connor - Year Nine: "I missed my football training, and after school sport clubs. I missed football loads, I can't live without football. I practiced every day during lockdown."
Amanda Morton - Deputy Head Teacher: "I missed the face to face teaching and the great relationships I have with my classes. I have honed my ability to teach remotely and how to get as much as possible out of Google Classroom to benefit our students' learning. I appreciate, more so now, the ability to interact with students and see their learning there and then in the lesson, and be able to intervene to help correct misconceptions and errors 'live'."
Ruth Whittle - Assistant Headteacher: "I have missed the Montgomery family being in school all working together on a daily basis. I've also missed teaching my students face to face and interactions with staff and students. It feels great to be back in school together! The pandemic has reminded me of the importance & value of teamwork & looking out for others during this challenging time. My ICT skills have improved to facilitate remote learning such as recording loom lessons & providing online feedback to students."
Emma Ibberson, 13 and Libby Compston, 12. Photo: Daniel Martino/JPI Media
Sue Henry - Reception Staff: "I have missed seeing students' smiles, and being able to comfort parents. In the past when parents have called in distressed we've been able to make them a brew and even hug them if they needed that. It's hard to not support them in this way anymore. I have learned to look at people's eyes more to check they're okay, as we can no longer see people's facial reactions under a mask."
Phil Hayes - Student Support Assistant: "I missed family, friends and colleagues, but learned understanding, resilience and appreciation. Understanding and appreciation of not only family, but friends and colleagues and the needs of yourself and what truly matters in life."
Kasey-Lee Connor, 14. Photo: Daniel Martino/JPI Media
Joshua Worster, 13. Photo: Daniel Martino/JPI Media