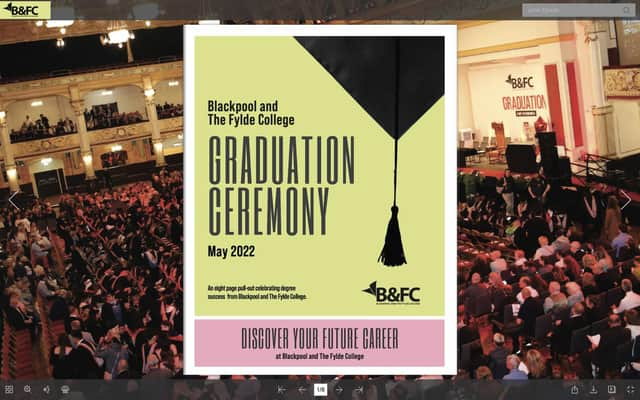 Page turning online eMag celebrating graduation success at Blackpool and Fylde College
FREE eMAG: Read our eight page pull-out celebrating degree success from Blackpool and The Fylde College – CLICK HERE.
For some, it was two years. For others, only one. But on Wednesday 11 May 2022, the wait was finally over and the B&FC students whose graduations were postponed because of Covid.
They were able to celebrate their success; success that was made all the more remarkable given that their studies had been interrupted by a series of unprecedented lockdowns and restrictions, not to mention the virus itself.
Taking place in the magnificent Empress Ballroom in Blackpool's iconic Winter Gardens, the two graduation ceremonies saw over 800 students graduating, with a staggering 290 receiving first class honours.
Guest of honour at the ceremonies was Antony Jenkins, Founder, Chair and CEO of 10x Future Technologies Group, a company that aims to redefine how banks operate and engage with customers, who gave a keynote address.
Each ceremony was ultimately closed by one of our graduating students - Charlie Brinkman who studied Acting and Peter Bell who studied Business Management.
Students and their families had the opportunity beforehand to meet up with fellow students in the Floral Hall where they also had the opportunity to have their official graduation photographs taken.
Afterwards, College Principal Bev Robinson invited graduates and their guests to a celebratory drinks reception in the Derham Lounge where they had the chance to reconnect with the tutors who had shepherded them through one of the most challenging periods in education.The Classes of 2020 and 2021 will be remembered for many reasons, not least their resilience, perseverance and their adaptability. And, whilst none of us would want to repeat the circumstances of the previous two years, we are sure that these new-found abilities will serve them well going forward and we wish them every success as they start the next chapter of their lives.
Blackpool & The Fylde College Links:
B&FCs 2020-21 graduates finally get to celebrate
Congratulations to Blackpool and Fylde College's classes of 2020 and 2021