Pleasure Beach boss Amanda Thompson ready for 125th milestone celebration and says she is looking forward to the fun, music and laughter on the historic park once again
The business of Blackpool runs through the veins of the Pleasure Beach's boss Amanda Thompson, and in a few short weeks she will be opening the gates at the biggest tourist trap in the north west for its milestone 125th season.
Friday, 12th March 2021, 11:13 am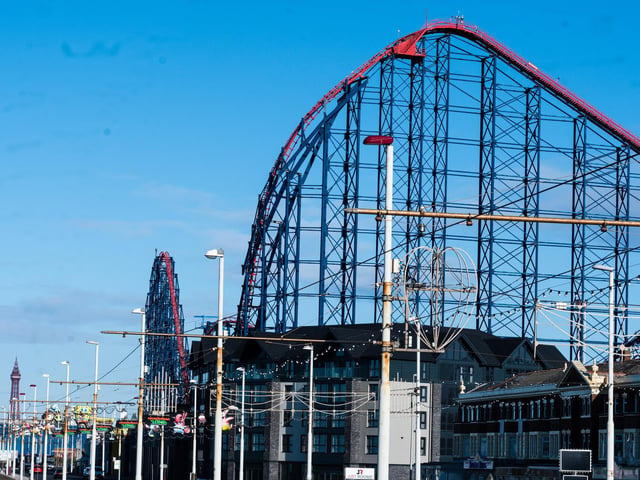 Blackpool Pleasure Beach will open for its 125th season on April 12
It will be, she says, a "very proud moment" for her, given she's the custodian of the family-owned park, cofounded by her great-grandad William Bean in 1896.
The South Shore attraction will also play a key role in bouncing Blackpool back from the despair of the pandemic, which has devastated the tourism industry.
Speaking to The Gazette, which last week launched its #GetBlackpoolBack campaign, Amanda said she is "grateful" to be "given a date by the Government" to reopen from April 12 at the earliest.
She says: "A 125th season, this of course is a cause of celebration and something we have all been very much looking forward to after missing the start of the season on February 6 as we'd hoped for.
"So yes grateful we finally were given a date by the government, grateful to give some confidence back to our work force and grateful to be able to welcome back guests to come and enjoy the park from April 12.
"We have now at least a way forward.
"It's not a feeling of excitement right now - we're ready to go - but at the same time very mindful that it is the park that is open, not the hotels, the restaurants, the wider attractions that bring life which is most vital to this resort.
Amanda Thompson, Pleasure Beach boss, fourth generation in the family business
Hotels, pubs, and eateries won't open until May 17 at the earliest as part of the Government's cautious 'road map' out of lockdown restrictions.
"I'm a custodian of the Pleasure Beach," Amanda said. "But also Blackpool and everything is represents. I'm passionate about this town and its success."
Amanda represents the fourth generation of her family to run the amusements park – following her dad Geoffrey, grandparents Leonard and Doris Thompson, and William Bean – which is home to some of the world's most famous rides, including Icon, the Big One, Valhalla, and Revolution.
She said there's a sense of optimism, willing, and readiness as the resort gets back on its feet – but a tinge of frustration and sadness that local firms – and their often seasonal workers – have endured throughout lockdown.
The final piece of Icon is installed at Blackpool Pleasure Beach. Pictured are Amanda and Nick Thompson
"Make no mistake, this past year has been very hard, but also very confusing given how the restrictions were delivered with Blackpool being lumped in with the rest of Lancashire," Amanda said in a nod to the Government's decision to put the resort in Tier 3 restrictions last year while ignoring a plea from councils to treat each of the county's 14 local authority areas separately, with Blackpool's community infection rate far lower than nearby towns.
"Our business and many in the town had worked very, very hard and invested greatly in delivering safe practices for our staff, our guests and visitors, all within the Covid guidelines, and so when we were then all closed again I felt and I said it wasn't right.
"It showed a real lack of understanding of how this town is managed, what it needs to keep moving, not realising as a resort and as a collaboration of partners we can and could have done things differently.
"Half this resort opens out to the sea, we're not landlocked - there's a constant flow of fresh air and space.
Amanda Thompson says she is looking forward to hearing the fun and laughter on the park again after a difficult year
Amanda, who took over the reins of the Pleasure Beach in 2004, has worked with Disney and produced her first ice show, the world-renowned Hot Ice in 1982, also targeted First Minister of Scotland Nicola Sturgeon, who last year pleaded with Scots to dodge Blackpool.
Amid a "large and growing" number of coronavirus cases north of the border, with around 180 Scots testing positive within a month of visiting the resort, which does not mean they caught the virus here, Sturgeon said: "If you were thinking about going to Blackpool and haven't booked yet then please do not go this year."
The politician was quickly criticised and accused of unfairly singling out Blackpool, and Amanda said: "That was extremely detrimental.
"We have a proud history of welcoming people not just from Scotland but all over the UK, the world, and building an experience for visitors to enjoy their stay, however long, and give them the taste of fun Blackpool provides.
"To say people were 'at risk' was wrong. We have a fantastic relationship with many Scottish families who I hope will have the confidence to return despite her damaging remarks.
"Confidence is a massive factor, not just for all the guests but also our employees who, after all this time, will be returning to work.
"As a place that is built up on customer-facing businesses, I think all the workers in the sector should have been offered the Covid jab.
"I've personally asked for that to be the case. It's really important and something we should all be pushing for in helping to get Blackpool up and running again.
"Staff in those face-to-face roles would have the confidence they are safe at work, and it would also encourage visitors there is that level of protection.
"We really should be shouting about this louder."
Over the next few weeks, park bosses will prepare their returning workers, who will have rapid tests and extra training. Amanda said: "For many people this has not been easy, particularly the longer it has gone on. I want to keep the staff safe but I also want them happy to be here.
"We didn't close in war time. No one has ever experienced anything like this in our lifetime.
"But I do believe lessons can be learnt and we need to develop ways to cope in these situations for pandemics in the future.
"This is very complicated, difficult and very alien to us all and, as a result, has completely changed our lives."
While Amanda, who was awarded an OBE for her services to tourism, does not expect "the days of two-week holidays" to return, she does hope to see a surge in staycations amid oversees travel restrictions.
She said: "I like to think it will be true and we'll see people coming to enjoy Blackpool and have that fun we all need.
"Everyone will want a holiday but there will always be those who opt to travel abroad for the longer trips.
"It's nice to think a lot more people will consider Blackpool in their plans but in reality they will most likely be two to three day trips.
"What we need to do is try and look at making those short trips more regular for our visitors. Extending the season will help that."
This year's Illuminations season will run until January 3, 2022, instead of ending in November. The same was meant to happen last season but the third lockdown put paid to that idea.
And it is understood resort chiefs are toying with the idea – if the Lights are successful through those extra two months – of keeping the Prom lit up over Christmas every year.
"That's great for Blackpool," Amanda said, "and particularly why our stand-out things for our 125th season is our live entertainment programme, which I'm so passionate about.
"Our shows, the variety of talent from Hot Ice to Slimefest, the Christmas events and pantomime.
"There's so much more happening and it's a great way to come see and enjoy our resort at different times.
"The park will be open right up until December 12 and that is us all trying to work together to encourage more of these multiple visits and shout, 'Blackpool is here.'
"We've totally evolved in the way we operated, using new technology. We're now cashless to make it easier and more seamless for customers in our food outlets and shops.
"We'll have a new coffee house, WG Beans, but then you can leave here, wander the front and delight in the joy and fun in the heart of Blackpool.
"We want every single holidaymaker to be able to go away with something positive to say about the resort.
"After all, that is what it was built for.
"We have the talents and capabilities to make that happen.
"As someone who lives and works here, that is what I have always advocated and remain incredibly passionate about.
"I have a good idea of how it all works and feel very lucky to have been a part of it and to see all the many things happening across the town.
"It's extremely vital, now more than ever, for those coming here to hold these good impressions, see us moving forward with the changes that have been made in the last year, and vital we make people welcome, vital we ensure people feel safe and secure, and vital we don't stand back on our laurels."
Amanda added: "It remains a great honour for me to hold the post of managing director of Blackpool Pleasure Beach and crazy that a family
business in this industry is still here after so many years. I look forward to continuing its success and ensuring Blackpool Pleasure Beach has a future for another 125 years.
"But I'm mostly looking forward to hearing the music on the park again, that sound of laughter, the rides with people on them and all our visitors having a great time - the Pleasure Beach being used for what it was built for."
Thanks for reading. If you value what we do and are able to support us, a digital subscription is just £1 for your first month. Try us today by clicking here