London-style 'Tap&Go' contactless payments introduced on Blackpool's buses
Residents across the Fylde coast will now be able to use a 'London-style' payment method across Blackpool Transport's buses.
Friday, 19th March 2021, 3:30 pm
The resort transport operator has announced its latest investment which brings flexible, 'Tap&Go' payments to Blackpool buses.
Tap&Go means residents can are able to tap their contactless card or smart phone when boarding the bus, then again when getting off.
The bus travellers are then automatically charged the correct and lowest value adult single fare available for their journey.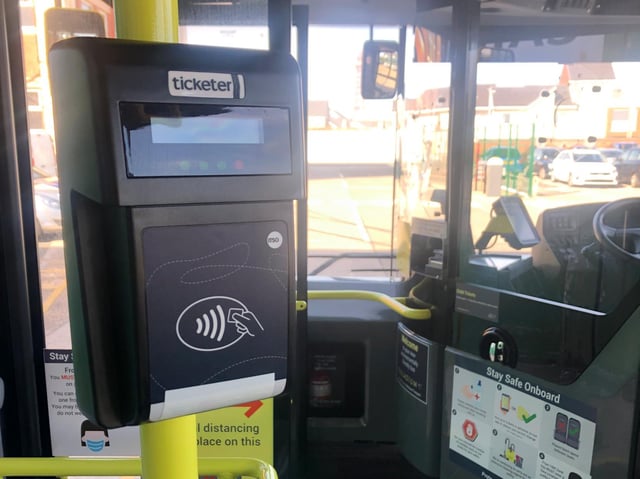 One of the new 'Tap&Go' machines on a Blackpool bus
Blackpool Transport said the new feature means its customers 'don't have to worry' about which ticket they need to purchase for their journey or whether they have the right change.
The firm has not introducing capped pricing similar to London's Oyster card system but says that it 'may do so in the future'.
A spokesman for Blackpool Transport said single fares on the resort's buses are at their 'lowest in several years', with most of its bus routes benefiting from a zonal fare system where adult singles are £1.90 within a zone and £2.40 for cross boundary journeys.
James Carney, finance and commercial director for the firm said: "Tap&Go will benefit our customers for so many reasons. It makes boarding the bus quicker and easier, especially for visitors or those who may be anxious about explaining their destination or which ticket to ask for.
"It makes travelling by bus much more convenient if a customer isn't carrying cash and they can be safe in the knowledge they're getting the best value fare for their journey."
The new Tap&Go feature adds to Blackpool Transport's recent introduction of contactless card payments.
The operator also announced that contactless payments are set to be introduced across the resort's trams later this year.