Layton micropub 'with real community spirit' set for expansion into Bispham
A micropub has won planning permission to expand to a new premises in Bispham, and its owners hope to bring a "community feel" with them.
Thursday, 8th April 2021, 12:30 pm
CASK micropub opened on Layton Road in November 2019, just four months before the Covid pandemic hit and forced its doors closed.
But CASK's success in its first few months of trade inspired owners Paul Gabbitas, 54, and Paul Fowler, 49, to open a second premises in the former Whiteside Carpets unit, in Red Bank Road, Bispham.
The owners, both ex-Blackpool Police officers, met at work and decided to embark on a joint micropub venture after retiring from the force four years ago.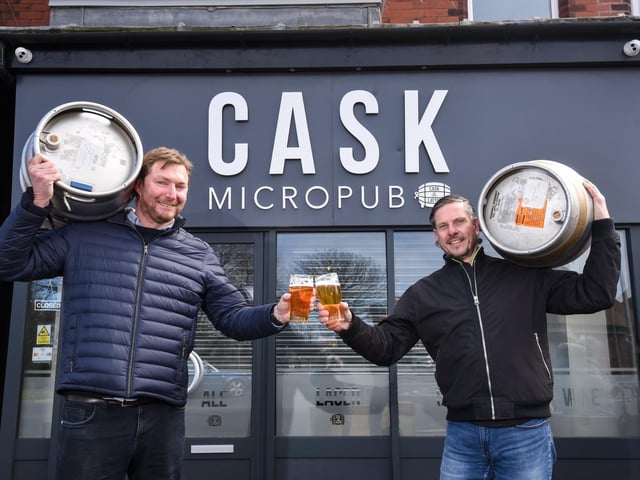 Paul Fowler and Paul Gabbitas, owners of CASK micropub in Layton, are expanding their business to Bispham in a bid to bring communities together. Photo: Daniel Martino/JPI Media
Mr Gabbitas, who spent 30 years with Blackpool Police, said: "It was just something we've always fancied, opening a micropub.
"Before Paul (Fowler) was in the police his family were in the hotel trade, so he has experience of that, and I'm a real ale fan.
"We identified that there wasn't really anywhere in this particular area doing them.
"I'm a Layton lad, I was born and bred there, and I thought it'd be the perfect place to start up because of the community feel to it, there are fewer tourists.
CASK micropub owner Paul Gabbitas is preparing to welcome back customers outdoors to the Layton Road premises, while also getting ready to renovate a new one on Red Bank Road in Bispham. Photo: Daniel Martino/JPI Media
"We were really pleased with it when we opened on Layton Road, it has a proper community feel to it and we had a lot of locals coming in.
"People were coming to meet their friends, have a chat and enjoy a few beers. It was really nice, because people were coming in who hadn't seen another local for some time so they were rekindling friendships.
"We decided to open a second micropub in Bispham because that's another part of town we identified as being a similar sort of place, with real community spirit."
Although current Covid rules prevent CASK from allowing customers to drink inside, Paul said he was looking forward to welcoming them back for beers outdoors, and would still be running a takeaway service.
He hoped to begin working on renovating the former carpet shop on Red Bank Road "towards the end of the year."
The micropub will be set over two floors, opening between 11am and midnight Mondays to Saturdays, and 11am to 11pm on Sundays.
The forecourt will be used for outdoor seating, and the interior will be transformed to include indoor seating arrangements, a bar, storage room and beer cellar.
"It'll be a mirror image of our Layton micropub, really," Mr Gabbitas explained.
"We'll have real ales, craft beers and bar snacks, and we are always trying to support as many local businesses as we can.
"We don't cover sports or play loud music or anything like that, we want to get people talking to each other and enjoying the atmosphere.
"As soon as we can get in there to start work we will, and we're really looking forward to opening up and bringing together another community."