#GetBlackpoolBack: excitement builds in the resort as indoor gatherings edge nearer
With a week to go until the next stage of the Government's roadmap out of lockdown, the resort gets ready to welcome people back to indoor areas again.
Monday, 10th May 2021, 4:29 pm
Updated
Tuesday, 11th May 2021, 8:33 am
From May 17, gatherings inside homes are likely to be allowed again, with a limit of up to six people or groups from a maximum of two households.
Indoor gatherings will also see punters flocking back to pubs to enjoy drinks in groups of six - but this time without the need to order a substantial meal to go with them.
Robert Wynne, owner of the Rose and Crown, West Coast Rock Cafe and Brew Room in the town centre, said he was looking forward to customers being able to enjoy a beer with friends and family indoors.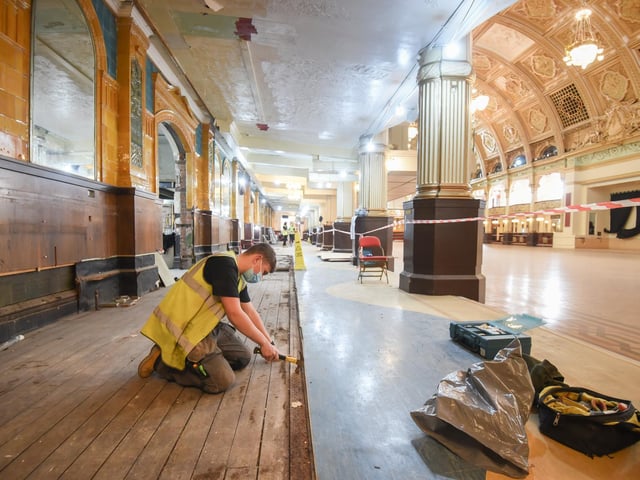 Staff prepare to reopen the Winter Gardens on May 17.
He said: "The Rose and Crown has done really well because we've got a big outdoor area there, but there have been a few wash-outs with the weather.
"This will be the first opening for the Brew Room and West Coast Rock Cafe, and we're really looking forward to it.
"Last year when we opened there was a tentative feel to it, but this time we're going to go for it. We've been back-brewing beers for the last two months in anticipation for this big day."
As well as pubs, cinemas and indoor sports is also on the cards – and they will no longer need to stick to a 10pm curfew.
Coral Orgill cleans the Morecambe and Wise statue as the Winter Gardens prepares to reopen on May 17.
Vue Cinema in Cleveleys and Odeon in Blackpool will both reopen on May 17, and will likely see eager children through their doors to finally watch UK film Peter Rabbit 2: The Runaway which had a delayed release due to the pandemic.
A host of new 2021 film releases are set to follow, including Fast & Furious 9, Marvel's Black Widow and the long-awaited Bond film No Time to Die.
Seat numbers will be limited for each film in both cinemas, and contactless booking is available online.
Carol Welch, managing director of Odeon Cinemas Group UK and Ireland said: "I am delighted to be welcoming guests back to experience the joy of the big screen at Odeon on
Live socially distanced events will return from May 30, and venue tours will return from June 1 at the Winter Gardens.
"We've all missed the magic that the cinema brings to movie watching, and we know our guests are excited about coming back. We are sure they will enjoy the great new offers that
make their movie experiences better than ever."
A spokesperson from Vue Cinemas added: "In a year marked by restrictions on our daily lives, the importance of escapism has never been stronger.
Publican Robert Wynne at the Brew Room, which he is looking forward to reopening on May 17.
"After the best part of a year at home, we know that families in Lancashire and entertainment fans are craving safe out-of-home experiences like never before – cinema provides that unique experience of being able to truly immerse yourself in a great story."
One of the jewels in the crown of the entertainment capital of the UK will also reopen after a year of closure, as the Winter Gardens opens its box office for face-to-face bookings on May 17.
The box office and Mazzei cafe will reopen, along with The Old Victoria Bar, featuring live entertainment daily.
Live socially distanced events will return from May 30, and venue tours will return from June 1.
The return to capacity events is planned in line with the Government s roadmap from June, including the return of Blackpool Rocks, Strictly Come Dancing The Professionals, Classic Northern Soul Night, and Six The Musical.
Michael Williams, managing director of the Winter Gardens said: "It will be a huge relief to reopen the doors and welcome people back inside the Winter Gardens Blackpool, after a most challenging 12 months.
"Everyone at the venue has worked tirelessly to open at the earliest opportunity with a fantastic programme of live events.
"I believe that Blackpool is set for a bumper summer and we are ready to play an integral role in welcoming visitors safely from across the UK and play our part in the recovery of tourism in Blackpool."
Ryan Skyrme, operations manager for Blackpool BID (business improvement district) added: "We are looking forward to the reopening of pubs, bars, restaurants and entertainment venues it is very welcoming news for the businesses, and also for the locals and tourists who visit Blackpool town centre.
"This will allow people to regain their social life with family and friends safely, adhering to government guidelines.
"Over the forthcoming weeks, we should see an increase in footfall leading to increased sales.
"There are so many establishments waiting to open its fantastic news and it is another positive step for businesses on the road to recovery and will hopefully place Blackpool back on the map for the remainder of the season."
The resort looks set to welcome back tourists with a bang from Monday too, as B&B owners and hoteliers dust off their dining tables in anticipation of a busy summer season.
Angie McClelland, co-owner of the Wescoe Guesthouse in Dean Street, South Shore with husband Allan, said she was excited to see customers for her 22nd year of running the hotel.
She said: "We're giving people the option of using the dining room, or having breakfast in their room if they're still a bit nervous.
"We've got staggered breakfast times anyway, and sanitising stations - all the usual stuff. But we can't wait to reopen again, I think there'll be more people going on staycations this year instead of travelling abroad."
Janette Cassidy, owner of the Moorfield Hotel in Hornby Road, spent the lockdown visiting her grandchildren in Liverpool - but was looking forward to welcoming guests again on May 17.
"It's been hard, but I got to spend more time with my grandchildren who I don't get to see very often since I moved to Blackpool seven years ago.
"But I'm really looking forward to reopening, we have guests booked in from the first day. I'm looking forward to working again."
The easing of restrictions comes as prime minister Boris Johnson is expected to update the advice on social distancing to allow more intimate contact with relatives and friends.
In a nod towards hugging being allowed again, cabinet minister Michael Gove said that "intimate contact between friends and family is something we want to see restored."
The government will also be reviewing wider social-distancing policies which are in place to reduce Covid transmission, including the two metre rule and mandatory face coverings on transport and in other public places.
And as summer approaches, the government has pledged to look at allowing up to 30 people to attend outdoor gatherings.
In addition to funerals, up to 30 people will be able to join together to celebrate weddings, receptions, wakes and religious ceremonies.
May 17 is also likely to herald a return to theatres and indoor sporting arenas, with a maximum capacity of 1,000 people.
Outdoor arenas will be able to host live events with a maximum number of 4,000 attendees, or for large outdoor seated venues where crowds can be spread out, up to 10,000.
In response to the anticipated next stage of the roadmap, resort residents said they were also looking forward to spending more time with loved ones and visiting their favourite places indoors.
Jo Williams said: "I can't wait to hug my best friend, her parents, and my godson and niece," and Alysha Fletcher said she had booked a meal at Frankie and Benny's to enjoy with her children.