Rail group on track to help Fylde's recovery from pandemic
Fylde community rail volunteers are poised to play a key role in the area's recovery from the coronavirus pandemic.
Wednesday, 31st March 2021, 9:18 pm
Volunteers across the Fylde have continued to work behind the scenes during the pandemic by setting projects in motion to make key stations look better or initiate improvements works.
Tony Ford, chairman of the South Fylde Line's community rail partnership, said: "Despite national and local restrictions, volunteers have been busy growing plants at home, building
planters and engaging with their local communities along the line to ensure they are ready to 'go' as rail travel opens up again."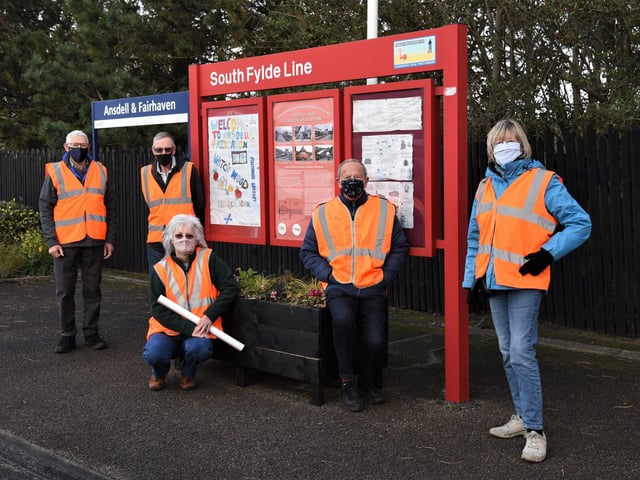 Fylde community rail volunteers unveil the history posters at Ansdell and Fairhaven railway station
New, attractive signage is scheduled for installation at St Annes station. Entitled 'Hidden Gems', it features images submitted by local photography enthusiasts promoting local scenes.
History posters – such as those on display at Ansdell – detail the history of stations, with Squires Gate, St Annes and Moss Side history boards due to be installed next.
Six new wooden planters have been built at Squires Gate by volunteers, and a video showing how these planters were designed and constructed is being prepared to share with other
Christine Holland (left) and Shellene Divall led a group of volunteers in Fylde sewing scrubs during the pandemic
Caroline Holden, Community Rail officer for the South Fylde Line, has been involved with local football clubs and art groups, while volunteers have also continued to engage with the
Restoring Our Railway project, which is pushing for a passing loop on the line to enable services to be doubled.
And plans are being drawn up to improve the interior of the station booking office at Kirkham and Wesham, along with discussions involving school and community groups to further
Tony added: "Covid brought out the best of volunteers with station adopters sewing scrubs and other much-needed items for local hospital and other health care settings.
"Led by Shellene Divall and Christine Holland the group won a national award from the Community Rail Sector for their contribution."
Jools Townsend, chief executive of Community Rail Network, said: "As we start to rebuild from Covid-19, within the community rail movement, we will play our part in enabling more people
to get around by environmentally responsible means."
Local station groups all have Facebook pages and can be contacted via Tony Ford at [email protected]
Thanks for reading. If you value what we do and are able to support us, a digital subscription is just £1 for your first month. Try us today by clicking here