Fylde coast businesses get ready to reopen after prime minister signals go-ahead for next stage of lockdown road map
Fylde coast businesses are getting set for the big reopening next Monday as PM Boris Johnson announced the latest plans plans for the easing of coronavirus restrictions.
Tuesday, 6th April 2021, 12:30 pm
The Prime Minister has confirmed April 12 for the next stage of reopening in his coronavirus road map with infection rates remaining low he signed off on the latest moves which will include allowing non-essential shops to reopen and bars and restaurants being allowed to start serving outdoors.
Also due to go ahead are services such as hairdressers and barbers, gyms and spas are set to reopen as well as zoos, theme parks, libraries and community centres.
Members of the same household can go on holiday in England as long as it is in self-contained accommodation and weddings attended by up to 15 guests can take place.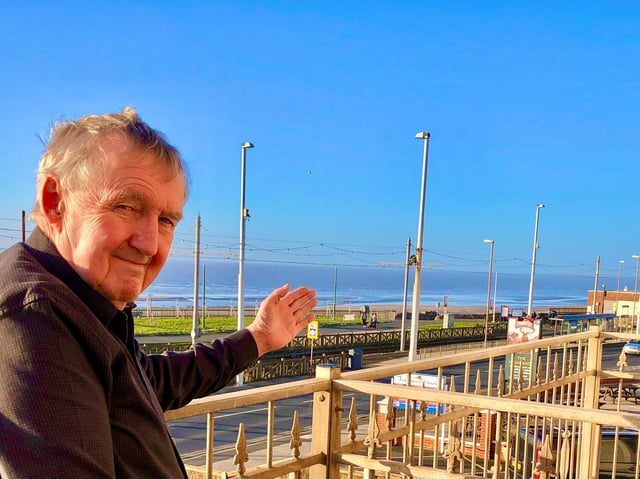 Mick Grewcock is getting his holiday apartments ready for visitors now that the next stage of lockdown is being eased on April 12
He also said before the official announcement that everyone in England is to be offered free, twice-weekly coronavirus tests in a bid to get the country back to normal.
He also revealed plans for a potential "traffic light" system for rating overseas destinations, lowering controls on journeys to those countries assessed as being at the lowest risk, but officials stressed travel would not begin before May 17 at the earliest and that it was still too soon to predict which countries would be cleared.
Meanwhile Fylde coast businesses have been busy stocking up and cleaning ready to be able to reopen next week, with high hopes that if there is no re-occurance of high levels of infection, the coast could have a good season as fewer people risk booking holidays abroad where virus cases have been rising..
Hotelier Mick Grewcock from Bispham who has four and five star self catering apartments at Burbage Lodge and Queens Mansions said he was making the final preparations to open to holidaymakers ahead of next Monday.
Hopes are high that Blackpool's beaches will be set to be not quite so empty as lockdown eases
He said: "It is going to be a busy summer. We have had lots of call already and, of course, we have the booking that were carried over from last year's cancellations.
"I think everyone is ready to get back to business in Blackpool. On Red Bank Road here, all the restaurants and cafes are getting ready to open outdoor areas. They had spent money making it look lovely. Originally the properties on Red Bank Road all had front gardens so they are lucky, there is plenty of room. They will all be busy after Monday.
"The only problem people might have is with it likely to be busy as more people stay in this county rather than going abroad and lots of places carrying over bookings, some people might find it difficult to find accommodation.
"What we really need is for the shows, the theatres and entertainments to come back for the visitors."
Valerie Wilshaw from Maddisons Bar in Red Bank Road runs the family business with son Paul and Daughter Lisa. She said they were getting ready to reopen again and would be welcoming customers to their outside seating area.
They have been keeping in touch with their customers and have been supplying Sunday lunches to the elderly throughout lockdown. From Monday their outside are will be open for walk-in customers with waitress service. Masks will be needed if people need to use the toilet inside.
She said: "We are all looking forward to reopening. I know it has been so hard for many of our older customers who have been scared to go out. We have had regular meetings with our staff on furlough too. We have got two coming back from next week and then the other two on a flexible furlough.
"This is a family business, we have been here 16 years and started from scratch. We have some wonderful customers and we are looking forward to seeing them all again."
Mark Yates from Brooks Collectables, on Waterloo Road near the Promenade, said the shop has had to adapt to the changes imposed by the coronavirus lockdowns and would be reviewing its offer to customers in the coming year.
He said that its toys museum upstairs was likely to shut down at the end of the year and new lines such as Hornby Trains, Scalextric hobbies and models as well as hi-tech items such as drones would be coming in to the shop after it opens on April 12.
He said: "I am just looking forward to seeing and talking to people again. It is going to be great to reopen. We have had loads of nice messages on social media from regular customers looking forward to coming back. When the hotels reopen later in the year it will be great.
"I am hoping that people don't get too put off or scared by any tier system that comes back and we are doing everything we can to make sure people are safe and secure."
Mark Leech, director of operations at holiday venue Ribby Hall at Wrea Green which has extensive self catering accommodation said: "It really is wonderful to be able to plan our phased reopening in line with Government guidance and the law commencing Monday.
"We really are looking to the future with optimism and cannot wait to once again safely reopen our gates to everyone."