Blackpool in top ten UK towns with best visitor numbers after lockdown
Figures have confirmed that Blackpool was flooded with people desperate to see the sights and visit the shops and cafes after lockdown.
Wednesday, 28th April 2021, 3:30 pm
The big return of shoppers to Blackpool's high streets has seen the town ranked as having one of the UK's best retail recoveries since stores re-opened on 12 April.
Based on research from Ipsos' Retail Recovery Index, footfall in Blackpool was found to have the ninth biggest increase in the UK in the week following non-essential stores reopening, compared to the same week in 2019.
As a region, the North West saw an above average recovery, with footfall down -27.3 per cent on the same week in 2019.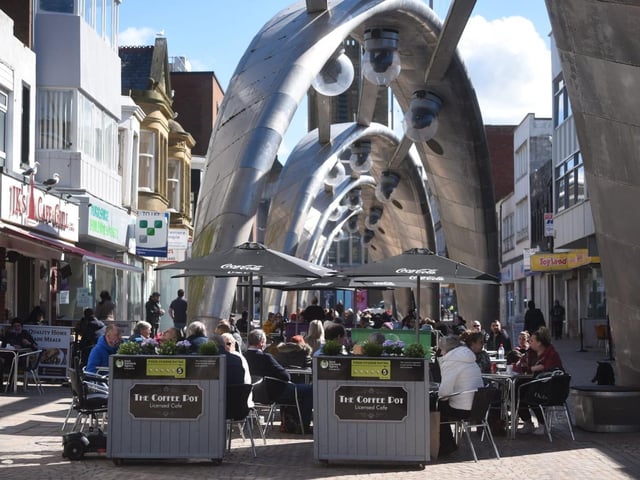 Blackpool saw a spike in visitor numbers during the first weeks after lockdown, new figures show
Nationally footfall was down -28.9 per cent on its 2019 level, on par with Ipsos' forecast and at a similar level to December, before the winter lockdown.
Explaining the findings, Dr Tim Denison, head of retail analytics and insights at Ipsos, said: "Our Retail Recovery Index shows the huge appetite for shoppers to return to their local high streets after a difficult period of lockdown.
"The North East and West Midlands have seen a strong recovery, particularly driven by footfall in towns and cities such as Worcester, Wolverhampton, and Middlesbrough.
"The success of these locations, shows clearly that shoppers are continuing to get their retail therapy in their local area and have not yet been drawn back to the UK's major retail destinations like London, Manchester and Birmingham."
The Bloom bar at North Pier was very busy
Blackpool came ninth in the Ipsos Retail Recovery Index, league table for the UK, with Worcester topping the list. The data was constructed from the number of shoppers entering stores excluding the grocery, convenience and minor retail service sectors.
Blackpool Council's car parking figures showed a huge influx of visitors.
Usage increased from 5000 a week to 15,000 in week commencing April 12.
A council spokesman said that 15,000 was similar to a normal week in April.
Shops reported increased footfall
Coun Gillian Campbell, Cabinet Member for Tourism and Culture, said: "We are delighted to see a resurgence of people coming back into our town centre and promenade as a result of the easing of lockdown restrictions on April 12.
"It is encouraging to see that there is clearly a pent-up demand for people to get out and start enjoying the things that they have been missing over the past few months.
"Through our planned investment in marketing and promotion we hope to see that growth continue over the coming weeks and months."
Chrissy Thomas-Griffin from the Lingerie Lounge in Church Street said they had been extra busy since re-opening and were delighted to be back interacting with customers.
She said: "It's good to see all the people on the streets and the car parks are all full.
"We have been super busy, people have really missed that shopping experience. We also offer things you can't get online such as proper fittings. And people's bodies have changed in lockdown.
"Some have been working out, some have put on weight due to being sitting down working from home, so our fitting service is in demand."
The Houndshill shopping centre had customers queuing outside the shopping centre eager to grab a bargain in the many sales that its retailers launched.
Primark saw over 300 customers patiently waiting for the doors to open on the first day of trading and retailers reported higher levels of spending.
Debbs Lancelott, centre manager said: "We are extremely pleased to be open for business and to welcome our customers back into store. Our customers are shopping local, supporting businesses in the community which is having a very positive impact."
Blackpool was in the top ten in the UK for improved footfall numbers
She added: "Clothing, make up, shoes and fake tan were amongst the highest items selling, with people allowed to visit in gardens and in beer gardens it appears that they were embracing the opportunity to dress up and ditch the joggers."
Hotelier Mick Grewcock who has the Queens Mansions and Burbage Lodge apartments in Bispham said he as delighted to see people back on the streets.
He said: It is absolutely great. There are so many cafes who have made the effort with the outdoor seating and people are really enjoying them.
"Hopefully things will continue in a safe manner and we will see it get busier as the year goes on and more people are vaccinated."
Peter Sedgwick who owns Blackpool's piers said the good start was a great relief for businesses across the town.
He said: "All the businesses need this and fingers crossed it will continue. There have been plenty of visitors to town in these first two weeks and hopefully that is a good sign.
"Our new Bloom Bar on North Pier has been doing really well.
"People have been very kind and seem to love it with the views over the sea. We've had some great comments.
"South Pier has been extremely busy indeed and our new bar, the Gin House there has gone down well."
Julie Finn, owner of Greenhouse Flowers on Whitegate Drive said that while there has been an increase in footfall along the road, numbers were still down on a normal year.
She said: "We have been trading online, contactless throughout lockdown but it s great to have the doors open properly again.
"We have seen more people coming to us but our is not the sort of business where people queue at the till, except on mothers' day, as we tend to do events and special birthdays.
"Whitegate Drive has been a lot quieter than usual but there have been a good number of people at the Number 10 Alehouse sitting outside."
Thanks for reading. If you value what we do and are able to support us, a digital subscription is just £1 for your first month. Try us today by clicking here