Blackpool hotelier opens up his doors to the world with the UK's first digital nomad hotel
Blackpool could be the place to come in England for the world's digital nomads, after a hotelier chose the resort for his latest venture.
Tuesday, 5th January 2021, 3:45 pm
Updated
Wednesday, 6th January 2021, 11:24 am
Former international news photographer Duncan Ridgley has opened Something Different in the former Andora Hotel in Lonsdale Road.
But instead of targeting UK holidaymakers of stag and hen parties, he is offering the rooms exclusively to the new generation of travellers who make use of the internet to make their living.
Bloggers, travel writers or indeed anyone who can work from anywhere in the world and thus move from city to city to see the world at the same time, can stay at the revamped residence with its top rated broadband.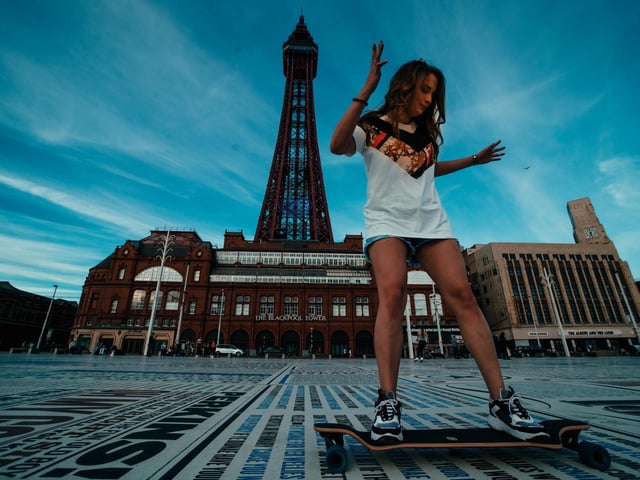 Dianna Garri, Russian travel blogger who stayed at the Somwhere Different digital nomad hotel in Blackpool
Duncan, who had a hotel in Sri Lanka which was damaged by Tsunami in 2004, and who has a hotel in Siwa, Egypt, said he had been looking for some time for the right place in the UK.
He said, while most foreign tourists thinking of visiting the UK would opt for London, the expensive room rates put off so-called digital nomads who are looking to see the world on a budget.
He said Blackpool, with its vibrant attractions and cheap room costs was the ideal place, given that London, Manchester, Liverpool, the Lake District and even Scotland were just a train ride away.
Duncan, whose paparazzi photos of the famous appeared in the Sun newspaper for more than six years, said: "I came home in January to renovate and open a hotel in England and coronavirus happened!
Somewhere Different is in Lonsdale Road and used to be the old Andora Hotel
"But actually before it began I was already getting a lot of interest and had some overseas guests. I am only letting digital nomads stay, people who are working. It is all about community. When you come here you expect people are going to be like you and that is one of the big reasons why you come here.
"Pre-corona it was a massively booming group of people that basically work online. For example the people who do websites, social media writing for companies, dental reports whatever. If you don't need to be in the office to do it, that's it.
"They had been doing remote working for years before coronavirus and now everyone is working remotely. It has gone from 0.02 per cent of workers to 65 per cent. So in the future, it is only going to grow as jobs become more flexible. Digital nomads work from home but realise they can do it from anywhere as long as they have got top class broadband.
"Blackpool has just got the best possible connection to the USA and Europe thanks to the trans-Atlantic cable and we never have power cuts like in some countries.
The digital nomad hotel in Blackpool owned by former paparazzi photographer Duncan Ridgley who hopes to make the resort THE place to stay in the UK
"Many digital nomads do not want to spend loads of money, they live quite frugally, so why stay in London when you can get the authentic British experience in a wonderful place like Blackpool where people are so friendly for £300 a month?"
Duncan spent £41,000 revamping the building which has 14 rooms include two doubles and one for three people but mainly they are single rooms. He said minimum stay is a week and travellers can only book in on a Sunday.
"They are not tourists, they come too improve their language, to see the real culture of a country and here at Something Different they have a huge range of entertainment and attractions within fifteen minute's walk. It's about co-working and co-living.
"The connections are amazing from Blackpool, to the Lakes, Liverpool and Manchester an hour and a quarter away. Oh, and we have a fabulous beach here.
The idea is to keep costs down for people who travel the world and work at the same time
"I have the first digital nomad hotel in the UK and I am hoping to make Blackpool the digital nomad capital of the country."
Everyone staying there will have top notch broadband to make working online easier
Duncan Ridgley says the remote working sector was booming even before coronavirus made people more aware of how easy it is to work online
Dianna Garri, enjoying the dunes as part of her tour. Blackpool is cheaper to stay in than London and offers a different experience with the Lake District, Liverpool, the Yorkshire Dales not far away as well as its own attractions