Blackpool windows firm in triple move as business grows
Family run, Blackpool-based Weru UK, a distributor for Germany's market leader in windows and doors, is expanding its team as the business grows.
Thursday, 22nd April 2021, 12:00 pm
Joining the Squires Gate team are John Feeney, general manager, Aaron McLaughlin, designer, and Anthony Johnson, trainee installer.
John Feeney joins the Weru UK team with more than 24 years in the industry and has been brought into the fray to lead the team to deliver great customer experience and head the expansion of the business. He is tasked with helping the team to develop while improving business operations and overall performance.
Aaron McLaughlin joins Weru UK as a designer and champion of Building Information Modeling. As Weru continues to develop its 3D visualisation and asset modelling, Aaron will bring his expertise as a design manager to the team with his end-to-end design process experience from initial concept to the intricate detail design of final proposals. Aaron works with the team with quality production of layouts, elevations, services drawings and 3D visuals.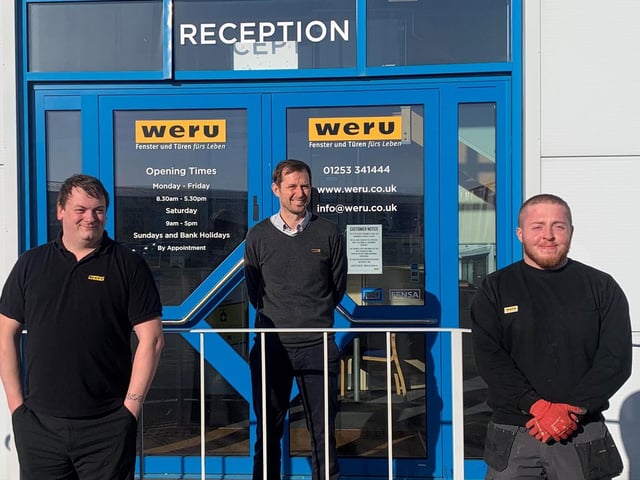 Weru UK has expanded its team in Blackpool. From left: Aaron McLaughlin, Designer, John Feeney, General Manager, and Anthony Johnson, Trainee Installer
Aaron earned a BA (Hons) in computer games design from Huddersfield University and also earned a BTEC National Diploma in civil engineering from Bolton Community College.
Anthony Johnson comes to the Weru UK team with experience working on-site, installing ducting, using various hand tools and working to an exacting standard from a drawing.
Anthony has earned a Level 2 City and Guilds qualification in welding and a Level 2 BTEC qualification in engineering.
Graham Lindsay, managing director of Weru UK, inset left, said: "John, Aaron and Anthony have all settled in extremely well, and it is a testament to our commitment to providing the greatest service possible for each and every one of our clients that we have been able to expand our team during one of the toughest years of our lifetime."
Weru UK is based at Amy Johnson Way in the airport enterprise zone and was established more than 35 years ago with clients across the UK.