Acting as role models and acting the goat - how International Women's Day was celebrated in Blackpool
More than 70 young women from across the Fylde coast were given tips and inspiration for their career and personal goals in life - plus some virtual goats!
Saturday, 13th March 2021, 7:00 am
They were taking part in a virtual International Women's Day Festival, organised by the Blackpool community interest company,Washington Group, which featured top female role models and local companies.
The festival was opened Dame Julia Cleverdon and there was a warm up delivered by singing specialist Ellena Morgan from Fylde Little voices.
This year the Festival continued with the five themed areas, each providing interactive workshops and activities delivered by local, regional and national businesses.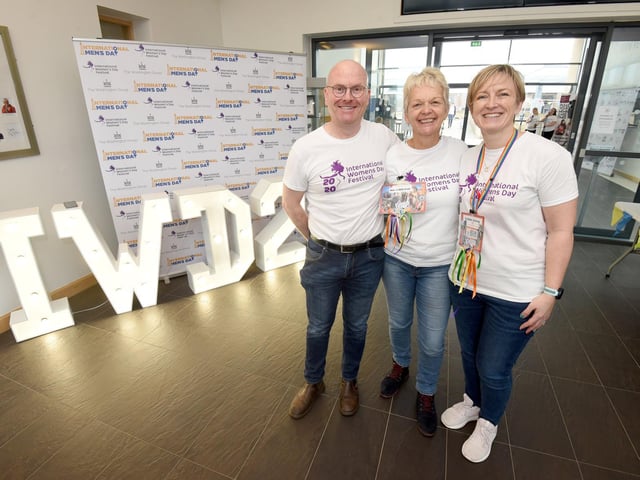 Sue Littlefair and Deborah Terras from The Washington Group pictured with Pete Crossley, at a previous Fylde Coast International Women's Day Festival at Blackpool 6th Form
Each workshop enabled young women to try out new experiences, have their voices heard and help develop skills and further knowledge.
The Festival included inspirational speaker Ruth E Cockburn who provide the event with an empowering speech to explore the notion of apologising for who women and to believe in oneself and be comfortable with who you are.
And it even even included guest appearances from two goats from Rossendale-based Cronkshaw Farm, co-delivering a media workshop with ICG Brandbuilders.
The farm has been featured on Amazon Prime TV and has gained renown for its imaginative online offerings, hiring out their goats for video calls and having them give special online messages for birthdays, Mothers' Day adn other occasions. ICG showed them off as an example of the power of social media.
One of the goats which took part in the International Women's Day festival in Blackpool
Julie Hackett, Senior Account Manager at ICG Strategic Marketing Agency which delivered two workshops on careers in marketing, said the festival was a great success.
"We explained how marketing works, highlighted some interesting case studies from the Kardashians to KFC and even invited a goat into our Zoom room.
"We also talked about the different skills sets required - people who love news and storytelling, those who create brilliant visuals and the tech roles that make it happen in the digital space."
The festival also had a role model panel with Blackpool Transport's Jane Cole as chairman, with questions from the young women to Seema Dalvi, Shelly Woods, Jill Gray, Carolyn Mercer and Chrissy Grifin.
Co-organiser Sue Littlefair, director of The Washington Group, said: "IWD2021 was a fantastic opportunity for young women cross the Fylde coast to learn new skills, have some fun away from the impact of COVID19 and more importantly to be given the platform to speak out, speak up and have their voices heard.
"This year we are planning to work alongside you g women to co create a five year strategy that is developed by young women and led by young women. We have already spoken to
Responsible Business Network to engage young women in plans as well as feed in Blackpool Council consultation of how the recent investment should be spent."
Next year The Washington Group hopes to back at Blackpool 6th Form for the 2022 International Women Day Festival.
Blackpool Gazette: Thanks for reading. If you value what we do and are able to support us, a digital subscription is just £1 for your first month. Try us today by clicking here