Return of amdram to Lowther Pavilion is a hit
REVIEW: Relatively Speaking at Lowther Pavilion
Thursday, 22nd October 2020, 12:30 pm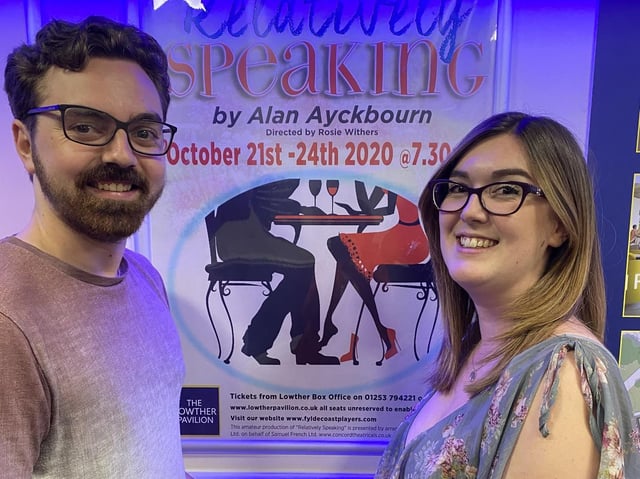 Tim Withers and Sophie Cartmell are among the cast of Relatively Speaking at Lytham's Lowther Pavilion
Commendable and considerable efforts by the Fylde Coast Players and the staff of Lytham's Lowther Pavilion have enabled amateur dramatic productions on the Fylde Coast to resume with a four-night run of Alan Ayckbourn's first major success, written in 1965.
The play is firmly founded, in true Shakespearean style, on mistaken identity, with the domestic disharmony and angst so characteristic of much of Ayckbourn's work only secondary here.
The cast of four, made up of two real-life couples, are to be congratulated on the consistently perfect timing and slickness in the dialogue on which the mistaken identities depend and here Tim Withers leads the way as Greg, with intonation which is varied and skillful.
Experienced producer Rosie Withers realises that the staccato questions and answers which produce the humour must be speedy and ensures the exchanges really fizz along throughout.
Sophie Cartmell deals well with the weakest of the characters, the deceitful Ginny, and is especially amusing as she reacts to made-up tales of her plump childhood appearance from her older lover Philip .
Tim Greenwood as Philip is the most physical of the cast, rubbing his arms, shifting from one foot to the other in a guilty way and arching his eyebrows expressively, as he realises his wife Sheila is gradually cottoning on to his infidelity. Kath Greenwood as Sheila, the most mystified about who is who, never lets her confusion muffle the clarity of her diction.
The stage crew under the guidance of Teresa Mallabone achieve a notable transition from a poky London flat to the expansive patio of a country house remarkably swiftly and are rightly applauded by the audience. Audibility, however, is sometimes an issue when the actors are facing sideways.
The audience, a little uneasy perhaps at the start in their separated social bubbles, warmed up as the plot thickens and mistaken identities blossom and there is plenty of laughter throughout the second half.
It is clear that both company and theatre are on a mission to bring back live theatre at a time of pandemic restrictions and the experience for an appreciative audience is overwhelmingly positive.
Relatively Speaking continues nightly until Saturday, October 24. Details of any remaining tickets from 01253-794221 or www.lowtherpavilion.co.uk