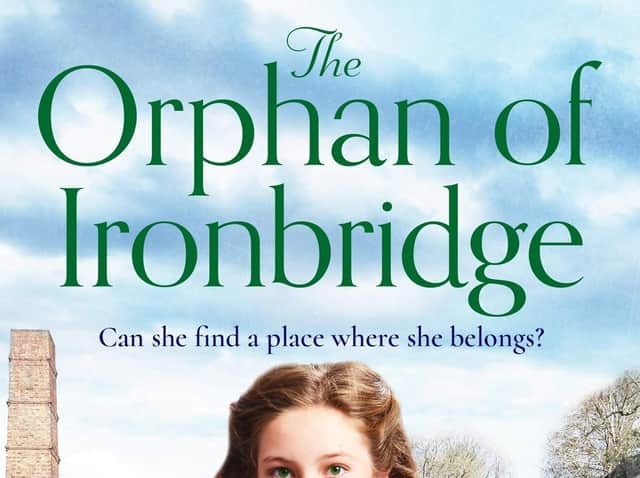 The Orphan of Ironbridge by Mollie Walton
But when a rich elderly widow transforms her life by offering her a job as a lady's maid, Hettie finds herself caught perilously between two worlds… and at the mercy of a woman whose jealousy will bring only trouble.
Welcome back to the third and final book in a gripping, drama-packed saga series set against the fascinating backdrop of Ironbridge's brick and ironwork foundries which became the beating heart of the nation's industrial revolution.
Mollie Walton, pseudonym of historical novelist Rebecca Mascull, reveals she was inspired to write this exciting series on a trip to Shropshire where she gazed down from the world-famous iron bridge near Telford… the pioneering structure which marked a turning point in English design and engineering.
And after the success of The Daughters of Ironbridge and The Secrets of Ironbridge, which introduced readers to families from both sides of the rigid 19th century class divide, Walton sweeps us back to 1875 to catch up with three generations of women whose lives and loves are forever prey to the fickle winds of fortune.
Hettie Jones was born and has grown up in Ironbridge. She has never known her father, Adam Jones, who was transported to Australia in a convict ship sixteen years ago, and, since her mother Martha's death, Hettie has been brought up by the Malone family who treat her as one of their own.
She works as a pit bank girl at the local coal mine where she picks out the lumps of ironstone from piles of weather-hardened clay. The job is hard but honest and simple and she enjoys working in the outdoors and the camaraderie with the other pit girls.
Hettie has spent her life alongside the Malones' son Evan, a tall, handsome lad who was her childhood playfellow and whose friendship seems now to be blossoming into something more. Evan is a miner who works long hours underground at the pit and he is 'her sun and her moon.'
But when Queenie King, an elderly woman with a chequered past and from a wealthy pit-owning family, takes a fancy to her, Hettie's life is transformed. Queenie is determined to make up for terrible mistakes from decades ago and giving this girl new opportunities is part of her plan.
Trained first as a lady's maid, and then hurtled into a world of luxury and gentility, Hettie soon finds her new position difficult to reconcile with her past life.
And with Queenie's vindictive daughter-in-law Benjamina scheming against her, Hettie's situation becomes dire. Can Hettie use her new position to do the good work she had hoped for, and will she find a way to bridge the divide between rich and poor?
A compelling blend of real history, rich period detail, and a gritty, authentic story brimming with love, loss, intrigue, hope, and bitter revenge, The Orphan of Ironbridge delivers a dramatic final chapter to this exciting trilogy.
Walton is masterful at evoking the struggles, hardship and back-breaking working conditions of the men and women whose toil – both underground and above ground – were at the heart of the industrial revolution.
Here, Walton pays tribute not just to their often grinding work and the consequent suffering but the camaraderie and community spirit which, she laments, can sometimes feel lacking in this day and age.
The contrasts between the privileged life of the rich and the families who toil in their factories and foundries are exposed in stark relief as Hettie battles to find her way through the tough social barriers.
With each character superbly portrayed, emotions high and passions powerful, and the bonds between friends and family movingly explored, this is a captivating story written with warmth and insight and the perfect finale to a fascinating series.
(Zaffre, paperback, £7.99)