Sandcastle Waterpark ready to welcome people back for splash-tastic fun
Ready, steady, splash.
Friday, 24th July 2020, 4:18 pm
Bosses at Blackpool's Sandcastle Waterpark are counting down the days to welcoming their first visitors to ride the waves at the indoor attraction since the lockdown closure.
Final preparations are underway before the South Beach tourist hotspot opens the doors for some water-charged fun this Saturday, July 25.
Sandcastle managing director John Child said the waterpark, the UK's biggest indoor site, has undergone a £60,000 revamp to make it fit and safe for business, with a complete transformation of their changing facilities into a modern 'village style' area to accommodate strict social distancing procedures.
He said: "It's a fun place to be and we're excited to having people back and having a great time making memories.
"The place is sparkling, pristine.
"There are a busy few days ahead but we're delighted to have the team back together and we're all looking forward to being open again."
Similar to many of the resort's attractions, Sandcastle will be open to a limited capacity number with visitors having to pre-book their three-hour swim sessions online before arrival.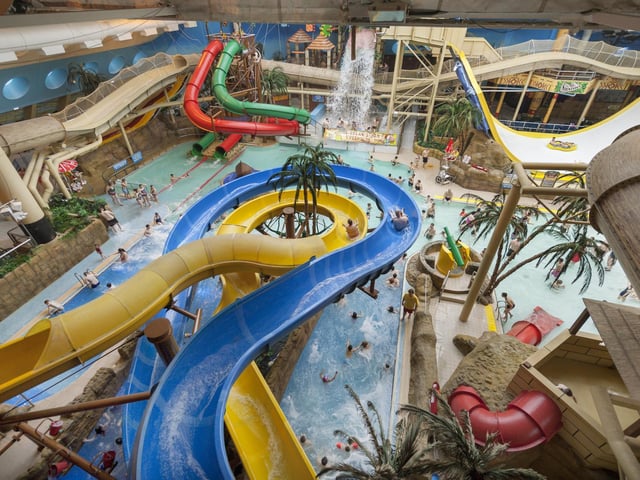 Sandcastle Waterpark, Blackpool opens Saturday July 25
Engineers have been working throughout to ensure maximum efficiency on all the rides and lagoon areas.
And as part of new safety measures 40 hand sanitisation stations have been installed and a wealth of social distancing markers and signage.
John added: "Our staff have all undergone extensive training in new Covid -19 policies and procedures and everyone has worked incredibly hard to make sure the reopening is both safe and fun for our guests.
"We want to ensure it is totally inclusive and accessible for all people and still provide a full day out."
Sandcastle Waterpark, South Beach, Blackpool