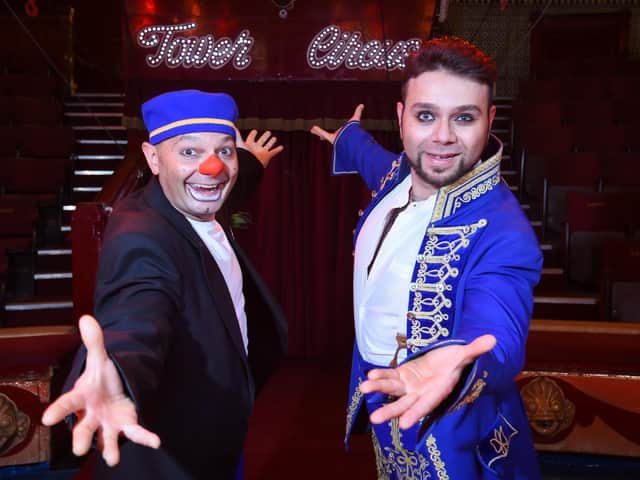 Mooky and Mr Boo are back at the Tower Circus
The world-famous circus, based at the foot of the Tower, and run by the Endresz family for nearly 30 years, had never missed a show, even during two world wars.
But following the forced closure of all indoor performances nationally, due to the Covid-19 lockdown, the opening of this year's spectacle was put on hold.
The Endresz brothers, clown duo Mooky and Mr Boo, who are also next door neighbours in the resort, were left to rehearse their juggling acts across the garden fence at a social distance.
Tower Circus is now open to socially distanced audiences.
Their cast of international performers have been isolating together in a Blackpool hotel since February.
They showcased their first live show to socially distanced audiences and complete with water finale at the circus this week.
Mr Boo said: "It just feels amazing, we were so excited to perform and more than anything give people some joy, an hour and 50 minutes of entertainment for families and hopefully make people smile.
"It's what we know and do and these times have been unprecedented, not even two world wars had closed the circus and throughout we wondered if it might happen this year.
Mooky and Mr Boo back in action at the Tower Circus.
"It has been hard, but hard for everyone. Our life is the circus, so to not be doing shows well my brother and I we're not sit at home people.
"But the Tower team have been fantastic; our performers, from Hungary, Ukraine, Cuba, all over, have been isolated together in a hotel since February. They had been training and rehearsing throughout. My brother and I had been rehearsing at home.
"We turned around the first show in two days and to see a live audience again in a safe environment. which was most important to us has just been fantastic."
Kenny Mew, general manager at The Blackpool Tower Circus, added: "We are beyond thrilled to have finally been given the go-ahead to reopen the circus – this is the first time in our 125-year history that we've had to stop performances, even carrying on throughout two world wars, so it's incredibly special to be back.
"Our acts are among some of the most talented performers in the world and they've been desperate to get back to what they do best, with many keeping themselves busy during lockdown perfecting their skills, so our audiences are in for a real treat."
In line with government guidelines measures, audience numbers have been limited for current shows and visitors must wear face coverings during the performance.
Similar to other Tower attractions, tickets must be booked and bought in advance online. Show times have also been amended to allow for enhanced cleaning between performances. In addition, the arena is operating a one-way system, while wind instruments and the singer have been removed from the band.
Kenny added: "We're taking the health and safety of our performers, staff and guests extremely seriously, so we've worked hard to ensure that the necessary social distancing measures are in place.
"We're incredibly proud to be able to re-open and we cannot wait to get back to putting on a fantastic show."
The circus will be performing Monday to Thursday and Saturday to Sunday.