Brian London's grandson hopes to keep the family tradition going
The grandson of Brian London is training hard to follow in the footsteps of the Blackpool boxing great.
Sunday, 1st November 2020, 4:45 pm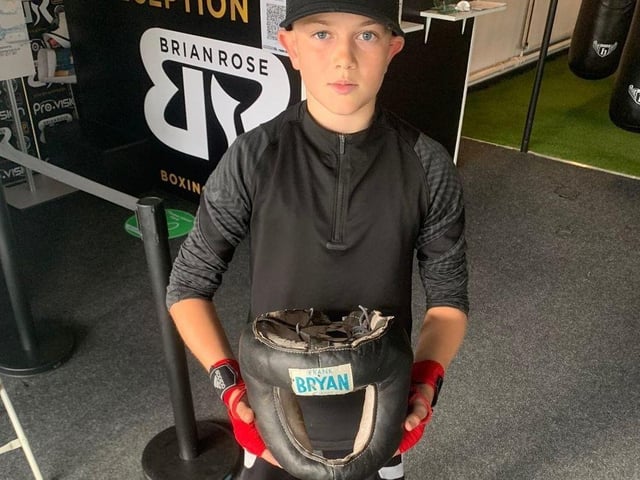 Jack Harper, boxer and grandson of Brian London
Jack Harper is a dedicated student of the sport at Brian Rose's Blackpool gym, where he is tipped as a potential champion.
The 11-year-old has not only inherited his grandfather's talent, he also has London's medals as well as one of his headguards to wear in sparring.
London, 86, was crowned British and Commonwealth heavyweight champion in 1958 and twice fought for the world title. He has lived in Blackpool for the past 70 years.
Rose, a British champion and world title challenger himself, told The Gazette: "Jack will hopefully be a champ like his grandad.
"I was Blackpool's first British champion after Brian, and it would be a great story for Blackpool if Jack could become a champion too."
Jack, who lives close to Stanley Park and started secondary school at AKS in September, began training at Rose's BR Boxing and Fitness gym on Talbot Road before lockdown in March.
Jack told The Gazette: "I like boxing and it's going well. I'd like to become a professional boxer like my grandad.
"I started training properly when I was about seven and I started training with Bobby Rimmer at the Brian Rose gym about seven months ago.
"I'm training three days a week during school term-time and every day over the holidays.
"I'm in the top weight division for my age and I think I could go on to be a professional boxer."
As for his legendary grandfather, Jack added: "I've always lived in Blackpool and I visit grandad regularly.
"I've seen some of his fights and I think he was unlucky when he fought Floyd Patterson for the world title."
Those mementoes of London's career are added inspiration for the young boxer, including the headguard his grandad wore more than half a century ago.
"I was given the headguard by my auntie and I will use it in sparring," Jack said.
"It's a bit big but I can tie it back, so it fits okay. I'm proud to have his medals too."
Rose's long-time associate Rimmer added: "Jack's very talented and dedicated. We are marking time at present and it is too early to talk about competitions for him.
"We're just doing what we're told and waiting for our sport to get back to normal.
"There's a long way to go and Jack will have to start at the bottom but I have no doubt that he won't be there for long."
Rose said: "We've kept it safe at the gym and we're open for one-on-one sessions. I'm pleased we've managed to stay open because our gym isn't just here to make money.
"The idea was always to be here for the community, and to make an impact on people's lives and mental health.
"The gym isn't all about boxing. We have personal trainers here and people can book sessions for fitness."
Jack Harper shares the name of his great grandfather, who was himself a British and Commonwealth champion fighter during the 1940s.
Jack and his son Brian both changed their name from Harper to London on becoming boxers.
Thanks for reading. If you value what we do and are able to support us, a digital subscription is just £1 for your first month. Try us today by clicking here