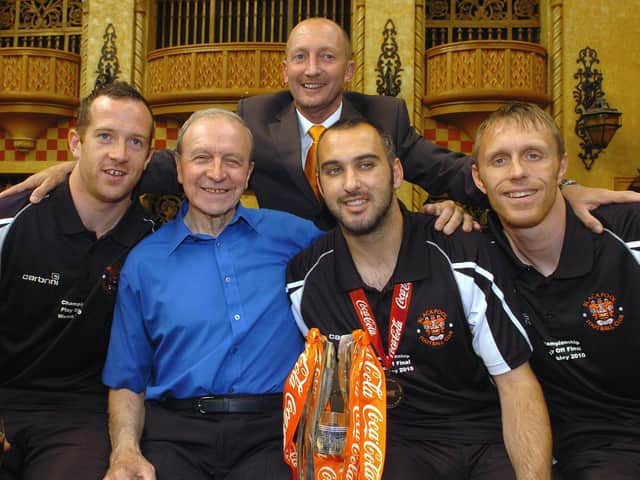 Jimmy Armfield celebrates Blackpools promotion with manager Ian Holloway as well as goalscorers Charlie Adam, Gary Taylor-Fletcher and Brett Ormerod
We're dipping into the archives each day to bring you STEVE CANAVAN'S Gazette reports from a decade ago on Blackpool's remarkable journey to the promised land.
Ten years ago, Jimmy Armfield paid tribute to Pool's promotion winners...
When lacing up his boots for the final time against Manchester United in May 1971, Jimmy Armfield could never have dreamed it would be four decades before the Seasiders made it back to the top flight.
But better late than never and there was no one happier than Armfield when Blackpool sealed their place in the Premier League with victory over Cardiff.
The Seasiders legend spoke about his immense pride and he also believes that with crowds set to rise markedly next season, when the likes of Chelsea, Liverpool and Manchester United come to town, the good times could return to the club on a regular basis.
"The club will eventually want to get back to those days when we got crowds of 20,000, with opponents bringing lots of their own fans, all wanting a day beside the seaside," he said.
"I've already had a friend who supports Manchester City on the phone wanting four tickets for their game at Bloomfield Road next season, saying that they'll be making a weekend of it.
"It will be marvellous for all the businesses and reward for all the hard work being done there.
"I am delighted for the town and its people.
"We have had our share of troubles in Blackpool down the years, with more people going abroad for their holidays, but the place has been back on the up recently just like the football club and it has been marvellous to see.
"I've never seen so many tangerine flags around the place since my playing days in the Sixties and early Seventies.
"What a day and what a performance. As a former Blackpool defender, I may not have been happy with some of our work at the back, but in the end it didn't matter.
"We got to the promised land of the Premier League."
While others have scoffed at Pool's chances of going up throughout the course of the season, even during its latter stages (" they'll fall away", said the critics), Armfield's attitude when asked if the Seasiders could do it was always 'why not?'
He praised Ian Holloway and the players for achieving Premier League status, and talked about what might be needed for next season's big test in the top flight.
"It will be a test for the club on the field, with wages naturally going up," said Armfield.
"And I'm sure Ian Holloway will want some new players – managers always reckon they need three new faces.
"In his case, I think he would be right to strengthen all round, with one at the back, one in midfield and one up front.
"Ian has got them up with virtually Simon Grayson's team of last year. Even Charlie Adam and DJ Campbell had already been there on loan.
"What Ian has done is to organise them well and find a good attacking system. Above all, the attitude has been excellent.
"For all the talk of money around this match and in the Premier League, it is still a game about players and managers and this group certainly deserve their place in the sun.
"They have run, they have chased and they have dragged themselves up. We couldn't be prouder of them."
Elsewhere, Gary Taylor-Fletcher couldn't do much dancing during the celebrations that followed promotion.
While his teammates slid on their knees on the Wembley turf following the dramatic victory over Cardiff, then followed it up with a night on the tiles in London, Taylor-Fletcher was hobbling around on crutches.
He injured his ankle at the start of the second half of Saturday's game and came off.
"Twice my studs got caught in the pitch, both times I went over on my ankle," he said.
"The first time wasn't too bad and I played through it, but the second time I couldn't carry on.
"You need people who are 100 per cent out there, you can't try and be a hero.
"So I said to the gaffer that he needed to put someone else on, someone who could run around better than me.
"It meant I couldn't join the celebrations afterwards but that's a small price to pay for winning promotion to the best league in the world.
"To actually win promotion to the Premier League is an amazing feeling and like everyone else, I just can't quite believe it at the moment."