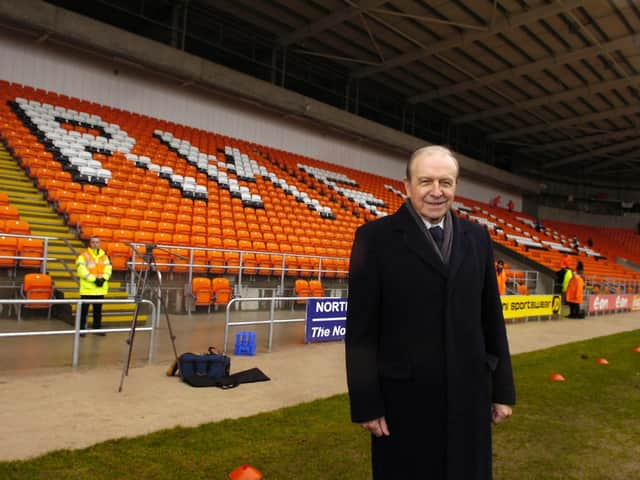 Blackpool great Jimmy Armfield
Over the coming weeks, we'll be dipping into the archives to bring you STEVE CANAVAN'S Gazette reports from a decade ago on Blackpool's remarkable journey to the promised land.
Ten years ago, Blackpool great Jimmy Armfield was happy to share the Seasiders dream, while Ian Holloway vowed not to jeopardise the World Cup dreams of Hameur Bouazza...
Jimmy Armfield sees no reason why the Seasiders can't realise their dream of promotion.
Exactly 40 years after the club were last promoted to the top flight in 1970, Armfield's penultimate season as a player, Pool are vying for a top-six finish and a shot at the play-offs.
And club legend Armfield, who spent his entire playing career at Blackpool, is as excited as anyone.
"It really would be terrific if it happened," he said. "People say to me that if we did get up we'd find it hard. Yes we would ... but let's find out.
"People keep saying that if we got into the Premier League the club would get lots the money. Yes they would but that's only one side to it.
"Let's have a little bit of adventure, that would be the exciting thing.
"My last game for the club was against Manchester United. We played at Bloomfield Road and drew 1-1. Now surely we can do that again. Why not?
"Frankly I don't think there is much between the top and bottom in the Championship. I saw Crystal Palace the other week, who are down at the bottom, but there isn't much between them and Blackpool.
"The best two teams in the division have been Newcastle and West Brom.
"West Brom were very good when they came to Bloomfield Road but Newcastle were pretty ordinary.
"But it's about doing it over a period of time and they have proved themselves since.
"Swansea, Nottingham Forest, Cardiff and Leicester are all trying to make it. Why not Blackpool? I think we're as good as any of them."
Meanwhile, Ian Holloway has ruled out being " selfish" and risk wrecking Hameur Bouazza's World Cup dream.
The Algerian wasn't in the Seasiders squad for the visit to Newcastle United.
Instead he has gone abroad for further treatment on a groin injury that has troubled him since the turn of the year.
Bouazza saw a doctor in Germany last month, and returned to Blackpool pain-free and convinced the problem had been solved.
However, after making his first start of 2010 in the Easter Monday win over Doncaster, the 24-year-old experienced more pain.
It seems it is back to square one for the winger, who is desperate to play in the World Cup as well as in Pool's promotion run-in and has been sent for further treatment.
That is a blow for Holloway, who feels Bouazza's pace and directness is a valuable asset. But the manager won't risk Bouazza's chances of playing in South Africa in the summer by insisting he plays again for Pool this season.
"It's a blow for us but unfortunately Hameur has experienced more pain in his groin," explained Holloway.
"We've informed the Algerian FA and he will be taken to another specialist in God knows what country to get another opinion because it is very sore. It is very frustrating but that's the way it goes.
"We want him to take part in the World Cup and that is my focus. I want him in my team at Blackpool but I wouldn't be so selfish as to risk his World Cup dream."
Bouazza is replaced in the squad at St James' Park by Brett Ormerod. The striker missed the last three games with a fractured hand and will play in a protective cast.
And in typical Ormerod fashion, he wasted no time in showing the manager he was fit and desperate to feature against the Magpies.
Holloway added: " Normally when that happens you are scared of falling over in training. But Brett was diving on the floor, trying to show me that he was fine. That speaks volumes about him.
"He'll be on the trip but anyone who is even hal-fit will be coming because I want my lads to experience this wonderful atmosphere that Newcastle will have."