Recycling warehouse fire in Blackpool under investigation
Dozens of firefighters tackled a blaze at a large recycling warehouse as thick smoke spilled into the blue morning sky.
Thursday, 22nd April 2021, 3:35 pm
Updated
Thursday, 22nd April 2021, 3:36 pm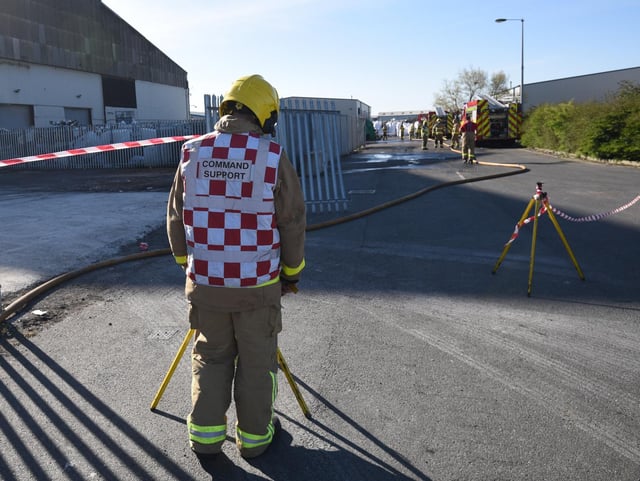 Crews remained at the scene later in the day
Eight crews and engines from across the Fylde coast were called to the industrial estate off Squires Gate Lane in South Shore after the 90x100m unit went up in flames shortly after 5am.
No-one was hurt and firefighters were successful in stopping the fire from spreading to nearby buildings.
Lister Haworth, who took control of the response from a command unit parked at the scene, near Aldi and the Squires Gate Retail Park, said the alarm was raised when smoke was spotted billowing from the roof.
"Crews made a speedy entry into the premises and managed to locate the seat of the fire using breathing apparatus," he said. "We managed to contain the fire and extinguish it."
Mr Haworth said the unit contained "recyclable materials" but did not elaborate.
"After assessing the incident, I was able to scale down the response," he added.
"If it had spread into the adjoining warehouses, you would have been seeing more than one commander here!"
The warehouse was empty at the time of the fire, while traffic was unaffected. No nearby firms were affected.
An investigation into the cause was opened, with experts thought to be keeping an open mind, though initial findings pointed to an accident.
The building is owned by Blackburn-based EP Properties, which is run by Zakir Issa, the older brother of billionaire Asda owners and entrepreneurs Mohsin and Zuber Issa.