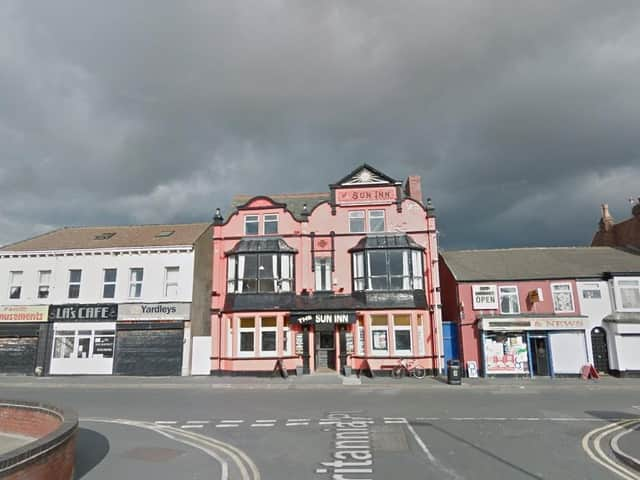 The Sun Inn on Bolton Street
The Sun Inn, which shines a striking orange over Bolton Street in South Shore, went under the hammer earlier this month for an asking price of £150,000.
But auctioneers Auction House North West later revealed that the property, which is currently let by way of a £25,000 yearly lease, was still up for sale following
The pub, was awarded Pub of the Year in 2017 by The Gazette, includes ground floor bar areas, a cellar and two upper floors of living quarters.
It remains open, and currently holds a four-star rating on restaurant and holiday review website TripAdvisor and Google. One recent reviewer said: "People go everywhere and all you see is yuppie bars, wine bars, and clubs. Well, get down to the basics and see true people."
Joan Humble, chairman of the Blackpool Civic Trust, said: "The Sun Inn is a locally listed building. There are nationally listed buildings that English Heritage decides are of national importance, and so we have Grade One, which is the most important – in Blackpool we have the Tower – and also we have Grade II, like the Winter Gardens and the Grand
"But what the government also allows us to do is list local heritage buildings which do not qualify for national status, but still have some historical importance for a town
"The Sun Inn is one of these so it does have historical significance for us.
"If it is sold, if it's developed we would then hope that any development would be sympathetic, and recognise its heritage in the town. We think it's important that locally listed buildings are protected in some way."
According to English Heritage, which manages more than 400 historic monuments, buildings and places across Britain, the pub was among a number of impressive new drinking establishments that sprung up in Blackpool around the turn of the 19th century, as increasing tourism saw a greater demand for hotels, pubs and restaurants.
People who are interested in purchasing The Sun Inn building should call Auction House North West on 0800 050 1234 to arrange a viewing.
The auctioneers said buying it would represent a "substantial public house investment", with the lead running until next July – and available to renew.