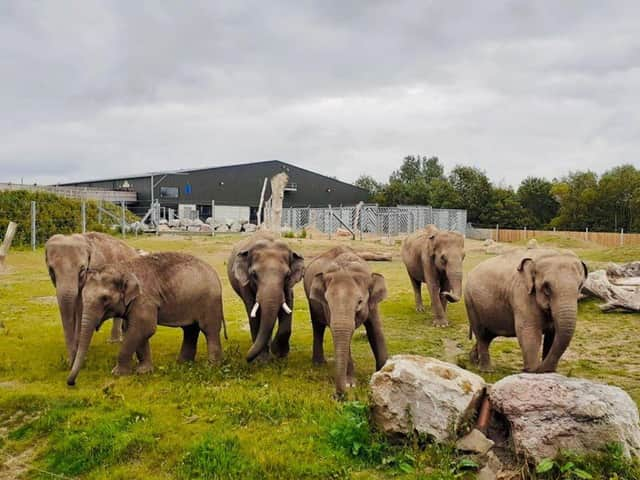 The Asian elephants at Blackpool Zoo are together at last.
This great photo, taken by keeper Nick at the popular attraction, shows the zoo's six Asian elephants out in the sun as a group.
They are one of just four breeding herds of the species in the UK but staff have been careful not to integrate them too soon.
For years, 50-year-old Kate - the first animal to arrive at the zoo in 1972 - was the sole Asian elephant, living in an old aerodrome hangar.
She has been kept separate from the more recent arrivals - until now.
The Spanish-owned zoo invested around £5m in new state-of-the-art living quarters that opened to the public in March 2018.
Gradually, the rest of the herd was moved from Twycross in Leicestershire and now has five females: Kate and her companions Tara, Minbu, Noorjahan, and Esha, who is the youngest.
Posting on social media, a zoo spokesman said: "The team at Project Elephant have been continuing their work to integrate the herd and if you've been following their story for a while, you'll know that this is a very special photograph indeed.
"This isn't just any photograph. This is all 6 of our elephants enjoying a sunny afternoon on the grass paddock. Together."
In response, Kerrie Tanner Heath said it was "lovely to see them all together".
And Nicola Jane Gething posted: "Brilliant photo, the team have worked so hard. So happy for Kate to be part of a herd after all the years of being alone."