New craft shop opens in Knott End amidst craze for knitting
A new craft shop has opened its doors in Knott End - and it's already made its mark thanks to an apparent explosion of interest in knitting and crafting.
Thursday, 15th April 2021, 7:23 pm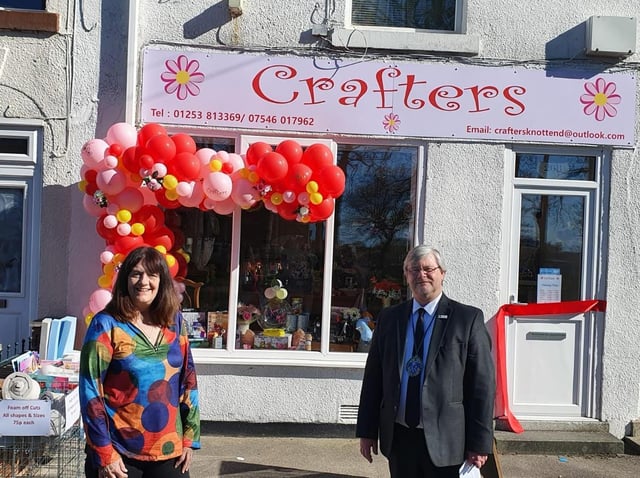 Karen Phillips outside her new shop, Crafters, with Mayor of Knott End, Coun Phil Orme
The latest store in the village is called 'Crafters' and owner Karen Phillips says there has been a massive response from new customers.
Her shop is located at 26b Lancaster Road and was officially opened earlier this week by Mayor of Knott End, Coun Phil Orme.
Karen, 58, who lives in nearby Pilling, said: "The place is buzzing, there has been a much bigger reaction than we could have dreamt of.
A view inside the Crafters shop in Knott End
"There have been customers from as far as Garstang and across Over Wyre."
Karen was prompted to open the shop after noticing a huge demand during lockdown for wool, silk and other craft materials at her husband Ken's shop in the village.
Given that his business mainly deals with computer repairs and the sale of similar items, he was unable to help - but it gave Karen the idea for Crafters.
With a wool shop in Poulton closing in the past year, villagers have seemingly been desperate to get their hands on wool, silk and other crafting items.
Karen said: "My husband already has a shop in Knott End, called Allsorts, which has been open for 12 months and survived Covid lockdowns.
"During the past 12 months we have been asked for so many different things such as wool and lots of other crafting items.
"So I decided to take a real gamble during the pandemic to try and offer the local people what is missing from our community.
"I think the lockdown has definitely led to an increase in interest in things like knitting, sewing and crafting, not just among older people but young ones too.
"With so many things shut down, quite a lot of people have turned back to the old hobbies and interests and are keen to learn new skills too.
"I would just like to thank everyone in the local community for the support since the shop opened, it has been amazing."