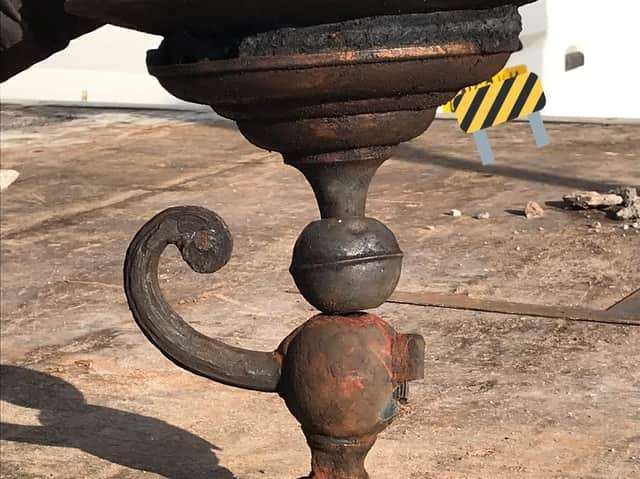 The light fitting found under the North Pier
A light fitting believed to be from the North Pier's Indian Pavillion, which was destroyed by a fire in September 1921, was found on the sand under the pier following weeks of stormy weather.
Pier owner Peter Sedgwick said: "Because of the storms, the sand around all the piers is getting low, and it's starting to show all the steel that's been hidden for years.
"The lads were working under the pier when they found it.
"I think it's fantastic. I have never examined it myself but I'm looking forward to having a good look at it.
"It's an interesting piece, and you can actually see the stem where it has been burned and fallen off the pier.
"It's a piece of history. It must be the only piece left of the theatre from that time."
The historic light fitting will be put on display, alongside photographs of the infamous 1921 fire, at the newly-named Joe Longthorne Theatre, set to open on North Pier on May 31 - what would have been the entertainer's 65th birthday.
Peter said: "We're putting the museum up at the pier with Joe Longthorne's suits and his piano he bought from Stevie Wonder. We have pictures of the fire, so we're going to put the lamp up and make a big thing of it.
"This is the first time we have ever had something like this wash up. I know once we have had storms and a wreck of a boat came up. But now with the sand getting so low, you can even see the bottoms of the legs of the pier."