Menzies celebrates record victory in Fylde
Mark Menzies has retained the Fylde seat for the Conservatives with a substantially increased majority.
Friday, 13th December 2019, 1:51 am
Updated
Friday, 13th December 2019, 3:13 am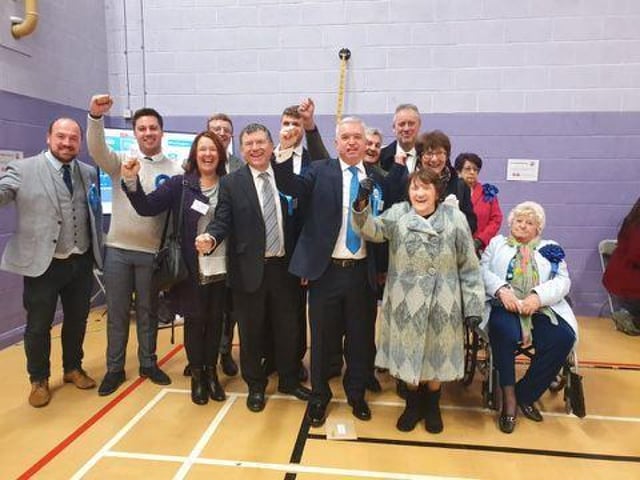 Mark Menzies celebrates his victory with party workers
His fourth successive General Election triumph in the constituency saw him clinch victory with 28,432 votes, 16,611 ahead of nearest rival Martin Mitchell of Labour.
It was the biggest majority yet - more than 5,000 up on 2017 - for Mr Menzies, who took over the Fylde seat from Michael Jack in 2010, and he also polled his highest ever share of the vote at 60.94 per cent.
He said: "I'm delighted with what is an incredible result and thanks to everyone who came out on what was a dreadful day for weather to vote for me.
"It's a tribute to the hard work of our party in the constituency over the last nine years as well as in this campaign that we have seen such a great show of loyalty.
"It's early days yet but it's looking like a very good night for the Conservative party across the country and I look forward to getting back down to work at Westminster, continuing to work hard for Fylde and getting Brexit done."
While Blackpool councillor Martin Mitchell was second for Labour, Preston councillor Mark Jewell of the Liberal Democrats weighed in at third with 3,748 votes, Lancaster councillor and MEP Gina Dowding of the Greens polled 1,731 and independent Andy Higgins 927.
Turnout was 70.04 per cent, a tiny fraction down on the figure for the previous election in 2017.
Mr Menzies added: "I thought my share of the vote at the 2017 election of 58 per cent would take some beating but to set a new high this time, with a much-increased majority is a wonderful feeling.
"I am grateful to all those who voted for me for their backing."
The Fylde result was the second to be announced in the North West, after Halton, and Fylde Council chief executive Allan Oldfield said: "We were pleased with how everything went so smoothly."