'Tower Circus atmosphere was like nothing else'
The year 1970 was a great year for Yvonne Fielding. It was her second season as a Circusette showgirl at The Tower Circus, Blackpool. Here she shares her memories...
Thursday, 13th August 2020, 3:45 pm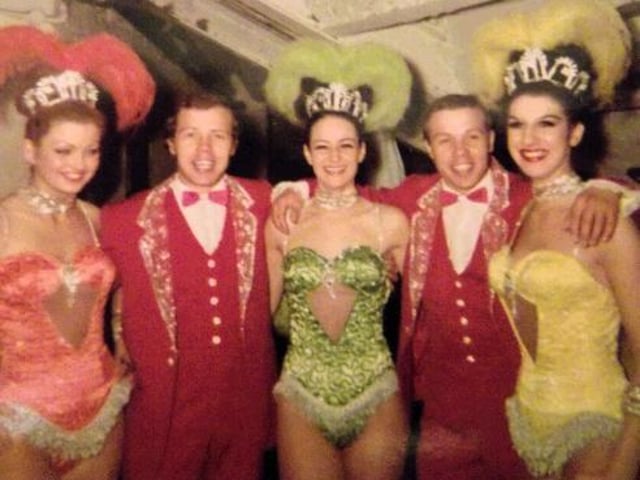 Yvonne Fielding (right in yellow costume) with other Blackpool Tower Circus performers.
A Summer season or two spent under the Blackpool Tower in the famous circus arena was the last thing on my mind as I came to the end of my first year of a two year course in foreign correspondence at the Blackpool Technical College as it was known then... the year being 1969.
The course was good but not challenging and certainly not glamorous for someone who had a history of entertaining in music and drama.
However, all that was to change in a spectacular fashion.
A rare photo of Cairoli and Co rehearsing to an empty auditorium. Pictured are: Charlie Jnr, Paul Conner, ringmaster Norman Barrett, Charlie Cairoli and Yvonne Fielding
I noticed a call out in the Gazette for girls to audition as Circusettes for the forthcoming season at the Tower.
My imagination was fired as I recalled seeing these exotic creatures, just inches away in a perfumed haze of feathers and sequins, wafting past the audience on the ring fence at my yearly childhood visits to the Circus.
I wanted to be one of these showgirls.
The auditions were fairly brutal and scores of girls turned up. They only wanted six.
There was a minimum height requirement of five feet five inches.
We had to walk back and forth, over and over in heels wearing a leotard with our hair scraped back off our faces and learn a dance routine whilst smiling constantly.
There were several call backs during the following weeks and I made the final short list to be eventually rewarded with a contract. Goodbye college.
The Tower Company had their own wardrobe department in a Blackpool back street up some rickety stairs and we girls spent quite some time there being fitted and measured in minute detail.
Some of our costumes were made by the wardrobe ladies and the rest were made by Alex Shanks Costumiers (London).
They were beautifully made and fitted perfectly.
Our choreographer was Miss Mary Cregan and we were chaperoned and generally looked after by our dresser Auntie Barbara (Barnes), both of them fierce and fabulous women.
Rehearsals took two weeks where we met the artistes and learned our routines, timings and how to interact with everything.
We girls all got on well and there were no arguments. We really were like a big happy family in that cramped dressing room.
I am in regular contact with a few of the girls even now and I'm so fond of them all.
This was also in the days of animals in the Circus.
They were all lovely and well looked after, but times are different now.
The shows were terrific and the atmosphere unlike anything else, especially during the spectacular water finale.
There were many different nationalities amongst the performers but everyone seemed able to communicate effectively and amicably and with such bravery and finesse.
It was a long way from three years previously when I left the very formal Blackpool Collegiate School for Girls and I often used to wonder what my former teachers would have thought about my escape from academia.
I was offered a contract the following year 1970 and I accepted it happily. The Tower Circus was now under the EMI umbrella.
During the rehearsals I was approached and asked if I'd like to perform with Charlie Cairoli and company in their slapstick entrée.
I was delighted and alarmed to find out that I would have a bucket of water thrown up my bottom, as I bent forward, ballerina-style, in a tu-tu, twice a day for the next six months.
I had to keep a straight face which was very difficult as Charlie would try his best to make me laugh.
He was a massive tease in the ring but less so in real life.
I was paid weekly for my appearances in the slapstick from Charlie's own pocket but sometimes he would forget and Mrs Cairoli (Violette) would find me and ask if I'd been paid whereupon she would open her purse and pay me herself. She was lovely.
1970 was the debut year for Charlie's son, Charlie Jnr, as he joined his dad in the ring.
They were both lovely and easy to work with, as was Paul Conner (white face), little Jimmy Buchanan and the great Ringmaster, Norman Barrett.
After the slapstick entrée I was obviously wet through with no time to get back to the dressing room to get dry and change into the finale costume with massive headress and jewellery.
The only way round this was to change in the elephant quarters which was nearer the ring entrance.
I would race round, dripping wet and trying to undo my tu-tu, into the waiting arms and towel of Auntie Barbara.
There I was, over three hundred times, starkers, in an elephant house under the Blackpool Tower. How bizarre.
The following year, I decided to branch out on my own from then on and worked as a professional singer in clubs and cabaret all over Britain.
I married someone from the circus world whose father had actually presented the elephants at The Tower Circus after the war.
I stopped singing professionally after my son, Adam, was born and the marriage broke up.
From then on I got a proper job at HM Land Registry plus performing with local amateur theatre companies which I still do today.
I've never moved far from Blackpool, my birth town.
Now, I'm just down the road in Poulton and have been in the area for around 25 years and married local musician Pete Fielding ten years ago.
We celebrated our tenth wedding anniversary in May, the day after my 70th birthday.
Sadly... because of coronovirus we didn't have a party but hope to make up for it next year.
Perhaps we'll go to the Circus.