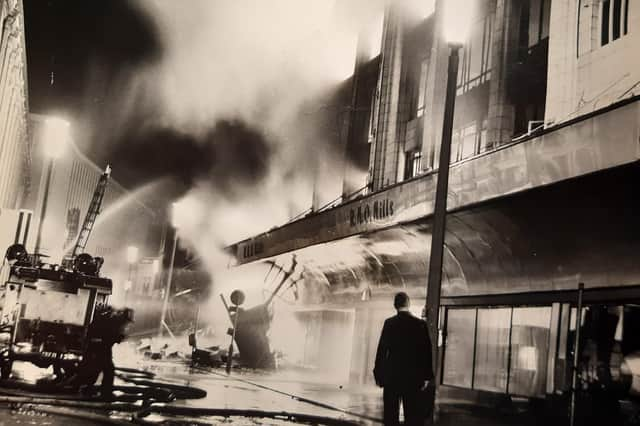 Flames leap through the roof and windows on the Bank Hey Street side of R.H.O Hills at the height of the blaze
RHO Hills Fire: 12 dramatic photos capturing the blaze which devastated Blackpool's favourite department store
Some of these photos have rarely seen the light of day since we reported on the blaze in 1967 – most have been tucked away in The Gazette archives ever since.
Thursday, 30th June 2022, 3:45 pm
Updated
Friday, 1st July 2022, 8:40 am
They remember the night-time fire which destroyed one of the most famous names on Blackpool's high street.
In scenes like the wartime blitz, the following morning found RHO Hills in Bank Hey Street a smoking wreck and according to the Gazette report, it was "dawn and still thousands of gallons of water are poured into the smoking debris". The 1967 fire broke out at 12.20am on May 8th. Within 15 minutes, flames were leaping through the sides of the building, making a glare in the night sky which could be seen many miles away. A matter of a couple of hours later, the five-storey building was reduced to a smoking ruin. The store was swiftly rebuilt and reopened in 1968. RHO Hills later became Binns, when it was taken over by House of Fraser in 1978. It closed in 1987.