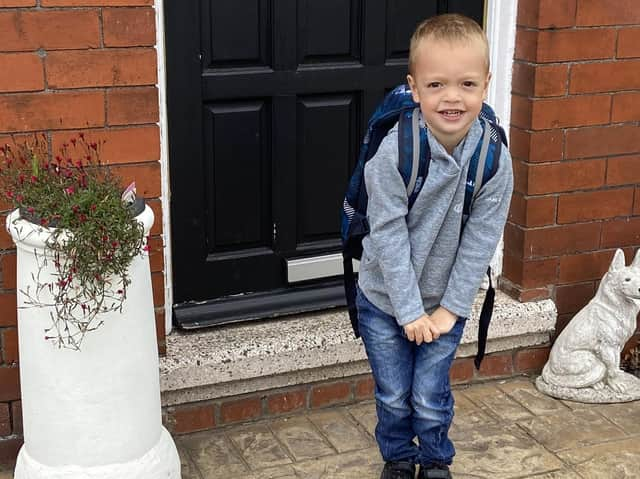 Harry Hickson gets ready to walk Ullswater Way
Harry Hickson was born 12 weeks premature and on the unit for eight weeks.
During that time, mum Rachael and dad John came to grow very close to the team at the Blackpool unit and say they felt so grateful for the care they received which has inspired Harry to raise funds for the team who helped him so much.
Harry's aim is to walk the 20 miles of the Ullswater Way in the Lake District in as little time as possible and an initial fund-raising target of £1,000 has been set on an online appeal page.
Harry in the neonatal unit
He has already completed half of it, from Pooley Bridge to Glenridding, in 4 hours 37 mins total moving time and the next stage in planned in for the first week of September.
Rachael, who lives with Harry in Penwortham, said: "Every year we as a family always try and fundraise for the unit to celebrate World Prematurity Day but it seemed the right time to do something alone.
"Harry has been really keen to fundraise so he has decided to raise money through walking. He will be covering 20 miles of Ullswater Way in as little time as possible.
"He absolutely loves his walks and is really excited to be helping children who need the support and are poorly on the unit.
"When we were cared for, the support and love from all the staff was just amazing.
"They involved us so much in Harry's care which was so lovely. You really do become part of their family.
"Since he was discharged he has grown so much and we have been very lucky that he hasn't been back in hospital.
"The money going to the Neonatal Unit will hopefully make a big difference to the team and we know that every penny counts.
"It's our way of giving back and saying thank you."
Harry lived in Blackpool until he was 10 months old and is now a pupil at the Early Years at Middleforth Playgroup, based at St Leonards Church Hall, Penwortham.
Neonatal unit manager Rosie Milbourn said: "The money raised by Harry will help towards the many initiatives the unit has for helping the babies and families.
"Family integrated care is relatively new and involves all of the family, and funding helps to pay for developmental aids for the babies, items promoting comfortable surroundings for the parents, and books and activities for the siblings.
"The Neonatal team cannot thank Harry and his family enough for their kind contributions towards World Prematurity Day and for the time, hard work and effort Harry will be putting into this walk. What a star!"
Fund-raising details at www.justgiving.com/crowdfunding/harry-hickson