'I've been given a second chance': Joy as mum leaves hospital with newborn baby after spending eight days on a ventilator
A mum and her newborn daughter were clapped out of hospital after overcoming the odds to beat the coronavirus.
Tuesday, 5th May 2020, 6:29 pm
Kathrine Dawson, 36, who spent eight days on a ventilator battling for her life, and little Ruby, who was one of the world's youngest Covid-19 patients, were cheered and applauded by the hero medics who successfully fought "tirelessly" to help them.
Kathrine, who broke down into tears as she cradled Ruby during the poignant moment at Blackpool Victoria Hospital, said: "It was amazing to think Ruby and I have touched so many people. It's just a bit surreal that so many people took an interest and prayed for me.
"Every single one of them has helped me."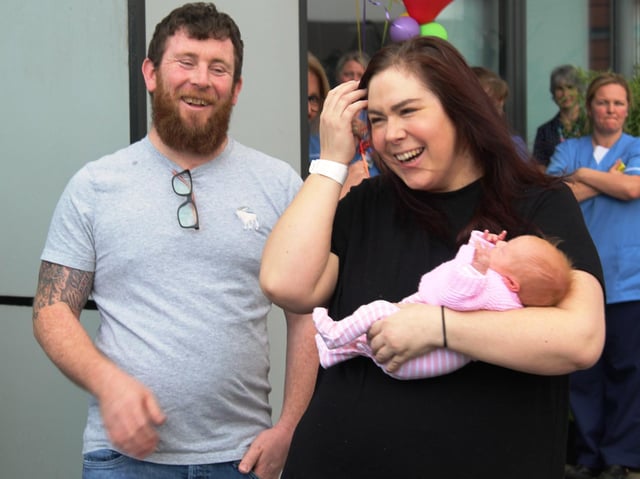 Katherine and Stuart Dawson, both 36, from Garstang, and their newborn daughter Ruby were given a guard of honour by medics at Blackpool Victoria Hospital on Monday, May 4, 2020, after Katherine and Ruby's discharge. Katherine had an emergency C-section and spent eight days on a ventilator are falling seriously ill with the coronavirus Covid-19. Ruby was also diagnosed with the disease but showed no symptoms (Picture: Blackpool Teaching Hospitals NHS Foundation Trust)
'I JUST FELT REALLY WIPED OUT'
Kathrine, who works as a purchasing manager at silo firm E Collinson and Co in Churchtown, first fell ill at the end of March with flu-like symptoms while around 32 weeks pregnant.
But, because she had been self-isolating for three weeks and did not have a cough, she dismissed the idea she may have caught Covid-19.
She said: "I just thought it was a cold because I started out with mild symptoms – and then it progressed.
Left to right: Neonatal staff Dannie Boyd Holt, Rosie Milbourn, Sarah Heyden, and Kirsty Murray with the Dawson family (Picture: Blackpool Teaching Hospitals NHS Foundation Trust)
"I didn't have a cough or anything, I just felt really wiped out and I wasn't drinking or eating.
"I had no energy and I had the chills. I was wrapped up in a coat, jumper, and blanket because I was freezing even though my temperature was sky high."
'IT NEVER ENTERED MY MIND THAT I HAD CORONAVIRUS'
Three days later, Kathrine, who had temporary pregnancy-related diabetes, said she was "feeling ill enough to know I was actually ill" – but still only thought she had a chest or ear infection.
Katherine and Stuart Dawson with their newborn daughter Ruby (Picture: Blackpool Teaching Hospitals NHS Foundation Trust)
"Because I had a temperature, I thought, 'There's no point ringing the doctors because they won't see me, and they would ask me to ring [the NHS medical helpline] 111.'"
Kathrine, who lives with Stuart and their two older girls – Grace, five, and Ava, one on Saturday – in Worcester Avenue, Garstang, rang 111 and was told to attend the Covid-19 Urgent Care Centre at the Vic.
There, she was "looked over" by medics – who were alarmed at her rocketing temperature and heart rate – and sent in isolation to A&E.
"I still didn't think I was that poorly because I thought I had a chest infection," Kathrine said, still expecting to be given antibiotics and sent home.
Left to right: Delivery suite staff Holly Martinez, Lisa Walten, Shelley Piper, and Tracey Hall with the Dawson family (Picture: Blackpool Teaching Hospitals NHS Foundation Trust)
"But at that point, they said, 'You're actually quite poorly.' They told me I was going to go to the delivery suite so the baby could be monitored.
"I started feeling better when I got there because they gave me fluids and things like that.
"It never entered my mind that I had coronavirus."
'EVEN THOUGH I WAS SCARED, I WASN'T TERRIFIED BECAUSE I HAD THE SUPPORT OF THE PEOPLE AROUND ME'
But, just hours later, Kathrine, who was starting to struggle to breathe, was told she was positive for the virus, which has killed more than 130 people at the Vic.
She said: "I went from a nasal [oxygen] type mask to a full-on mask, and that's when the consultants came and told me I would be delivering the baby early to help them control my breathing and make me well.
Katherine and Stuart Dawson, both 36, from Garstang, and their newborn daughter Ruby were given a guard of honour by medics at Blackpool Victoria Hospital on Monday, May 4, 2020, after Katherine and Ruby's discharge. Katherine had an emergency C-section and spent eight days on a ventilator are falling seriously ill with the coronavirus Covid-19. Ruby was also diagnosed with the disease but showed no symptoms (Picture: Blackpool Teaching Hospitals NHS Foundation Trust)
"They said that when you are pregnant, your lung capacity decreases, and the drugs they needed to give me weren't suitable for a pregnant lady, so they took that decision.
"I was very scared, but the midwives and doctors were so comforting and so supporting in the way they were telling me, and holding my hand, and making sure that I understood everything and that they would be there to support me through it.
"Stuart couldn't be there because of the visiting rules and the coronavirus, and the fact they needed to do it immediately.
"Even though I was scared, I wasn't terrified because I had the support of the people around me. I was more worried about the baby."
'IT WAS DEFINITELY SURREAL'
Kathrine was awake during the caesarean section – the first Covid-related C-section at the Vic, and said the medics, who were in full personal protective equipment (PPE), were understandably "on edge".
But she said: "I had support all the way through and did not have any issues with breathing. They didn't have to stop to do anything to me, so I think it went as smoothly as hopefully a normal caesarean would.
"It was definitely surreal, but we always said if the doctors told us to do something we would do it, because they know what they are talking about.
"I spoke to Stuart before they whisked me into theatre so he was well aware of what was happening, and he said the same."
'THEY THINK BECAUSE THEY WERE IN A PRESSURISED ROOM, HER FIRST FEW BREATHS CAUSED MY BABY TO GET CORONAVIRUS ... BUT THEY DON'T KNOW'
Ruby was born on Wednesday, April 1, weighing 4lb 12oz, in relatively uneventful circumstances.
She was moved to the neonatal department and, after an initial test for Covid-19 came back negative, she later tested positive for the disease, making her the youngest in the north west to catch it – and one of the youngest globally too.
Despite being born two months early, Ruby is otherwise perfectly healthy – and has shown no symptoms of the coronavirus.
Stuart, a foreman at Leach Structural Steel, based in Claughton-on-Brock, said: "They think because they were in a pressurised room, her first few breaths caused [her to catch the disease], but they just don't know."
And Kathrine added: "Obviously it was me who gave it to her one way or the other, but they don't know if it was when she was inside me or if it was when she was delivered.
"They're thinking it was when she was delivered because it's an aspirated virus you catch from droplets.
"Ruby is absolutely perfect in every single way. They have been amazed by how much she has been alert and come along. She has been a little star baby."
For eight days, Kathrine, who was moved to intensive care, could only see her new daughter over video calls – with medics placing an electronic tablet in Ruby's cot – while her own condition worsened, and while Stuart was at home, powerless to intervene or even see mum or baby in person.
'I WAS THINKING, 'WHY AM I LAUGHING?' I SHOULDN'T BE LAUGHING BECAUSE KATHRINE'S ON HER DEATH BED'
He said: "It was pretty rough. The kids kept me busy and my mind occupied, but it was pretty tough. You just have to get on with it. It's hard to deal with the kids and control your emotions at the same time. I remember we were playing and we were all laughing our heads off, and half-way through I stopped.
"I was thinking, 'Why am I laughing? I shouldn't be laughing because Kathrine's on her death bed.'
"You just have to deal with it. You are completely powerless. You are stuck at home. You can't help in any way.
"The kids were my responsibility, so I just focused on looking after them the best I could and trying to protect them in my own little way – and just to keep going."
'HER BODY COULDN'T FIGHT THE PNEUMONIA BECAUSE IT WAS TOO BUSY FIXING EVERYTHING ELSE'
Kathrine said the details of what happened next remain "foggy", but she's aware her pneumonia became "severe".
Stuart added: "A doctor called Jason [Cupitt] phoned me on a daily basis to keep me updated. Kathrine was up and down for a couple of days.
"Dr Jason was saying the pneumonia had taken over her lungs and it was very severe. Because Kathrine was getting over the C-section and the birth, and with the high temperature and the heart rate and everything else she was fighting, her body was just exhausted.
"Her body couldn't fight the pneumonia because it was too busy fixing everything else.
"It's hard to put into words what I thinking, to be honest. My initial thought was she was going to die. That's your initial reaction whenever you hear something like that.
"It was like a constant battle thinking, 'She's going to die – but she's tough, she will make it through.' We were just hoping for some good news every time the phone rang. You were hanging on hopes that everything would be okay."
'I PROBABLY SOUNDED LIKE A COMPLETE IDIOT - TELLING HER TO BE STRONG AND THAT WE LOVE HER'
Kathrine was put into an induced coma and on a ventilator – but not before she and Stuart shared one last video call together.
Stuart said: "The kids wanted to see her while she was awake. She had the mask on so it was quite hard to properly communicate. There was a lot of sign language and head nods. She said, 'Look, they're putting me on the ventilator.'
"I probably just sounded like a complete idiot – telling her to be strong and that we love her and we would see her soon. There are no right words to say. It's a bit like saying your final goodbyes. It's the last phone call you could possibly ever have, which is pretty tough."
'I DON'T KNOW HOW I FEEL SO GOOD NOW, AFTER NEARLY DYING A COUPLE OF WEEKS AGO'
Stuart said he "got the feeling" Kathrine's chances of survival were 50/50, and added: "In all honestly, that's what I believe – it's the toss of a coin. Somebody is lucky. Somebody is unlucky."
Kathrine said doctors told her she was "very close" to dying – but said she can't remember the "bad bits".
"I can't imagine what Stuart went through," she said. "It seems unbelievable to me.
"I don't know how I feel so good now, after nearly dying a couple of weeks ago. I have been given a second chance."
'STUART HAD TO SUPPORT ME A LOT WITH TELLING ME WHAT WAS REAL AND WHAT WASN'T'
After being on the ventilator for eight days, Kathrine was well enough to be roused. She was given a tracheostomy – an opening in the neck to allow air to enter the lungs – as a matter of routine, and awoke in a confused state after experiencing disturbing dreams while in the coma.
She said: "I needed a lot of reassurance that Ruby was still okay and my family was still okay, and Stuart had to support me a lot with telling me what was real and what wasn't real."
While still in intensive care, medics arranged for Kathrine to meet Ruby for the first time. "I'll be forever grateful," she said. "They went above and beyond.
"I met her a second time a couple of days later. It was lovely having that time to bond with her.
"It was emotional, but I cried my tears when they told me I was going to meet her. Because I could've still had the virus at that point, I did not really want to shed any tears or do anything near her."
'IT WAS 26 DAYS OF WAITING, WORRY, AND STRESS'
Then, after almost a month of anxiety, Stuart was able to meet Ruby – and be reunited with his wife.
He said: "There was a lot of emotion. It was just a relief. It was all quite overwhelming in a very nice sense.
"It was 26 days of waiting, worry, and stress."
He said medics set up an online diary so he could track Ruby's progress while in hospital, and called him at least once a day "asking how I was, asking how the kids at home were, telling me all the good things – and if there were any bad things".
'THEY HAVE CHANGED OUR FUTURE COMPLETELY'
Kathrine and Stuart were full of praise for everybody at the hospital, and were treated to a guard of honour when Kathrine and Ruby were discharged yesterday.
It was the first time they had seen many medics' faces from behind their protective visors.
The Kaiser Chiefs' hit song Ruby was played as Kathrine wept – and was again applauded by intensive care staff waiting outside the maternity unit.
In a touching gesture, staff on the women and children's unit also clapped their intensive care colleagues who have been on the frontline.
"There's no words to describe how amazing they all are, and what a credit they are to the NHS," Kathrine said.
And Stuart added: "They have changed our future completely. How do you thank the person who has saved your wife's life?"
'IT WAS TOUCH AND GO - BUT SHE TURNED THAT CORNER AND MADE A WONDERFUL RECOVERY'
Dr Cupitt said medics tried to "optimise" Kathrine's condition "but she became very sick".
He said: "It was an extremely challenging case and we were concerned she might not make it.
"At the lowest point, she had a 50/50 chance to survival. It was touch and go, but she turned that corner and then made a wonderful recovery."
Head of midwifery Nicola Parry said it was been a "tricky journey" for the Dawson family and the Vic's nurses and doctors.
She added: "What we have found is this case has united the team right across the hospital and, throughout this, we have all surrounded the Dawson family, giving the best care."
Katherine and Stuart Dawson, both 36, from Garstang, and their newborn daughter Ruby were given a guard of honour by medics at Blackpool Victoria Hospital on Monday, May 4, 2020, after Katherine and Ruby's discharge. Katherine had an emergency C-section and spent eight days on a ventilator are falling seriously ill with the coronavirus Covid-19. Ruby was also diagnosed with the disease but showed no symptoms (Picture: Blackpool Teaching Hospitals NHS Foundation Trust)