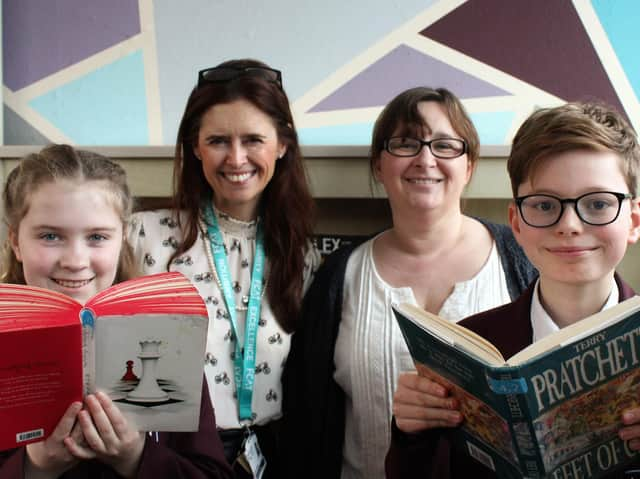 Montgomery readers with Estelle Bellamy FCAT Lead for English and Liane Coultas,
Throughout the past term the Blackpool high school has been running competitions to help pupils improve their reading skills
Libby Compton Smith and Myles Simpson are leading the with the highest word count.
Libby has read a mammoth five million words and Myles is not far behind.
Josh Quinn, head of English said, "Reading is at the heart of everything we do at Montgomery and we are very proud of Libby and Myles."
Word counts come from the quizzes that students complete after they have read a book.
If they do well the total number of words are' banked' and they are rewarded when they hit key milestones.
Each time they read 1m words they get a prize and have to recommend a book to their peers. ibby's first suggestion was the books by Joe Delaney who is now Montgomery Academy's reading patron.
School librarian Liane Coultas, said: "This year we have seen an unprecedented number of word millionaires which has been amazing.
" We also have a group of students who have volunteered to be Reading Ambassadors, helping to promote books across school. We are just about to put in an order for some new books to give our students even more choice and keep up the momentum."