Fylde coast parents share their experiences of free school meals during lockdown
As national criticism of coronavirus lockdown school food parcels mounts, Fylde coast parents shared their experiences of the parcels they received.
Thursday, 14th January 2021, 2:01 pm
The UK Government found itself under fire again over free school meals this week, after images of food parcels shared online appeared to show around £5 worth of food, despite each parcel costing the taxpayer around £15.
An image tweeted by a UK mum showed the food parcel she had received from catering firm Chartwells, which was slammed by footballer and child poverty campaigner Marcus Rashford as "unacceptable."
The food parcel contained a loaf of bread, a tin of beans, two bananas, two carrots, three small apples, two potatoes, a small bag of pasta, sliced cheese and two small Soreen bars - which she had estimated to be worth just over £5.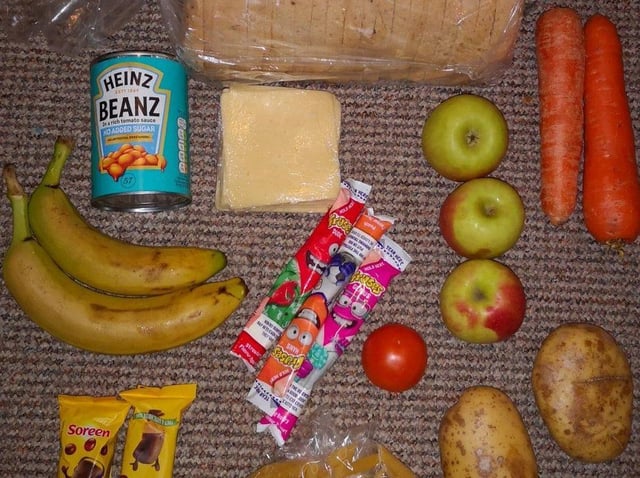 An image of free school meals provided by Twitter user Roadside Mum sparked controversy in national news this week.
After Mr Rashford led a campaign arguing for more support for the poorest families during the pandemic, the Government agreed to provide families with vouchers worth £30 to purchase food while children are not in school.
But similar images later emerged on social media from parents who shared the same concerns about their children's schools' paltry lunch offerings, including some from Fylde coast residents.
One Fleetwood mum said it had been "difficult" for her to access the free school meals provided by her child's school.
As a part-time worker, she said that in order to pick up the food parcel from the school, she had to pay over £5 to use public transport to travel there.
One of the food parcels she received for her child contained a tin of spaghetti, a tin of spaghetti hoops, a tin of tuna, a bag of apples, a loaf of bread, cereal bars, six bags of crisps, a bag of pasta and a jar of Asda own-brand bolognese sauce.
She said: "I need to travel on public transport (which costs) £5.20 to get the items, so I am no better off at all.
"This week I've not collected the items because I can't afford to get there.
"It's just not enough, and then some children don't like the items, my child doesn't like a couple of the tinned items which is a shame.
"I was hoping to be receiving the vouchers for supermarkets so I can get a lot more and a lot of what my daughter likes.
"It is quite harsh that we are only being given £5 to £6 worth of food when we've been receiving vouchers over the Christmas period.
My child definitely eats more than £5 worth a food each week for lunch. They are growing and hungry all the time.
"I even work part-time and still need a little help."
The food parcel given out contained items all from Asda came to a total of £5.75 on the supermarket's shopping app.
Another parent, from Layton, shared details of the food parcel given to her daughter.
She said her daughter was given five apples, a tub of margarine, five snack-packs of biscuits, a tin of beans, a tin of tuna, two potatoes, a bag of pasta and a block of cheese.
She added that a frozen loaf of bread was also supplied, which would cost "less than 50p to buy," and that supermarket vouchers had only been issued to cover the Christmas period.
The Layton mum, a part-time worker at Argos, said: "My daughter had most of that parcel for one meal - one potato isn't enough to fill her up so she had to have both of them.
"I weighed the pasta we received out and it came to 105g. That's only enough to fill a mug.
"I'm a hard worker, but sometimes we need extra help."
Government guidance on Free School Meals states that the "significant benefits" of providing food parcels include "the confidence that a nutritious and varied range of food is being provided [...] reducing the risk of food waste [and] the continuation of financial support to school caterers."
The guidance also states that food parcels should:
- contain food items rather than pre-prepared meals due to food safety considerations
- minimise the fridge and freezer space that schools and families will need to store foods
- contain items which parents can use to prepare healthy lunches for their child/children across the week
- not rely on parents having additional ingredients at home to prepare meals
- not contain items restricted under the school food standards
- cater for pupils who require special diets, for example, allergies, vegetarians or religious diets - schools should ensure there are systems in place to avoid cross-contamination
- contain appropriate packaging sizes for household use, rather than wholesale sizes.
Speaking about the Fylde coast schools they cater for, a spokesman for Lancashire County Council said: "We offer schools three options to offer as comprehensive a service to schools as possible during the lockdown period.
"They are: a £15 per week voucher for parents to spend at the supermarket; a weekly food parcel; or a daily packed lunch bag. The school selects which option they prefer as they are best-placed to know how to meet the needs of their pupils.
"Where we provide parcels, we also provide a five-day meal planner to help parents and carers plan lunches for their children.
"The cost of the 5-day parcel is £11.70 equating to the daily funding provided by the government for a free school meal.
"If parents are having issues we would ask that they raise those with schools in the first instance."
Blackpool Council, which provides catering for some schools through its own Catering Services team and Trevors Foodservice, said: "We are aware of national activity and discussion circulating online regarding children's free school meals recently.
"Here in Blackpool, Blackpool Council's Catering Services team and Trevors Foodservice sprang into action as the third National Lockdown was announced to provide packages to schools in Blackpool that had asked for support.
"In less than 24 hours, thanks to a fantastic team effort, the Emergency Food Distribution Centre was ready to support our schools with free school meals. This week alone, the Catering Services team have prepared 1000 food packs, which is the equivalent of 5000 meals.
"We'd like to reassure residents that all of our meal packages are substantial and are made with quality products, ensuring that Blackpool children receiving these parcels enjoy a decent, nutritious lunchtime meal each day. The team cater for dietary needs where required by the school.
"Schools have been asked by the government to work with their own catering team or provider to distribute a meal package or, where this is not possible, to provide a voucher. The cost of the package our team produces is in line with the usual daily cost for a free school meal and contains full-sized items.
"We send a huge thank you to all involved for their continual efforts in making this happen."