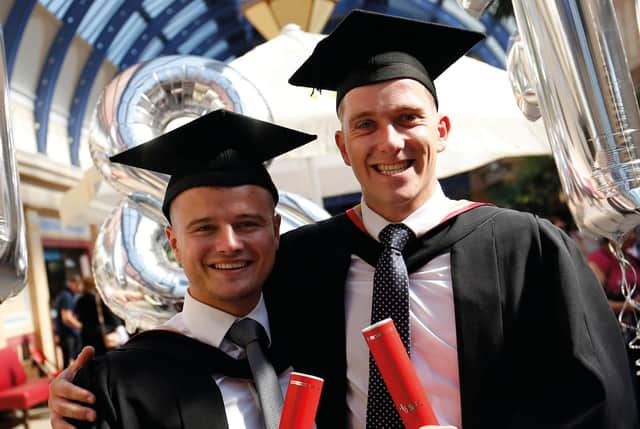 Received your A-level results and looking to stay local? Did you know you can complete a Lancaster University degree right here in Blackpool.
Blackpool and The Fylde College still has places available on its degree level courses and with no up front fees and lots of non repayable financial support why wouldn't you start this September.
It has an on-site open event on August 14, outlining the range of degree courses available. The event is by appointment only, so be sure to email [email protected] to book your slot.
It's even possible to combine a degree with work and family commitments as many courses are just one day a week – find out more about your options here.
Many adults are returning to education to up-skill and re-skill... Find out about employment focussed degree level courses near you.
If you already know the subject you want to apply for, click here to apply for your place today.
There are likely to be two main types of entrants this year.
Received your results and not sure of your next steps or decided you want to do your degree whilst living and working at home? At B&FC all teaching and learning is planned to take place on-site from September 2021 so you will have the opportunity to take part in live briefs from employers and get active with the Student Union. It's not too late to apply. Students can call the college as soon as their results are in, to discuss with an advisor the range of options available.
Find out how you can apply today
Increasingly, the college is seeing a growing number of applications from people aged 21 and over who want to change direction in their career, or to improve their chances of employment with a degree course. Furlough and working from home have changed people's perceptions of how and why they should study.
Claire Frost, Marketing Director from Blackpool and The Fylde College said: "Many people think they have left it too late to apply, but we want people to know they don't have to wait until next year to start a degree course. We have some spaces available and with no upfront fees, lots of non repayable financial support, small classes and personalised study support there couldn't be a better time to take the leap.
"There are some real advantages to studying in your home town, and it works for many people, whatever their age. Perhaps they have family commitments or part-time jobs, and studying in the same area helps them keep that balance.